BRISTOL, Conn.—Two mixed-martial arts legends alongside one highly-pedigreed prospect addressed a gymnasium of teen wrestlers and pre-teen admirers at the Boys and Girls Club of Bristol on Wednesday. Royce Gracie, Tito Ortiz, and Aaron Pico spoke to the young audience in the same basketball gym where accused murderer Aaron Hernandez spent much of his youth.
"I cry and throw up before every match," Ortiz confided in the kids. "When I'm walking out I have tears rolling down my face." But with every step he takes, the current Bellator MMA light heavyweight contender confessed, his fears dissipate. Royce Gracie, sprung from a different mold, divulged that he napped before his bouts and requested gentle wake ups from his brother.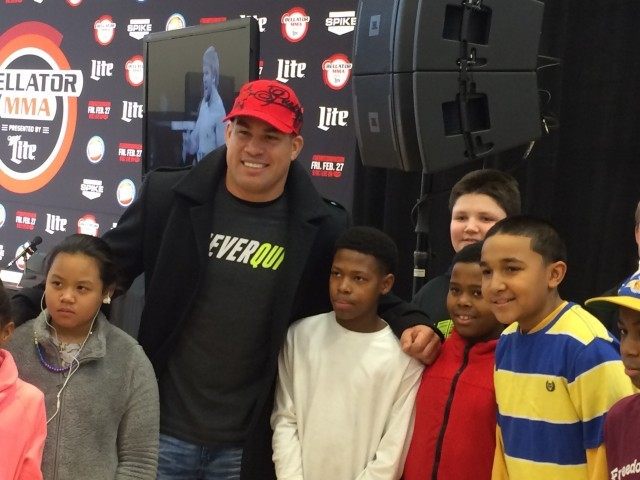 "Wrestling was something that saved me, and it taught me about something I didn't know, and that was dedication," Ortiz told the kids.
"There are so many guys out there that have more talent than me," decorated amateur wrestler Aaron Pico, a direct descendent of Spain's last governor of California, conceded. "But when it comes down to really get down to work and get focused they get off track."
Royce Gracie called his father his role model. "My father never drank, never smoked," the UFC's first champion said of the founder of Gracie Jiu-Jitsu. "He served as an example. A lot people out there say, "You shouldn't drink, kids.' But they drink. Serve as an example."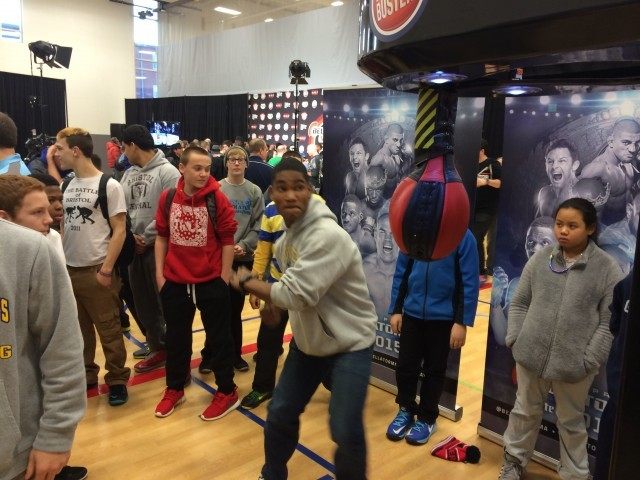 Both Gracie and Ortiz discussed intimidating challenges from their careers. The Huntington Beach Bad Boy relayed playing Louden Swain to a competitor's Shute during a high school rivalry out of Vision Quest and the Brazilian legend recalled facing off with Akebono, a 6'8" sumo wrestler that outweighed him by more than 300 pounds. Pico advised the young wrestlers to trust their training during competition: "Don't think."
The trio signed autographs and interacted with the young wrestlers in attendance after giving their motivational talks and answering questions. Bellator MMA held the outreach event just days prior to its Spike TV Friday night card at nearby Mohegan Sun featuring Emanuel Newton, Cheick Kongo, Paul Daley, Muhammed "King Mo" Lawal, and Sokoudjou.