Former UFC light heavyweight champion Tito Ortiz tells Breitbart Sports that though fighters in the early days of mixed-martial arts may have been tougher, the guys fighting now compete at a higher level.
"I've been through three generations now," Tito Ortiz tells Breitbart Sports of his 17-year MMA career. "The first generation was against Guy Mezger, Jerry Bohlander. The fighters now are way better than those guys fighting then."
"Were those guys tougher back then?" Ortiz reflected. "Yeah, maybe a little bit. They fought with injuries." Ortiz cites coming back from a broken nose to decision Vitor Belfort at UFC 51 a decade ago as his toughest moment in the cage.
On second thought, Ortiz declares: "They're still just as tough. This is MMA, man. There ain't no other sport in the world that's as tough as this sport."
The old-school fighter looks to challenge young gun Liam McGeary for the Bellator light-heavyweight championship this year. McGeary used impressive jiu-jitsu to edge Emanuel Newton on Friday night at Bellator 134.
@liam_mcgeary congrats on the fight #Bellator134 enjoy it now because I'm coming for that title! #OrtizChamp2015

— Tito Ortiz (@titoortiz) March 1, 2015
The Huntington Beach Bad Boy wore a three-piece suit on his body and former UFC ring-card girl Amber Nichole Miller on his arm at Mohegan Sun Arena as he exchanged pleasantries with former bitter rival Ken Shamrock and conversation with former boxing light-heavyweight champion Antonio Tarver. Ortiz told Breitbart Sports before Friday night's fight that he's not looking for money or for another big-name notch on his belt. He's looking for a belt.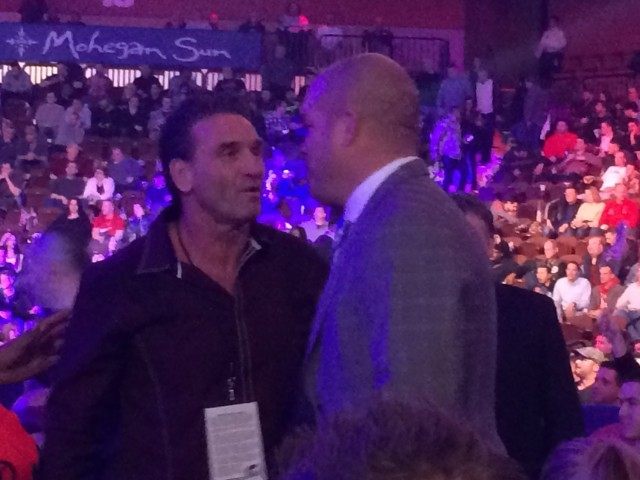 The idea of retiring a champ rather than a chump appeared a dubious proposition just one year ago. Ortiz, after suffering through a seven-plus-year slump in which he won just one of nine fights, recently rebounded by choking out Alexander Shlemenko and outboxing former Golden Gloves champ Stephan Bonnar. Ortiz told Breitbart Sports that training smarter rather than harder and taking the time to heal rather than training through injuries rejuvenated him.
If the specific example of McGeary neutralizing Emanuel Newton's wrestling through elite Brazilian jiu-jitsu didn't clue Ortiz in that he faces a tough task, then certainly the 40-year-old's general respect for the new breed of fighters suggests to him the difficulty in his upcoming Everest.
"The technique is a little better," Ortiz judges. "The style of fighter is a little better. They're more well-rounded."