BOSTON—Irish featherweight Conor McGregor charged Jose Aldo, dismissed him as a "co-main-event champion," and offered to hire him as a cleaner at a raucous event promoting UFC 189 at the Strand Theatre in Dorchester, Massachusetts.
"I rehydrate and then I am a monster in there," the five-foot-nine McGregor boasted of his size advantage. "I am a bear taking on a kitten."
"He just rambles on and on," a stoic Aldo observed. "When he's alone, he has fear in his eyes."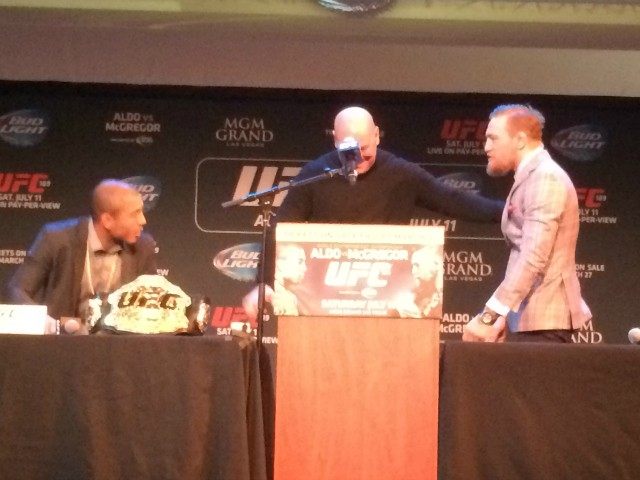 The pair clash in the main event of UFC 189, the promotion's annual blockbuster summer card, for the featherweight title. Both the 17-2 McGregor and UFC President Dana White told Breitbart Sports that the bout represents the biggest fight in the history of the featherweight division. A promotional tour with stops in Rio, London, New York, Toronto, and points beyond shows the sentiment reflects belief rather than mere hype.
Aldo, 25-1, hasn't lost in ten years, and he reigns as the only featherweight champion in the UFC's history. But the CV failed to impress the upstart Irishman.
"What I really want to do is turn his favela into a Reebok sweatshop," McGregor noted, obliquely referencing the Brazilian's poverty-stricken upbringing and the UFC's deal with Reebok. "They work well over there."
The pugilistic pair appeared most animated over a disagreement in which McGregor claimed he had seized Aldo's belt without a response from the titlist (see video above). The former vaudeville stop witnessed Colin McGregor perform a comedy act that brought the house down on several occasions but failed to win a positive review from Jose Aldo.
In response to a Breitbart Sports query wondering if Aldo believes his adversary promotes bouts better than he fights them, the Brazilian suggested that he believes his opponent does Dana White's job well. "He promotes fights well," Aldo said through an interpreter. "That's what he does."
McGregor later offered Aldo a job should he receive his pink slip as champion on July 11. "I will hire him to clean my jet," the challenger announced. Today's remarks followed earlier commands for Aldo to spit-shine the championship strap that McGregor refers to as "my belt."
Taking their cue from their charismatic hero, the pro-McGregor crowd booed over the champion's words and peppered him with insults. One Irish-accented audience member informed Aldo that McGregor would decapitate him and a youth asked, "When you lose, will you be willing to eat a box of Lucky Charms?"
"There is a psychological war taking place," King Conor informed his subjects, "but I already won. I used his native language and said he is going to die and he didn't do anything."
"The only belt he is getting is the fake one," Aldo matter-of-factly concluded. "If he wants to buy one, he is welcome to do that because that is the only one he will ever see in this division."