BOSTON—Two years ago, "Conor McGregor" appeared on an Irish welfare check. Today, the name graces a Las Vegas marquee.
"I saw it coming," King Conor tells Breitbart Sports. "Like I said, if I didn't see it coming, I wouldn't be here. So of course I saw it coming."
The UFC featherweight competes in the most anticipated mixed-martial-arts bout scheduled for 2015 when he takes on Jose Aldo on July 11 at UFC 189 in Las Vegas. He caught up with Breitbart Sports at the Boston stop on a world tour that has taken him to London, New York, and Rio, among other stops, on the promotional tour.
"But to compare my life then to my life now, it's unbelievable," McGregor reflected behind the curtain at the 98-year-old Strand Theatre. "I'm cruising around America on a private jet going from suite to suite to suite. I'm traveling the world."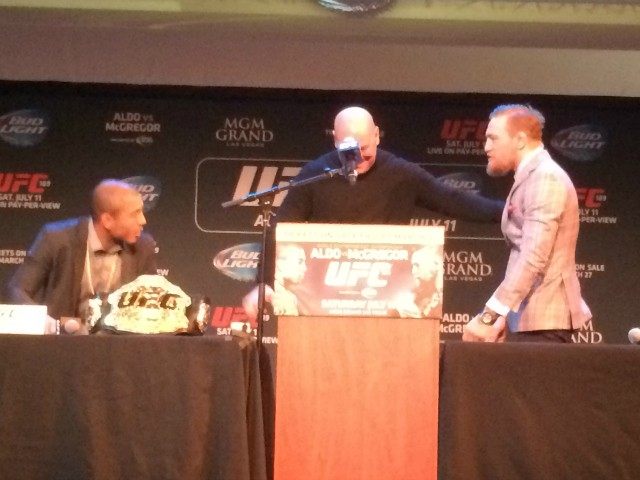 He used to drive a jalopy. Now he captains a BMW. Dapperly dressed in a plaid sports coat and wearing a well manicured mane, McGregor exuded wealth and confidence in Boston. Few fans figured that not so long ago their hero appeared to most but himself as a zero.
King Conor lived as a mere pauper prince as he chased his cage-fighting dreams. After a year as a plumber's apprentice, he quit his father's profession. Out of work, he hit the gym more zealously. He made a name, but not a lot of money, on the European cage-fighting circuit.
"I was on social welfare," he told Breitbart Sports. "So, no, you cannot work and collect social welfare although some people do. But I was not [working]."
How much money did McGregor's wallet hold two years ago? "Not a lot," he confesses. "Not a lot."
In fact, he cashed a $235 welfare check for spending money the week he made his UFC debut in Sweden in April 2013. The middle-class son of an intact family relied, as do about a third of the Emerald Isle's population, on a social welfare payment. But two years ago, in his first appearance in the octagon during that Stockholm card, he struck it rich by pocketing a $60,000 Knockout of the Night bonus for ending Marcus Brimage's night early. He offered a farewell to welfare.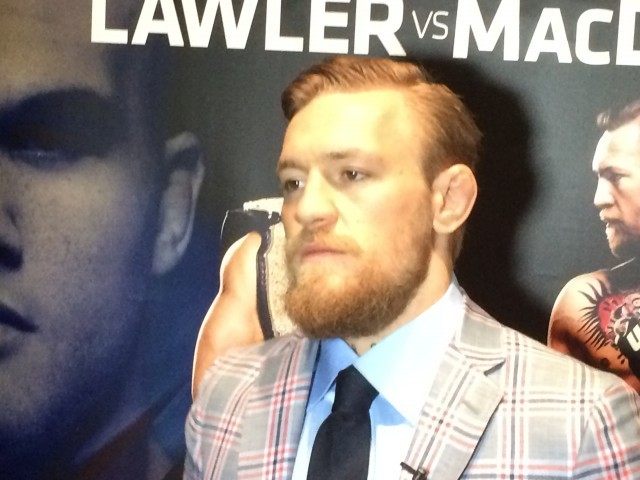 He plans to do the same to Aldo as he did to Brimage come July. With 15 of his 17 wins coming by way of knockout, a gaudy KO percentage enjoyed by no other elite mixed-martial artist, McGregor's crazy talk of finishing a man with his fists who has never been finished by fists doesn't sound so crazy.
In Boston, McGregor vowed to make the bout's outcome a fait accompli within four minutes. He also vowed to give Aldo, who grew up in terrible poverty unknown to the Irishman, a job cleaning his jet after he cleans his clock. McGregor, who talked of a strict diet including water, fish oils, and pure, natural edibles such as nuts, appears far more disciplined in what goes into his mouth than what comes out of it. He has called potential opponent Ricardo Lamas "a fat mess," boasted that he "could rest my balls on your forehead" to Chad Mendes, and told his Brazilian opponent on Wednesday that he will turn his favela into a sweatshop. He offered, "They work well over there."
The champion, unbeaten in ten years, appeared far less impressed with the Dubliner than his Boston fans. Helped along by a fortunate lack of understanding of the English language, Aldo stoically endured McGregor's insults. Aldo told Breitbart Sports in January that he believes that the featherweight division offers stiffer competition than McGregor but since he has already beaten them the fight with the mouthy Irishman makes sense. It certainly makes dollars, something the featherweight challenger saw very few of just two years ago.
McGregor's meteoric rise surprised many but not the man himself. Then as now, he reads aphorisms on success and visualizes future accomplishments. He trains as hard as he talks. Watching him in the gym in January, he begins with fluid, stretching, movements, he moves like a crab and then walks on his hands, and finally throws punches and kicks full throttle. The graceful movement of his body and, at least when he's not trash talking, his mouth seems inspired by martial-arts philosophy. That mindset hasn't changed as much as his wardrobe. He saw his hands raised in the octagon when he led a handout existence. He now sees those hands counting Floyd Mayweather money in the near future. Who can gainsay his seemingly far-fetched ambitions when he has realized even farther-fetched ambitions? Conor says he first sees something and then he does the thing.
"Everything that happens began in the mind," the 17-2 contender told Breitbart Sports this week. "So for me, of course I visualized this. I visualized this success. I visualized this belt. I visualized multiple belts. Now it is forming into my reality."