FAIRFAX, VA—Some mixed-martial artists start with a base of wrestling or jiu-jitsu. Jorge Masvidal began as a YouTube brawler.
"They only captured like two videos of me in backyards," the Miamian told Breitbart Sports on Thursday. "But I grew up doing that. So, I guess to a certain extent it's an advantage that I have, you could say, or not."
Masvidal admits to not watching much tape of Al Iaquinta, his opponent this Saturday at the UFC's rare daytime card on Fox Sports 1. But Iaquinta, a smaller, heavy-handed wrestler, definitely has watched tape of Masvidal—including his famous YouTube bouts.
"He had a pretty good skill back then with his hands," Iaquinta assesses. "I don't know how trained he was. I've been in my share of street fights. It's pretty cool he that was in there with Kimbo. He's like the real Kimbo Slice. He has actually made a career out of it and gotten to the top of the game."
Iaquinta notes that his opponent, a notoriously slow starter in the UFC, fought more aggressively on YouTube. He characterizes Masvidal as "a little sloppy" with his boxing back then but ultimately "fun to watch."
In two YouTube clips boasting hundreds of thousands of views, Masvidal, sporting longer, unruly hair and a more youthful appearance, defeats Kimbo Slice protégé "Ray" in two bloody, brutal backyard battles. He believes his standup street-fighting experience in Miami gives him an advantage in the octagon.
"The only advantage, when you get into a street fight, you don't know if your partner is going to jump in with a knife and stab me or pull a gun out on me," he reflects. "Going into the UFC you don't have that stress. You're just worried about fighting. If anything happens there's doctors, there's a medical team on the side. It's like a big phew."
Masvidal now fights as one of the larger lightweights in the UFC. At 28-8, he owns victories over Joe Lauzon, K.J. Noons, Yves Edwards, and Tim Means. The UFC ranks him as their #14 lightweight. He has legitimized his underground hobby with a career. And Gamebred looks crisper and more precise hitting mitts at the UFC Gym in Fairfax, Virginia, on Thursday than he did hitting faces on YouTube.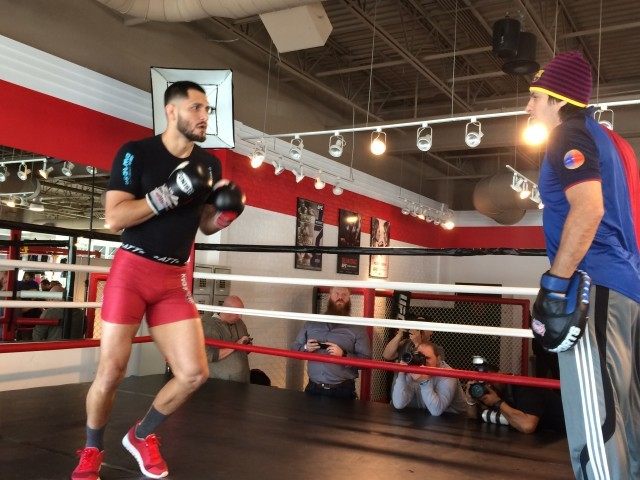 "When I was in the backyards, a lot of those fights—real humble beginnings—I would bet," he divulges. "Somebody would be like, 'Look, I got a friend that would kick your ass.' I would be like, 'If he wants to put money, then we can do it.' So and so would put a $1,000. I would put a $1,000."
Masvidal fought a decade ago without a guarantee of a paycheck. The 30-year-old father tells Breitbart Sports he now fights to make millions. But even in the backyards, Masvidal hoped to get paid.
"On the back end of it, yeah, I'd make money," he notes. "I never showcase my talents for free."