BOSTON—Conor McGregor says he'd kill Floyd Mayweather if they tangled in a dark alley. Breitbart Sports recently caught up to the Dubliner in a dark Dorchester alley and lived to tell the tale.
McGregor takes on featherweight champion Jose Aldo in the UFC's most hyped fight on the docket. Breitbart Sports asked the Irishman about that other bout getting a lot of attention featuring guys his size fighting in Las Vegas. Floyd Mayweather and Manny Pacquiao split $300 million for their May 2 match. McGregor and Aldo's purse for July 11's UFC 189 surely sits nearer to $3 million than $30 million.
"I love boxing," McGregor confesses. "But boxing has this fight. Not everyone is making that money. That is a special fight."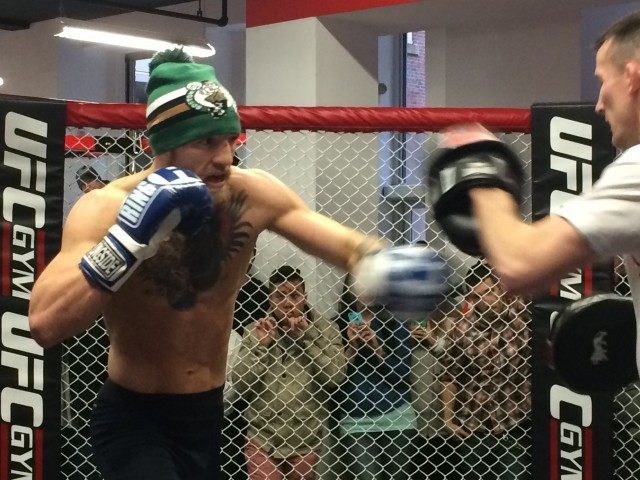 King Conor appears less impressed by Money Mayweather's pugilism than his paycheck. Although washed up boxers have enjoyed success and failure in mixed-martial arts—a fortysomething Ray Mercer knocked out former UFC heavyweight champion Tim Sylvia in seconds and a blown-up and slowed down James Toney embarrassed himself against Randy Couture—McGregor sees undefeated and often unhittable Mayweather as a man in over his head should he ever step into the octagon.
"I don't look at a man who's expert in one area as a specialist," McGregor declared to Esquire. "I look at him as a rookie in 10 other areas. If you can box, what happens if I grab hold of your legs? If you put me face-to-face with Floyd Mayweather—pound-for-pound boxing's best—if I fought Floyd, I would kill him in less than 30 seconds. It would take me less than 30 seconds to wrap around him like a boa constrictor and strangle him."
The Irishman proved far more welcoming backstage at an old vaudeville theater in Boston when Breitbart Sports last linked up with him. After speaking at the press conference promoting UFC 189, McGregor spoke to the press some more in the dingy and decrepit area hidden behind the curtain for good reason. With the dark scaring away the light, the quotable and charismatic McGregor agreed to let us shine an iPod flashlight on his face while videoing him with an iPhone. Dressed more GQ than Esquire, McGregor, who relied on welfare through his first fight in the UFC, predicted a cash windfall for top-tier mixed-martial artists.
"We will get to that stage," he predicted about elite cage fighters someday earning the purses of elite boxers. "I certainly will. Not everybody else. But I certainly will."