UNCASVILLE, Conn.—Undefeated boxer Regis Prograis owns the coolest nickname in sports. "Rougarou" also owns a mean body punch.
For the uninitiated, which included your correspondent until a conversation with Mr. Prograis, a "Rougarou" is a kind of Cajun boogeyman that likely traces his lineage to a werewolf. Prograis entered the ring under a Mardi Gras-style mask to the amplified noise of what sounded like a rare recording of a Rougarou howling.
The Rougarou's manifestation in a Mohegan Sun Arena boxing ring frightened terribly. He delivered an otherwise nondescript straight punch to opponent Abraham Alvarez's trunk in the first round of their bout on the dark undercard of ESPN's Friday Night Fights. Alvarez, to the astonishment of onlookers, remained on the deck wincing in pain long past ten seconds.
"I hit him right in the solar plexus straight," Rougarou told Breitbart Sports. "I knew he wasn't getting up. I knew exactly he wasn't getting up when I hit him."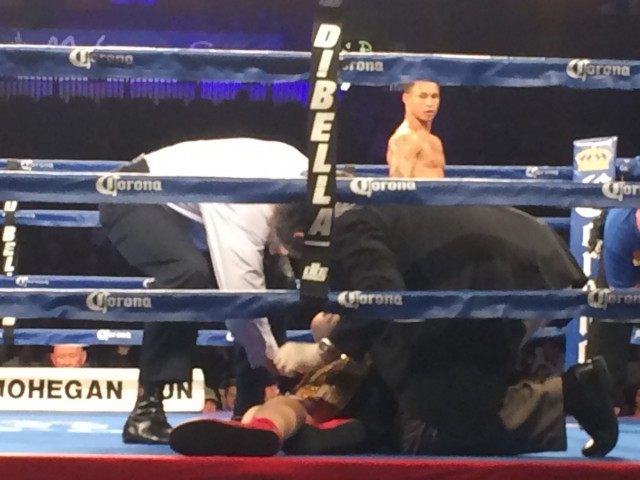 Body punches, and Rougarous, can have that effect on a man.
"It was a perfect shot," Prograis explained. "I planned it. My coaches, they told me just take my time. Start off with a jab, take my time, and land a clean shot, and that's exactly what I did."
The junior welterweight improved to 14-0 with 12 knockouts on the performance. And despite what he says, he didn't take his time, dispensing with his opponent in about 90 seconds.
The Houston boxer displaced from his native New Orleans by Hurricane Katrina gives body-shot KOs no vaunted place among fight-ending blows, conceding "a knockout is a knockout." But the 26-year-old pointed out, "Body shots hurt way more than head shots, any day."
Like the Rougarou, body shots mystify. This is because unlike the Rougarou, body shots look harmless. They often elicit puzzlement or cries of "fix" because fans see a pedestrian punch that pugilists feel as a painful one. The victim's delayed reaction, too, puzzles onlookers. Just as when Bernard Hopkins dropped Oscar De La Hoya with a liver shot, Prograis's solar-plexus punch catalyzed what-just-happened stares and peanut-gallery suggestions that the fighter going down was not on the up-and-up. But the thud, the fall, and the writhing was realer than the Rougarou.
"If you get him clean," Prograis explains, "it's real hard to get up."