"The weight cut is the fight," Conor McGregor told Breitbart Sports earlier this year. "The fight is freedom."
Conor McGregor steps on the scales tonight on the eve of his UFC 189 main-event bout with Chad Mendes. Chael Sonnen, a proto-Conor McGregor, claimed that the Irishman informed him last week of the need to cut 27 pounds in eight days to make the 145-pound featherweight limit. McGregor says Sonnen misheard him (can't blame it on cauliflower ear—the accomplished wrestler doesn't wear one).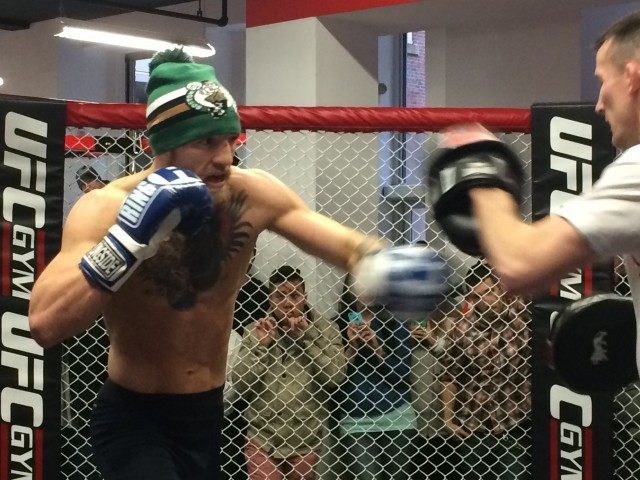 The way McGregor looks, and talks, suggests Sonnen spoke something close to the truth. Breitbart Sports asked the tall featherweight what weight he walked around at in January. "It varies." We pressed. He dodged. It's the only topic that shuts McGregor's otherwise always open mouth.
McGregor looks longer than his featherweight peers. Big in the octagon, Skelator on the scales, the Dubliner may be long for the featherweight division but he may not be long for it. He says lightweight figures as a more natural class for him, but seeing him standing near Cowboy Cerrone suggests that size, the advantage at 145, becomes a disadvantage at 155. Nevertheless, he enters the Octagon Saturday night several inches taller and enjoying a much longer reach than Chad Mendes, who wrestled at 135 in college. Mendes, thick and short, says the scale scares him not.  "I don't stop training," he divulged on the UFC 189 conference call. "Training year round—this is our job."
For McGregor, talking to microphones appears as part of the job as well. He sees his time in the cage as a "sigh of relief" compared to the pressure of non-stop interviews and the demand to shrink, albeit for a few minutes, to an unnatural size.
"The weight cut mixed with the media obligations is where I earn my money," he explained to Breitbart Sports. "The competition is fun."