"You could say it's all his mouth but the guy does have skills," Chad Mendes told Breitbart Sports about Conor McGregor this spring. "His standup is crisp. He's a southpaw. He's long. He's lanky. His style is exciting to watch."
In April, Mendes appeared far, far away from a title shot. He lost twice to the champion, and if McGregor somehow beat Jose Aldo, a rematch rather than redemption for Chad Mendes—appeared a lock. But Mendes remained curiously confident in an imminent match for the belt. And then, suddenly, a rib injury to Aldo put Bad Chad back in another championship bout, albeit one for an interim title.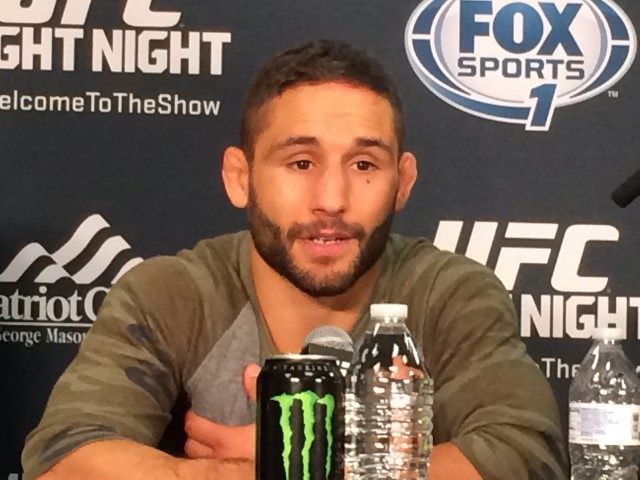 Mendes called McGregor "a good fighter," but a "damn good fight promoter" in April. The latter quality explains why in July the Californian likely fights before double the number of pay-per-view buyers than he did in his first two title bouts combined.
Opposites attract on July 11. UFC 189's main event pits cocky vs. humble, long and lean vs. short and stocky, and, most importantly, striking vs. wrestling.
"I do believe there are some holes in his game that are going to cost him if he gets in there with certain style of fighters," Mendes told Breitbart Sports.
Presumably, Mendes refers to wrestlers. The two-time NCAA All-American possesses elite wrestling to go along with his heavy hands. McGregor appears spectacular against strikers, such as Dennis Siver, Diego Brandao, and Dustin Poirier. And his pre-UFC career witnessed him scrap with Europeans more looking to throw with their opponents then throw their opponents down. McGregor has yet to test his skills against an elite wrestler on the ground.
Paul Daley, Dan Hardy, and other strikers from across the pond boasting skillsets similar to McGregor's have fared poorly against accomplished wrestlers. Mendes, who boasts explosive knockout power in addition to his impressive pedigree on the mat, may look to take the fight to the ground on July 11.
He telegraphed as much in the UFC 189 conference call last week. "I don't know how you are going to be pressuring anything on your back," Mendes jibed McGregor. For his part, King Conor claims: "I am very confident that if we exchange in any grappling sequence I have the ability to dominate him."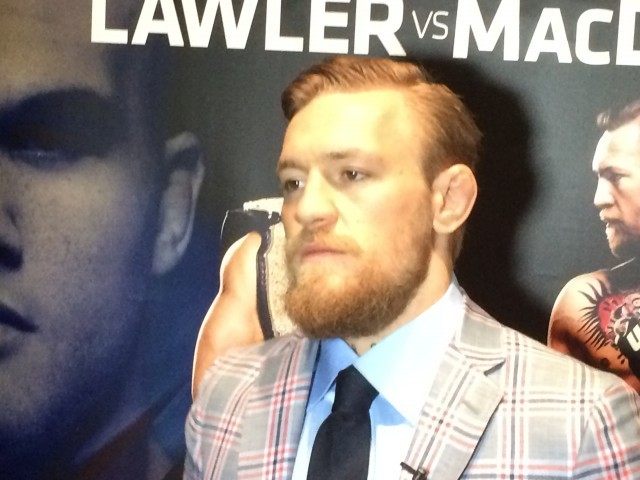 But no tape exists showing McGregor dominating any wrestler on the ground. In fact, Dennis Siver, essentially a kickboxer, scored a takedown on McGregor in their January scrap otherwise dominated by the Irishman. And with McGregor preparing for months in anticipation of a precision Muay Thai striker in Jose Aldo, the notion of a two-week crash course in negating takedowns to prepare for one of the UFC's best wrestlers seems risky business. Still, McGregor exhibits quick hands, a long reach, and torque in his power shots. He holds the power to end fights in his hands.
But his most potent anatomical weapon may appear on the bottom of his face rather than at the end of his arms.
When McGregor promises to "f—ing butcher" Mendes, or boasts his ability to "rest my b—s" on the shorter wrestler's forehead, Mendes appears at a loss for comebacks. The betting public interprets the California's deficiencies in the verbal sparring as foreshadowing the live fight. Mendes, boasting an identical 17-2 record as the Irishman, hears the talk as more money, not more difficulty, for him.
"With the mouth, and being able to trash-talk like he does and backing up the way he has, that's what's bringing the recognition," Mendes explained to Breitbart Sports in April. "As much as I want to hate the dude, I'm not stupid. I understand how the sport works. He's bringing a lot of recognition to us."
Mendes seeks to bring de-cognition to McGregor Saturday night in Las Vegas.