BOSTON—UFC welterweight champion Robbie Lawler says "no frustration here" in fans flocking to fighters whose bark beats their bite.
"There's no frustration," Lawler told Breitbart Sports at the UFC's card at TD Garden. "I just worry about myself. I'm just gonna be me and do me. If people appreciate it, cool. If not, I'm gonna still be me."
Featherweight champion Conor McGregor, one such fighter who talked his way into superstardom before backing up his words with actions, allegedly harbors hopes of not only taking Rafael Dos Anjos's lightweight belt in March but Lawler's welterweight one at a later date, too. King Conor's coach, John Kavanagh, said last week such a scenario of the featherweight titlist brashly competing for Lawler's belt one year from now would not surprise him.
"They might be excited about it," Ruthless told the press scrum backstage in Boston about the UFC's hopes for such a bout. "But I'll believe it when I see it. I concentrate on numero uno."
Lawler remains an exciting but not quite excitable champion who gets better with age. The 33-year-old debuted in the octagon almost fourteen years ago with a UFC 37 win over Aaron Riley. Fans remember him for a rock-'em-sock-'em-robots knockout loss to Nick Diaz in that first UFC stint. He went away from the promotion for almost a decade, and enjoyed limited success at 185 before resurfacing as a welterweight at UFC 157. His slow-but-steady progression as a mixed-martial artist meshes with his even-keeled personality and dogged determination within the octagon.
The welterweight continues to compile fans the hard way. He emerged victorious in two grueling, epic title fights in the last year. He came from behind to break Rory MacDonald in July at UFC 189 in perhaps the greatest fight ever witnessed in UFC's welterweight division. A fifth-round jab crushed the remainder of MacDonald's nose and sent the tough Canadian turtling to the canvas. Earlier this month, Lawler eked out a controversial decision over Carlos Condit in an action-packed war.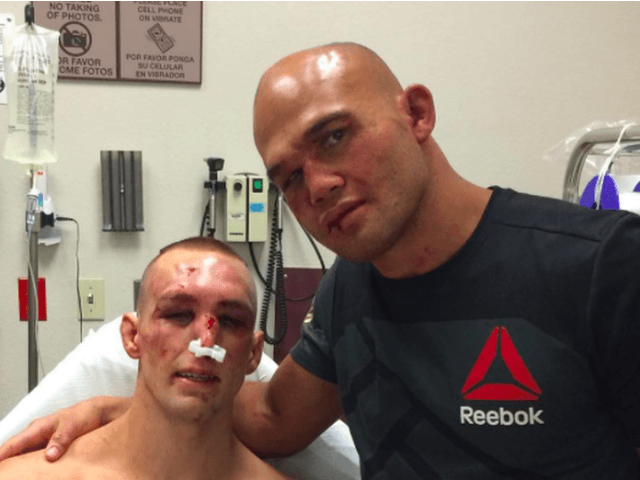 The first fight served as a co-main event and indications show the second one exhibiting mediocre pay-per-view buys. But the often monosyllabic Lawler prefers to build an audience with his hands rather than his mouth. But he celebrates the diversity of interests among fans.
"Everyone likes different things," he observes. "Not everyone's the same. Not everyone runs their mouth. Not everyone can fight."