BOSTON—Dominick Cruz explained to Breitbart Sports that he would "absolutely" fight Conor McGregor.
"That's why we're in this fight business," Cruz said of a proposed superfight. "We're in it not just not just to show ourselves how good we are, but also to make money. And the big-money fights, that's what Conor's doing."
Cruz's remarks came prior to his split-decision victory over T.J. Dillashaw to win back the UFC bantamweight belt he lost through injury. Atop pot-shotting and flash takedowns, Cruz used footwork and head movement to put on perhaps the most complete defensive performance in a title fight in UFC history at TD Garden Sunday night. After the fight, he refused to speculate on future bouts. "I haven't even gotten a pat on the back for the win," Cruz responded to Breitbart Sports at the postfight presser. "I'm already being asked who I'm fighting next."
McGregor, who looks to add the lightweight belt to his collection after knocking out Jose Aldo for the featherweight title last month, encourages talk of fights anywhere between 145 and 170.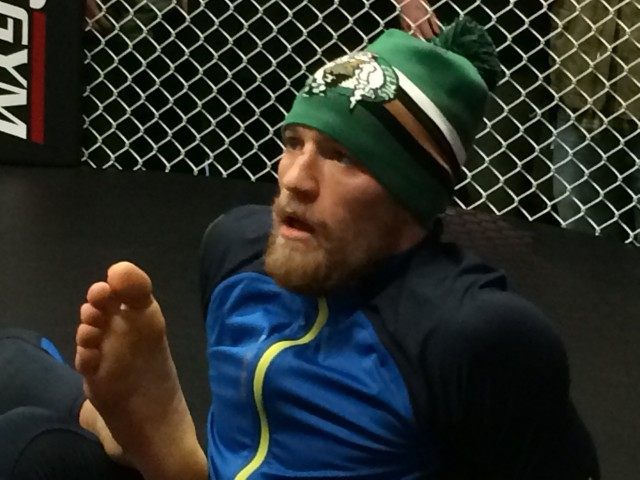 In March, he takes on Brazilian Rafael Dos Anjos for the 155-pound title and the Irishman's coach even floated the idea of McGregor fighting Robbie Lawler for the welterweight championship. For Cruz, who looked smaller than Dillashaw a 135, fighting McGregor would mean competing in a weight class with a decided size disadvantage—though surely nothing close to the handicap suffered by King Conor in a potential matchup with Lawler.
"At '45, I could fight him," he theorizes. "I don't think at '55 it would be good for me. I'm not that big. But at '45 I could make a move for that."
His peculiar verbiage—"I could fight him"—prompted a question of whether he could beat him. "Of course," the Dominator responded. The new bantamweight champion noted that his and every other fighter's attitude always and everywhere remains: "Of course I'm gonna beat him."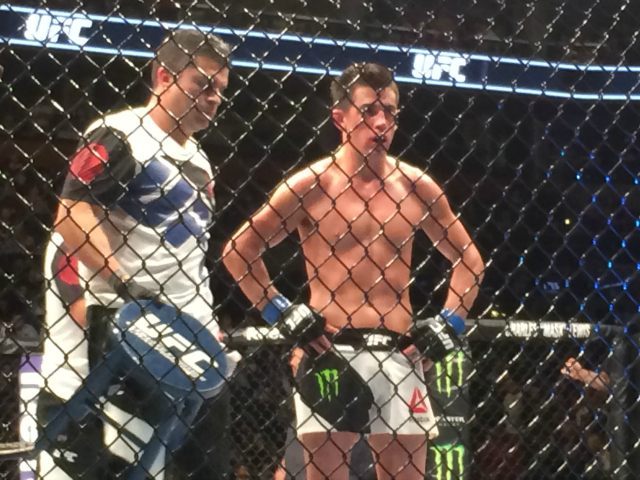 Cruz, 21-1, who already owns a win over 125-pound champ Demetrious Johnson in addition to signature victories over Urijah Faber and Dillashaw, enjoys marketable options at 135 with Dillashaw or Faber rematches or potential scraps with Raphael Assuncao or Renan Barao. But no bout in the bantamweight division comes close to a payday as McGregor's dance partner.
"No matter what we do, we're putting our body on the line, so if we're going to put our body on the line it might as well be for the most money possible," Cruz reasons. "And that's what superfights would serve, so absolutely I'd take any superfight."