Rather than handing out a ticket at a traffic stop, a kind Michigan police officer opted to lend a helping hand to a father in need, says a WGNTV report.
LaVonte Dell was recently pulled over by Officer Joshua Scaglione for his tinted windows.
Scaglione noticed Dell had a three-year-old daughter sitting in the backseat without a car seat. The officer asked Dell why his daughter was not in a car seat, and confessed that he was unable afford a new one.
Instead of slapping Dell with another bill he could not pay, Scaglione decided to help him.
"He looked around and said 'Can you follow me to Walmart?'" Dell remembered.
The two went to the nearby Walmart, and Scaglione bought one for Dell and his daughter with his own money.
The officer left before Dell could thank him or get his name, so Dell posted a thank you on his Facebook account.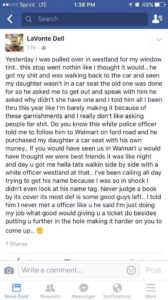 When Westland Police Department learned one of their officers did such a kind act, they had no clue who it was because he had not told anybody what he had done.
The department then found out it was Officer Scaglione, and they arranged a meeting for Dell and Scaglione so Dell could finally thank him in person.
"I had no other choice but to do that for you," he told Dell at the reunion. "You have a daughter and she is a number one priority and you deserve it."
"A thank you is appropriate but I still don't think this is enough," Dell said. "Like I say, he didn't have to do what he did at all."