With the weather getting warmer, an Owensboro, KY store is starting a new policy to refuse sweaty money, according to a NBC4i report.
Cindy Collins, manager of Tobacco Road, is fed up with customers who reach into their shoe, sock or bra to pay with "soggy" dollar bills.
"Some of them like to bring me some soggy money. They dig deep into their not so-called pockets to bring me some nasty money that we don't want to accept anymore," Collins said.
To combat this, Tobacco Road put up a sign that says: "Due to rising temperatures, we will NOT be accepting BOOB or SOCK money!"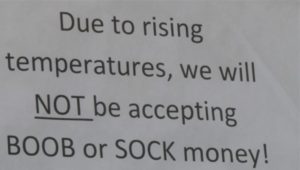 Collins said most customers pay the normal way by pulling money out of a purse or wallet, but they want to be clear that they will turn down anyone trying to pay by pulling money out of the sweatier areas.
Follow Breitbart.tv on Twitter @BreitbartVideo