SAN DIEGO — Hundreds of anti-Trump protesters clashed with hundreds of law enforcement officers and chanted "F**k Donald Trump, and f**k the police" as they were being cleared from the streets.
Some two hours after presidential candidate Donald Trump was done speaking to a rally at the San Diego Convention Center, law enforcement officers used loudspeaker equipment to tell protesters that the demonstrations were being declared an, "unlawful assembly."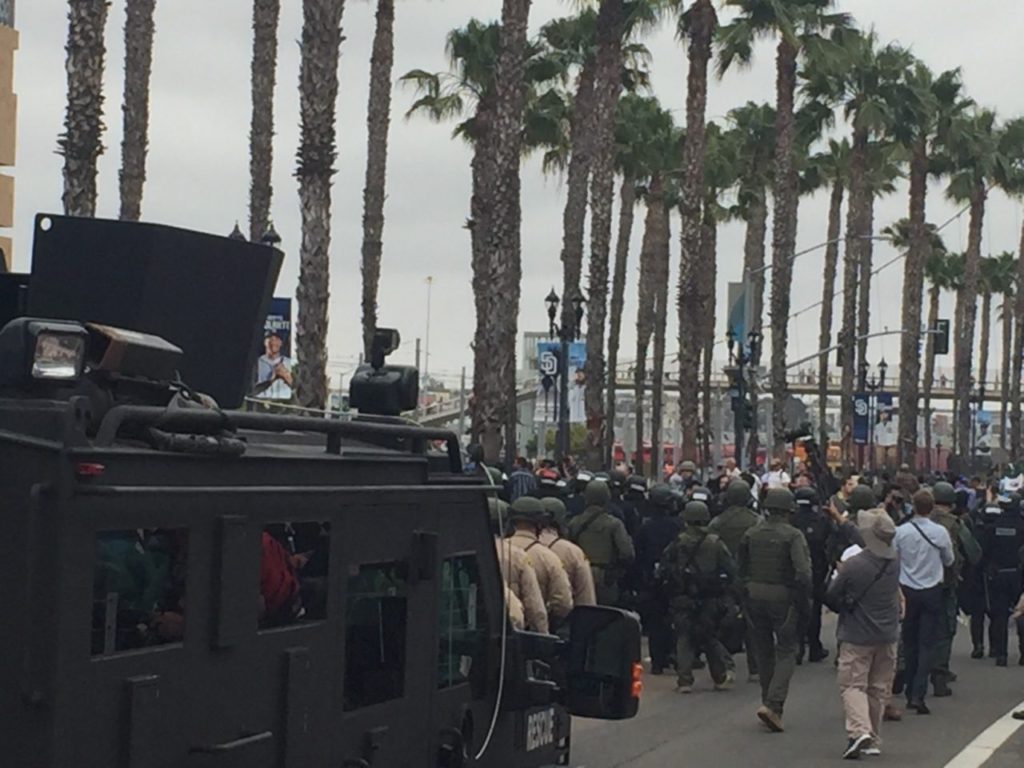 "I command all those assembled at 500 Harbor Drive to immediately disperse. You may move to L Street East. If you do not do so you will be arrested. If you refuse to move, chemical agents and other weapons will be used."
The message came first in English, and then a message was given in Spanish. The message was repeated several times, including once from what seemed to be the helicopter hovering above.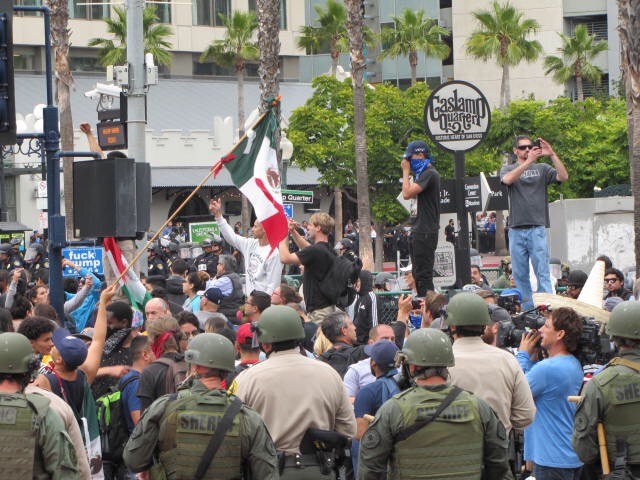 Nevertheless, the anti-Trump protesters remained, flooding the streets and refusing to move. Scores of law enforcement moved in with what appeared to be an organized plan to contain and move the protesters away from the area.
After a considerable amount of time and effort from law enforcement, the crowd moved, but not before many climbed on street lights and other sidewalk objects, and taunted the officers.
At one point protesters began yelling, "Hey hey, ho ho, Donald Trump has got to go." As they were continually moved out ,protesters could be heard repeating "F**k Donald Trump and f**k the police."
Several protesters were taken into custody in the course of the several hours of protests. At times, altercations broke out between antagonistic protesters and law enforcement. Scores of signs used slurs in reference to the presumptive GOP nominee, including a particularly hostile one that suggested that Trump would die by the hands of "the cartel" within a week if elected President of the United States.
Follow Michelle Moons on Twitter @MichelleDiana