More reports of assaults and mob violence by anti-Trump protesters on Thursday evening continue to emerge from San Jose, where groups of men attacked Trump supporters emerging from a rally, even pursuing them to their cars in the parking lot.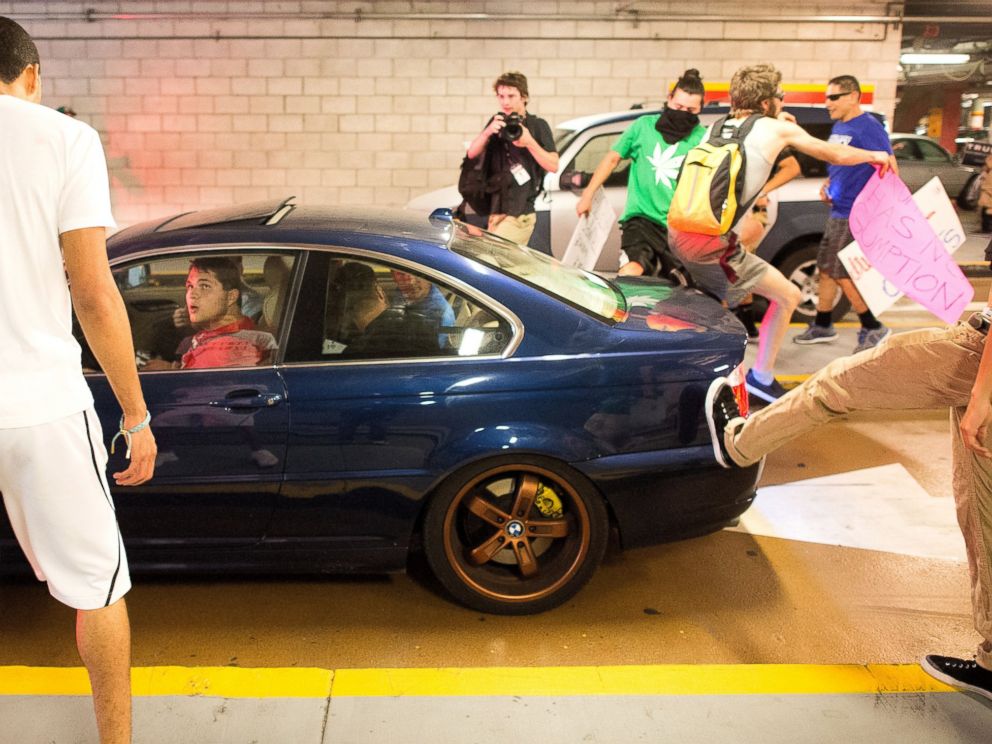 CBS San Francisco reports that a police officer was assaulted during the violence before law enforcement regained control.
POLICE ASSAULTED… https://t.co/nlmXA4sW2L

— DRUDGE REPORT (@DRUDGE_REPORT) June 3, 2016
There were also numerous reports that police initially refrained from stopping violence against Trump supporters. From KPIX:
Protesters followed Trump supporters to their cars as they left the convention center. Around the corner and away from police protection on San Carlos Street, a mob mentality took over.

A young man wearing a "Build The Wall" T-shirt was assaulted by several young men. Fearing for the man's safety, KPIX reporter Len Ramirez yelled at him to get away.

For several minutes, there was no police presence and protesters thumped Trump supporters' cars in the parking garage as they tried to leave …

Another young man was chased down like prey. He ran until finding some police officers who stopped his attackers.
Others corroborated that report, with footage from a parking garage nearby:
This @Timcast video from the #Trump protest in San Jose is really disturbing. https://t.co/wTp8idVvJH

— Blogs of War (@BlogsofWar) June 3, 2016
Breitbart News was present when the mob began to become unruly before Trump's speech, shouting obscenities and destroying an American flag.
Later, anti-Trump protesters beat and sucker-punched Trump supporters leaving the rally.
NOW: #Trump supporter attacked and left bleeding in San Jose pic.twitter.com/kC2GVz9JcZ

— Tim Pool (@Timcast) June 3, 2016
I called 911 but no one answered. Donald trump protest in San Jose, CA pic.twitter.com/LwaWyeYZfq

— Marcus DiPaola (@marcusdipaola) June 3, 2016
One woman was pelted with eggs and other objects in full view of the media.
Protesters cornering Trump supporters as they leave. This woman taunted them. They cornered her & threw eggs at her pic.twitter.com/MiDGDBkKIo

— Sara Murray (@SaraMurray) June 3, 2016
The Hillary Clinton and Bernie Sanders campaigns both condemned the violence. Supporters of both, particularly Sanders, were visible in the crowd of protesters outside the Trump event.
Photo: File
Joel B. Pollak is Senior Editor-at-Large at Breitbart News. His new e-book, Leadership Secrets of the Kings and Prophets: What the Bible's Struggles Teach Us About Today, is on sale through Amazon Kindle Direct. Follow him on Twitter at @joelpollak.