An historic moment in U.S.-Vietnamese relations occurs this week. For the first time ever, the General Secretary of the Vietnamese Communist Party will visit the U.S. and the White House.
The meeting with President Obama will take place on July 7th. It is unusual in that, although General Secretary Nguyen Phu Trong is head of the ruling party, he is not the head of state. Nonetheless, he is to be received as such.
Such a reception indicates the evolution of ties between the two nations—initially triggered by President Clinton two decades ago when relations were normalized—is growing stronger.
The primary topic for discussion will be a threat with which Vietnam is all too familiar, having had to deal with it now for more than a thousand years of its history: China.
Despite sharing a communist ideological bond today, Vietnam and China have never been able to overcome their historical animosity—most often the product of border disputes.
Ever since declaring its independence from China in 938, Vietnam has repeatedly been invaded by outnumbering Chinese forces. As it did in its war with the U.S., the Vietnamese have historically exhibited an amazing determination in driving invaders out, whether they be superior in numbers or in technology.
The most recent major military confrontation between Vietnam and China occurred in February 1979. China invaded Vietnam in an effort to punish Hanoi for its invasion of Cambodia. It was the largest military operation launched by the Chinese since the Korean War—one lasting only a month and ending very badly for them.
Today, Hanoi recognizes Beijing has a vastly improved military, clearly providing the confidence behind its leadership stirring up tensions in the region. Those tensions come in the form of China laying claim to islands in the South China Sea to which other nations, such as Vietnam, also make claim. And, where no islands exist on which to stake that claim, Beijing has embarked upon a campaign of building artificial ones, weaponizing some.
Numerous countries claim these islands and for good reason: over seven billion barrels in proven oil reserves lie underneath the sea—an amount equivalent to an entire year's oil consumption in the U.S.
But no country laying claim to the various islands has paid the price extracted from Vietnam in standing up to Chinese aggression seeking to dissuade claimants.
One such aggressive act actually occurred 27 years ago, in March 1988. However, as General Secretary Trong departed for his meeting with Obama, it was a lively topic of discussion within the Vietnamese press.
This brutal Chinese act of aggression involved the massacre of Vietnamese soldiers courageously standing their ground, while defenseless against Chinese warships raking gunfire across a reef in the South China Sea the Vietnamese occupied. During the assault, the Vietnamese flag is seen flying high within "the immortal circle" formed by its 73 defenders.
The reef, known to the Vietnamese as "Gac Ma" and on Western maps as the "Johnson South Reef," lies within the Spratly archipelago which consists of 750 reefs, islets, atolls and islands.
Surprisingly, rather than keeping quiet about their brutal massacre, Beijing unabashedly released a video of it in 2012, probably aimed at intimidating Hanoi as China renewed efforts to pursue its claims in the South China Sea.
The video is horrific. It reveals the bareness of the reef—denying Vietnamese soldiers any cover behind which they could seek protection.
After an initial effort by Chinese marines to take the reef from the Vietnamese was rebuked, the Chinese naval commander recalled them to their ships. He then resorted to using his warships' higher caliber guns to destroy a Vietnamese force incapable of defending itself against such an attack. Rounds fired from the Chinese naval guns ripped apart the bodies of Vietnamese defenders who stood fast, stoically facing death knowing they could do nothing. When the smoke cleared, 64 of the 73 Vietnamese soldiers lay dead.
A Chinese military base and airfield now stands upon Gac Ma, built upon a reef that, for the Vietnamese, will remain an eternal symbol of the courage of its military in resisting Chinese aggression.
A recent painting of the massacre—done by an artist seeking to sensitize the Vietnamese people to the brutality of what happened and the courage of those defenders—has gained national focus in Vietnam as it has been put up for public auction. That auction has resulted in a wide range of bidders (including this author) who view the incident as Vietnam's "Alamo" moment—courageously meeting death at the hands of a superior enemy force.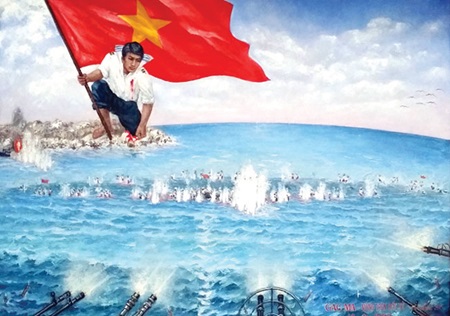 The auction will remain open until July 24th with funds from the winning bid going to the families of the 64 slain Vietnamese soldiers.
Interestingly, the current high bid of US$25,000 comes from a young, and successful, Chinese-Vietnamese businesswoman by the name of Yen Hong Ngoc.
Ngoc's interest in purchasing the portrait stems from her desire to communicate two messages—one to the Chinese leadership and one to Obama.
She wishes to remind Beijing's leadership of a Chinese proverb she learned as a young child: "Never take something that is not yours for any reason; and, if so done, it is better to return it with an apology."
To President Obama, Ngoc sends a message of hope and warning.
She hopes General Secretary Trong's visit continues to heal the wounds of war, closing what has been a "painful past" for both the U.S. and Vietnam. She, like most Vietnamese, realizes the right course for Vietnam to set is one allowing for a closer U.S. relationship.
But she also wishes to send Obama a warning. Should she make the winning bid for the Gac Ma portrait, she intends sending it to the President as a warning of the serious threat posed by China to stability in the region and the brutal extremes to which it is willing to go "to take something not (theirs)."
Hopefully, General Secretary Trong will be able to convince Obama he needs to show the same courage in facing the threat now posed by China as was shown by the 64 Vietnamese soldiers slaughtered by a merciless enemy.
Lt. Colonel James G. Zumwalt, USMC (Ret.), is a retired Marine infantry officer who served in the Vietnam war, the U.S. invasion of Panama and the first Gulf war. He is the author of "Bare Feet, Iron Will–Stories from the Other Side of Vietnam's Battlefields," "Living the Juche Lie: North Korea's Kim Dynasty" and "Doomsday: Iran–The Clock is Ticking." He frequently writes on foreign policy and defense issues.