The easiest way to pay a debt of gratitude is with respect and commemoration. On Memorial Day, remember to pause for a minute of silent honor at 3 PM, local time.
Memorial Day is still officially known as Decoration Day. It is a day to remember those who have died in all of our wars. There are many commemorations across America and in our territories. Do most Americans really know and act appropriately on Memorial Day — or has it just become the unofficial start of summer?
One man, Paul Monti, father of SFC Jared Monti, the first recipient of the Congressional Medal of Honor posthumously for his heroism in Afghanistan demonstrates yearly his devotion to the day's true meaning. After a four-year battle to decorate the bare graves on this day of commemoration, Mr. Monti will with the help of many patriotic Americans place over 62,000 flags at the National Veterans Cemetery in Bourne, Massachusetts.
A. Lawrence Vaincourt, a Canadian veteran and poet penned "Just A Common Soldier," often called A Soldier Died Today. It is a worthy read on any day, but especially on Memorial Day.
Contrast these actions and words with the following sent out on the official Twitter account of the Democrats. It's easy to say they don't get it, but I also have to wonder if somehow a generation of historical ignorance has not resulted in many not knowing the difference.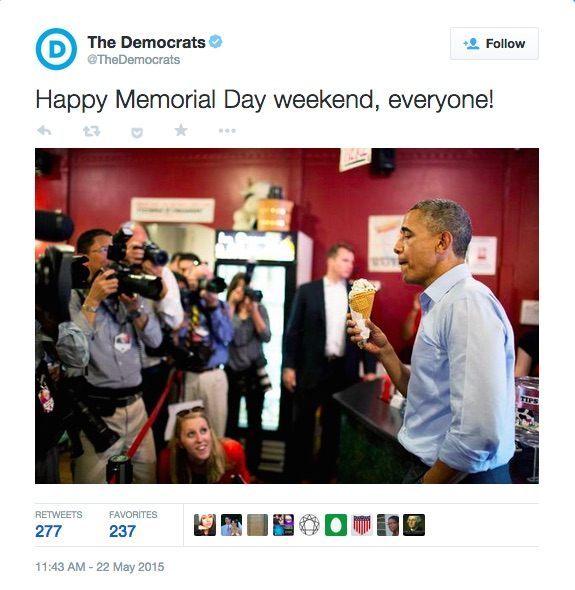 On the other hand, the words of Maj. Gen. Beaudreau, USMC, who commands the Marine detachment during Fleet Week New York 2015 ring true.
Family, friends, burgers, hot dogs, beer, baseball and more are all part of the weekend. On Memorial Day, pause and end with the original and continued reason for this day.