A vocal protester caused a major scene at a Tim Kaine rally, yelling out that Bill Clinton was a rapist.
"Bill Clinton is a rapist!" he shouted about a half a dozen times, while Kaine complained that Donald Trump called women mean names.
The protester wore a t-shirt of Bill Clinton with the word "RAPE" underneath it — a parody of the Barack Obama Hope poster.
He also yelled that the mainstream media was covering up Clinton's criminal behavior and cited Infowars.com.
The movement to remind America of Clinton's past is rising as pranksters are successfully trolling live newscasts to spread the message.
On Thursday's Today Show, one man in the background raised a sign about his mother before flipping it to reveal the "Bill Clinton is a rapist" message.
Very sneaky! pic.twitter.com/iRpXDREIBY

— Charlie Spiering (@charliespiering) October 7, 2016
On Wednesday, a protester in Canton, Ohio interrupted the former president at a rally with the same message.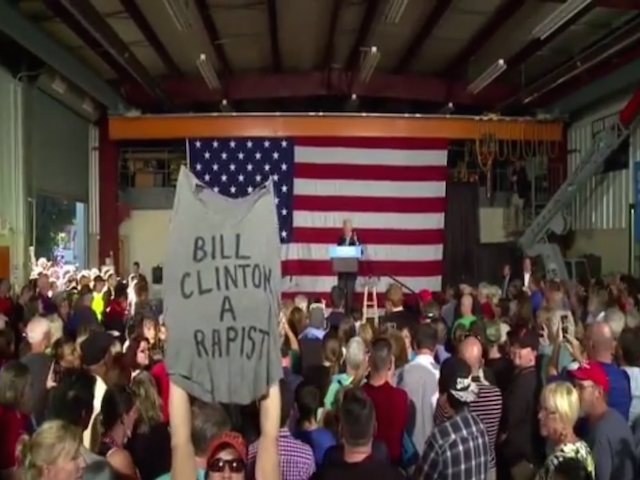 On Monday, a seemingly average Trump supporter was interviewed live on MSNBC, before he switched his message to declare that "Bill Clinton is a Rapist" and promoted "InfoWars.com."
On Fox and Friends last weekend, a man crashed a live shot of the hosts talking about pet dogs shouting "Bill Clinton is a rapist" five times before he was taken away.
https://youtu.be/A5zebaFFsQY