Senior administration officials quashed a letter from Department of Homeland Security (DHS) staff recommending the U.S. Trade Representative (USTR) Robert Lighthizer negotiate to end a little-known visa program that permits tens of thousands of Canadian and Mexican white-collar workers to work in America.
The DHS staffers were nearing completion of their letter to Lighthizer — who is overseeing the ongoing North American Free Trade Agreement (NAFTA) renegotiations — when they were told to "stand down." Citing President Donald Trump's policy of "Buy American, Hire American," the letter was to highlight the detriment to American workers caused by the "Treaty National" (TN) visas included in the current version of NAFTA.
TN visas are part of a much larger set of H-1B, J-1, L-1 and OPT programs which fill a wide variety of desirable white-collar jobs with an army of at least one million resident foreign professionals.
Internal DHS documents obtained by Breitbart News indicate that, in mid-December, a teleconference took place among DHS staffers with the aim of completing the letter to Lighthizer. Just days later, a DHS staffer involved in organizing the teleconference informed the same group that they were to "stand-down" on the completion of this letter — an order from holdover DHS career staffer, Deputy Assistant Secretary for Trade and Transport Christa Brzozowski.
The original decision to bury the letter, however, according to the documents in hand, was made further up the chain after "Chief of Staff level" communications between the USTR and the office of DHS Secretary Kirstjen Nielsen.
Sources familiar indicate that senior USTR staff do not want the president to know about the TN visas in NAFTA, and they fear Lighthizer, if aware, would negotiate for a position that is favorable to the president's viewpoint.
Financial companies and big law firms have been pushing hard to maintain the TN Visa program. "If they eliminate this, it'll be a huge headache for Wall Street," one recruiter told Breitbart.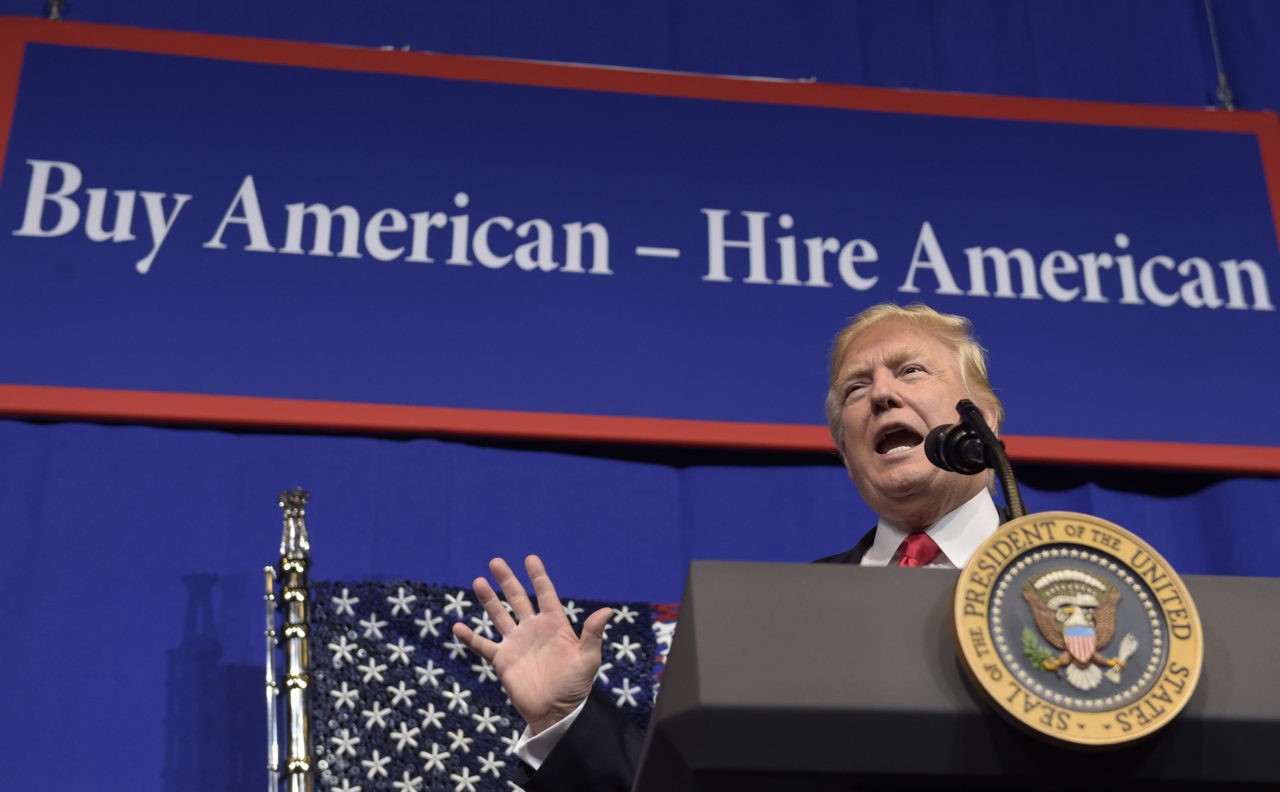 President Donald Trump addressing H-1B visas last April in Wisconsin saying they "should never, ever be used to replace American workers." (Credit: AP Photo/Susan Walsh, File)
While the contents of these communications between high-level USTR and DHS staff are unclear, at a meeting of "DHS Senior Staff" afterward, Secretary Nielsen's office decided to drop the letter on TN visas.
Lesser known than the hotly debated H-1B and EB-5 visa program, the employment-based TN visa program is the result of provisions governing temporary entry for business persons included in NAFTA. The TN program allows Canadian and Mexican professionals to work in the U.S. in various occupations, including, but not limited to: accountants, engineers, teachers, pharmacists, lawyers, hotel managers, and land surveyors. Visa holders are permitted to reside in the U.S. for three years, but the program is uncapped, so holders can renew this status an unlimited number of times. Spouses and dependent children may also, if eligible, be granted dependent status (TD) to accompany the TN visa-holder.
While the administration does not track the exact number of foreigners with TN visa status, in an October letter to Lighthizer, TN visa critic Senate Judiciary Chairman Chuck Grassley, wrote: "the number could be approaching 100,000." Citing a State Department visa report, Grassley explained,
14,768 TN visas were issued in 2016, (along with 9,762 TD visas for spouses and children), another 13,093 were approved in 2015, and 11,207 in 2014, for a total of 39,068 TN visas issued (largely to Mexican workers) in the last three full years. Although Canadian workers are not required to apply for a TN visa, a Canadian news source recently estimated that "30,000 to 40,000" Canadians work in the U.S. in TN status.
"DHS opposes the inclusion of immigration provisions in NAFTA, because such inclusion is contrary to the aims of Executive Order 13788 'Buy American and Hire American,' would constrain DHS authority to regulate immigration, contravenes Congressional pronouncements, and arguably conflicts with negotiation objectives asserted in current trade promotion authority (TPA)," the abandoned draft of DHS's letter, obtained by Breitbart News, reads.
The draft continues:
All of these positions [filled by TN visa holders] are in high demand by qualified U.S. workers. The TN program is uncapped and includes almost none of the U.S. worker protections Congress has included for certain other temporary worker programs (such as the requirement that employers advertise the position, pay the worker the prevailing wage, and ensure that importing foreign workers will not adversely impact the working conditions of U.S. workers).

…

[R]etaining TN provisions in NAFTA is in tension with the President's objectives underlying Executive Order 13788, in which he stated that, "to create higher wages and employment rates for workers in the United States, and to protect their economic interests, it shall be the policy of the executive branch to rigorously enforce and administer the laws governing entry into the United States of workers from abroad."
"Furthermore, retaining or adding immigration provisions in NAFTA is contrary to Congressional intent as expressed by enactments, committee reports, and letters from the committees of jurisdiction over immigration," the draft reads before citing several instances of bipartisan opposition to the inclusion of immigration in trade agreements.
Critics of the program argue the TN visa program, like others, undermines the Trump administration's agenda of protecting American workers from being replaced by cheap, foreign labor. Grassley's October letter to urge Lighthizier to fight to rein in the program in his NAFTA negotiations calls "the uncapped TN nonimmigrant classification" "a component of the North American Free Trade Agreement (NAFTA) that permits Mexican and Canadian nationals to take high-paying professional jobs in the United States."
He continued:
Evidence suggests that employers will pursue any means available to hire high skill foreign workers, [8] who generally cost less and are more vulnerable than American workers. Given the current administration's focus on protections for the American worker, [9] including efforts to rein in the H-1B program, businesses will be looking for alternative sources of cheap foreign labor to exploit. With few restrictions and a ready supply of nearby professionals, employers are likely to turn to the TN visa category. The TN visa, if left unchanged in its current form, could well undermine the administration's broader efforts.
And concluded:
I believe that it would be a mistake to essentially renew the TN temporary worker visa category, without considering the broader implications for the current U.S. economy.  Given President Trump's willingness to reevaluate—or reject—any and all of the NAFTA agreement, and in the interest of protecting American workers, I recommend that you specifically include temporary workers in the ongoing NAFTA review.
The DHS staffers' draft letter to Lighthizer was to include reference to Grassley and Senate Finance Committee Chairman Orrin Hatch's (R-UT) years-long opposition to including any provision in U.S. trade deals that require changes to American immigration law.
Ian Mason, Neil Munro, and John Carney contributed to this article.
Head Photo: President Donald Trump with U.S. Trade Representative Robert Lighthizer in the Oval Office before signing Section 201 actions Jan. 23, 2018. Trump said he is imposing new tariffs to "protect American jobs and American workers." (AP Photo/Carolyn Kaster)
Amanda House is Breitbart News' Deputy Political Editor. You can follow her on Twitter at @AmandaLeeHouse.