San Francisco 49ers all-purpose offensive standout Reggie Bush filed a lawsuit against the Convention and Visitors Center (CVC) and St. Louis Regional Convention and Sports Complex as a result of a fall he took on a concrete path surrounding Edward Jones Stadium playing field during a game against the St. Louis Rams on November 1, 2015.
The ten-year veteran and former 2005 Heisman Trophy-winner suffered a season-ending and possibly career-ending ACL injury as a result of the fall. The venue installed a slip-resistant surface (seen in picture above) in response to Bush's injury.

The lawsuit described the concrete path as such: "At that time, the turf playing field at the Dome was surrounded by a slippery concrete surface, now known by many as the 'concrete ring of death.'"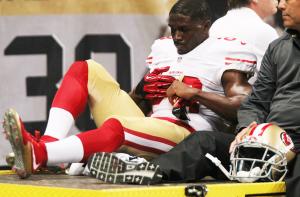 The lawsuit further states that this was not the first time someone had injured themselves on the dangerous surface. Only one week before Bush's injury, Cleveland Browns quarterback Josh McCown lost his footing on the concrete surface. According to the lawsuit: "October 25, 2015, Josh McCown, quarterback for the Cleveland Browns, injured his shoulder after slipping on the same concrete surface."
Bush's lawyers argue in the filing that:
Defendants owed a duty to the general public and specifically those invited on the field, including, but not limited to, players, coaches, trainers, media, youth football players, cheerleaders, fans, and referees to remove or warn of dangerous conditions in the Dome and to maintain the Dome, including the playing surface and surrounding areas, in a reasonably safe condition.

In violation of this duty, Defendants negligently permitted and maintained a dangerous condition to exist at the Dome, creating an unreasonable risk of injury to those invited on the field and surrounding surfaces, including Mr. Bush. Specifically, the turf playing field was surrounded by a slippery concrete surface. This abrupt change in surface was not reasonably safe.
According to Yahoo Sports, the 30-year-old 2006 NFL #2 pick seeks punitive damages as well as lawyers' fees "in excess of $25,000."
Breitbart News reported in November that OJ Simpson "Dream Team" attorney Shawn Holley and her KWIKA firm represent Bush in the litigation. Holley enjoys a track record of serving many clients in the entertainment industry, including  Snoop Dogg, Paris Hilton, and Lindsey Lohan.
Bush's litigation and the potential move of the Rams to Los Angeles sets up a nightmare for St. Louis taxpayers who may be called upon to foot the bill of a losing lawsuit and lose their home team to boot.