Bernie Sanders's recently hired Jewish outreach coordinator reportedly accused Prime Minister Benjamin Netanyahu of mass murder in an expletive-laden Facebook post.
"Fuck you, Bibi … you sanctioned the murder of over 2,000 people this summer," wrote Simone Zimmerman in the March 3, 2015 post. A snapshot appears below.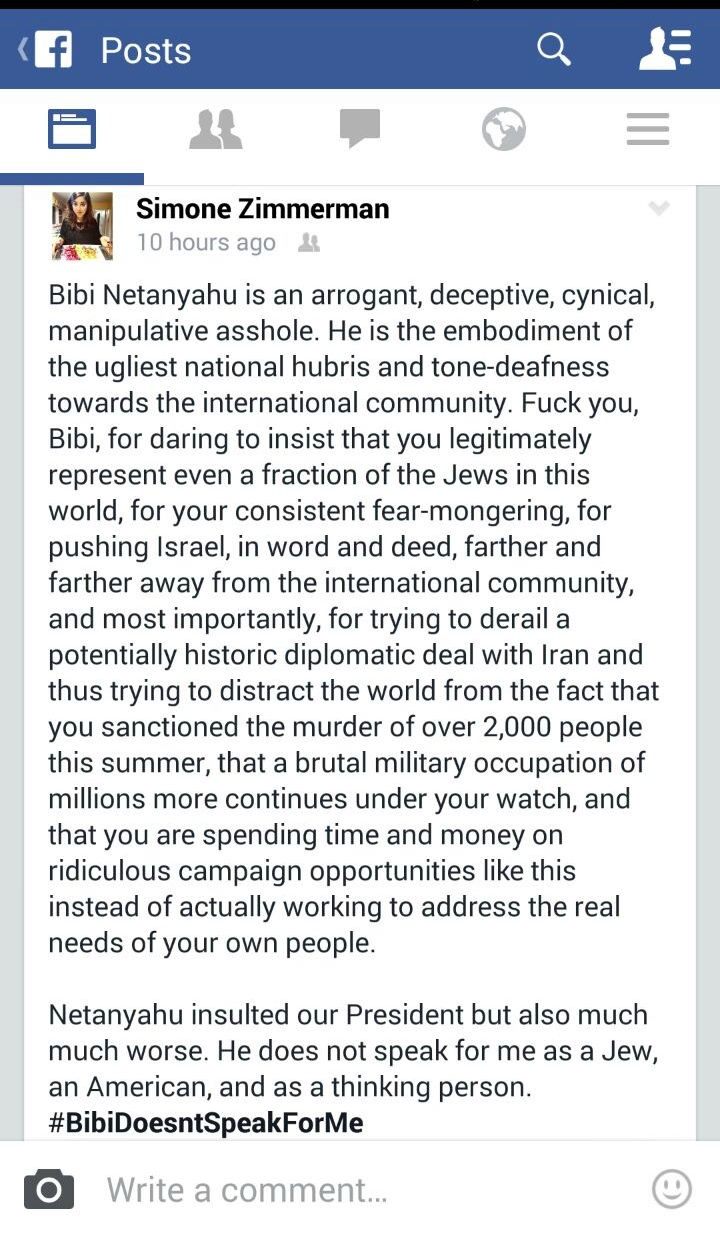 The Washington Free Beacon on Wednesday first reported on the missive from the former campus activist with J Street, a George Soros-funded Mideast advocacy group that has been critical of Israeli policies.
"Bibi Netanyahu is an arrogant, deceptive, cynical, manipulative asshole," added Zimmerman.
Zimmerman apparently later edited her screed, changing "asshole" to "politician" and "Fuck you" to "shame on you." However, the Free Beacon obtained and posted screenshots of her original post, as seen above.
The hiring of Zimmerman, who has supported the anti-Israel Boycott, Divestment and Sanctions (BDS) campaign, was just the latest seeming slight against the Jewish state by the Sanders campaign.
Sanders, the sole Jewish candidate in this year's presidential elections and the first Jewish politician to ever win a presidential primary, was also the only presidential candidate to not speak the annual conference of American Israel Public Affairs Committee (AIPAC) last month.
Breitbart Jerusalem reported on the text of the speech Sanders would have given had he attended the AIPAC conference. The speech, released by the Sanders campaign, was full of Israel criticism, including statements comparing the democratic, pro-human rights, terrorist-condemning Israeli government and society to the anti-democratic, human rights abusing, terrorist-supporting Palestinian leadership and to Palestinian society, which is also mostly supportive of terrorism.
In the speech, Sanders further accused Israel of "disproportionate" responses to Palestinian terrorist attacks, a theme he continued in numerous recent interviews.
In one interview with the New York Daily News two weeks ago, Sanders vastly inflated the number of Palestinians killed by Israel in during the 2014 Gaza War, and he claimed that the IDF response during that war was "disproportionate."
"I don't remember the figures, but my recollection is over 10,000 innocent people were killed in Gaza," Sanders told the paper's editorial board.
Here, Sanders actually outdoes Hamas's own anti-Israel disinformation.
Israel and the Palestinians published different figures for the death toll of Operation Protective Edge, as Israel dubbed it, but both put the number of dead well below 2,500, including both civilians and militants. Israel says 1,408 of 2,203 Palestinians killed in the war were militants. Hamas claimed more than half were civilians.
During his Daily News interview, Sanders claimed that Israel bombed "hospitals."
"My understanding is that a whole lot of apartment houses were leveled. Hospitals, I think, were bombed. So yeah, I do believe and I don't think I'm alone in believing that Israel's force was more indiscriminate than it should have been," Sanders said.
Sanders left out that the IDF bombed a wing of Gaza's empty Al-Wafa Hospital, with the Israeli army saying the building was being used as a Hamas terrorist command center and a launching site for rockets. No casualties were reported in the bombing, and Israel first fired numerous warning shots and ensured that the building was entirely evacuated.
Aaron Klein is Breitbart's Jerusalem bureau chief and senior investigative reporter. He is a New York Times bestselling author and hosts the popular weekend talk radio program, "Aaron Klein Investigative Radio." Follow him on Twitter @AaronKleinShow. Follow him on Facebook.