The Vatican has come under heavy fire after admitting to doctoring a photograph of a letter from Emeritus Pope Benedict commenting on a recently published a series of books on the theology of Pope Francis.
The photo-shopped image blurs the final two lines of the first page of the letter, where Benedict begins to say that he actually never read the texts in question and doesn't intend to do so.
Benedict began his carefully crafted letter by saying that he applauded the study on Francis' theology "which is intended to oppose and react to the foolish prejudice according to which Pope Francis would be only a practical man devoid of particular theological or philosophical formation, while I would be solely a theoretician of theology who could understand little of the concrete life of a Christian today."
"The little volumes demonstrate," Benedict continued, "that Pope Francis is a man of profound philosophical and theological formation, and they therefore help in seeing the interior continuity between the two pontificates, albeit with all the differences of style and temperament."
The doctored picture of the letter was released by the Vatican's communications office on Monday, just prior to the fifth anniversary of the election of Pope Francis, and read by many as Benedict's stamp of approval of the Francis pontificate to counter those who would propose that Francis has ushered in a more radical "paradigm shift" in the Church.
Progressives, such as Jesuit Father Antonio Spadaro, were quick to interpret the letter an indictment by Benedict of conservatives who have been critical of Francis.
"This is a very elegant but clear way of Benedict distancing himself from those who exploit him in their battle against Francis," Spadaro said. "Benedict is saying 'I won't allow you to do this in my name.'"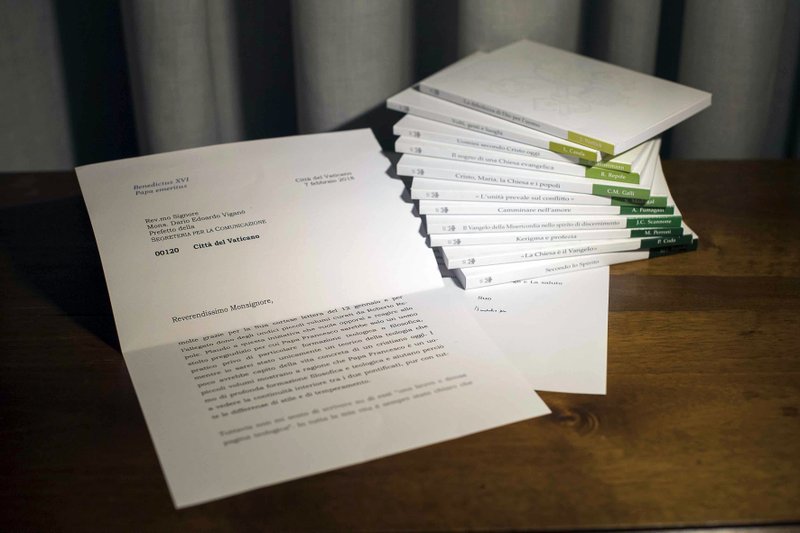 The news of the Vatican's manipulation of the photograph, which the Associated Press (AP) said "violated photojournalist industry standards," comes less than two months after Pope Francis railed against "fake news" in his annual message for the World Day of Communications.
In the message, which was released in late January, the pontiff said that humans have a "capacity to twist the truth," while declaring that he wished to contribute to "stemming the spread of fake news and to rediscovering the dignity of journalism and the personal responsibility of journalists to communicate the truth."
Fake news "refers to the spreading of disinformation on line or in the traditional media," he said. "It has to do with false information based on non-existent or distorted data meant to deceive and manipulate the reader."
Even a "slight distortion of the truth can have dangerous effects," Francis said.
According to AP, a Vatican spokesman admitted Wednesday that someone at Holy See had blurred the lines but offered no explanation as to why.
The missing content "significantly altered the meaning of the quotes the Vatican chose to highlight," AP said, because they "suggested that Benedict had read the volume, agreed with it and given it his full endorsement and assessment."
Pope Francis has compared fake news to excrement, while condemning it as a "very grave sin."
Follow Thomas D. Williams on Twitter Follow @tdwilliamsrome