Richard L. Campbell, the man accused of sucker-punching a 69-year-old protester outside a Donald Trump rally in Asheville, NC on Monday, is vigorously denying the charge — and has video that his attorney says proves his innocence.
Campbell's attorney, Ruth Smith, spoke exclusively to Breitbart News on Wednesday morning. "She grabbed him … and he didn't even see her," she said. "She has made up the whole thing."
Local media had reported that the injured woman, Shirley Teeter of Asheville, claimed that the man "cold-cocked" her in the jaw. (The Asheville Citizen-Times reported that some witnesses claimed she touched him first.)
Teeter spoke with local ABC News affiliate WLOS, describing what she claims happened:
"I said, 'You better learn to speak Russian,' and I said, 'The first two words are going to be ha ha.' He stopped in his tracks, and he turned around and just cold-cocked me," Teter said.

She was punched in the face.

She says she fell on her oxygen tank and has sore ribs, a sore jaw, and cut her elbow. She later went to the hospital and is thankful she did not break any bones.
Police initially did not charge Campbell, but later issued a warrant for his arrest.
According to WLOS, Teeter added that she wanted to know "if people find a Trump supporter punching her in the face deplorable," a reference to the recent controversy over a remark made by Democratic presidential nominee Hillary Clinton that half of Trump supporters were a "basket of deplorables."
Clinton supporters, and many journalists, have since tried to substantiate Clinton's claim by connecting Trump to extremism.
Smith, however, says that nothing happened the way Teeter alleges.
She told Breitbart News that the 73-year-old Campbell, who has trouble seeing due to cataracts, was being led through a gauntlet of anti-Trump demonstrators outside the rally venue when Teeter approached him from behind and put her hand on his shoulder. The two never exchanged words, she said.
Smith pointed to a Facebook video that captured the altercation, and which was posted Tuesday evening.
"The video clearly shows that he is being led through the screaming, hostile crowd by his wife because he cannot see well," Smith explained to Breitbart News. "The video actually shows him stumbling at one point because he couldn't see the curb.
"It shows [Teeter] come up behind him and reach out her left hand and grab his shoulder. [She] was pulling him back, and he lifted up his right hand to get her off of him, and she fell."
The video, which is somewhat unclear, shows Campbell stumbling at about 0:35, and shows Teeter following him, then reaching out to him at about 0:55. It does not show the precise moment at which Campbell reacts and Teeter falls.
Smith told Breitbart News that Teeter returned to protesting after the incident, and was later photographed smiling. She added that Teeter showed no visible sign of any injury to her jaw, either in a Facebook picture allegedly posted after the altercation, or in the WLOS interview.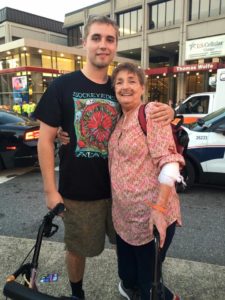 "Her statement is slanderous. It's libel," Smith said, adding that Campbell is considering suing Teeter for malicious prosecution, libel, and slander.
"She has turned this into a nightmare. Why would anybody be so thoughtless and vicious?" Smith asked. The Campbells "would never hurt anybody. These are two old people," she added.
Smith said that Campbell, who was due to have cataract surgery next week, will travel back to North Carolina to surrender himself to police.
"We're looking forward to having it heard in court, because the truth will come out."
Smith provided Breitbart News with a full press release, which follows:
FOR IMMEDIATE RELEASE

Mr. Richard Campbell is 73 year old retired electrical engineer who has lived his entire life in South Carolina. He has three daughters and seven grandchildren. Mr. Campbell suffers from cataracts and is of poor vision. He is also on various medications including heart medication.

Mr. and Mrs. Campbell traveled to Asheville, NC for the weekend of September 10, 2016 to celebrate their 50th wedding anniversary The Campbells decided to extend their vacation in Asheville when they learned that Donald Trump was coming to the civic center. The couple attended the Trump rally peacefully. As they exited the rally, approximately 1,000 protesters were allowed to surround the exits of the Civic Center. Many of these protestors hurled profanities and other insults at the Rally attendees as they left. Mr. Campbell and his wife observed what they believed to be saliva on their clothing as they passed through the crowd, presumably from protestors.

Mr. Campbell was led by the left hand by his wife as they exited the building and made their way single file through the crowd. As they left, Ms. Shirley Teeter approached Mr. Campbell from behind and grabbed him on the left shoulder. Mr. Campbell reflexively moved his arm to release himself from Ms. Teeter's grip. Ms. Teeter then fell backwards onto the ground.

Ms. Teeter has given several media interviews stating that she was "punched in the face", "sucker punched" and "punched in the jaw". She claims she suffered severe injuries requiring treatment at Mission Hospital. She also claimed that she had engaged Mr. Campbell in a discussion about living in Russia and he "sucker punched me". (WLOS interview of 9/13/2016). She has also repeatedly denied ever touching Mr. Campbell.

Fortunately, witnesses have come forward which have disputed Ms. Teeter's account and have stated that she was in fact the aggressor by first grabbing Mr. Campbell. Video has also surfaced which shows Mr. Campbell walking through the crowd led by his wife by the hand. He stumbles at one point due to his poor vision. The video shows Ms. Teeter approaching Mr. Campbell from behind and reaching up her arm to grab his left shoulder from behind. The video clearly shows that Ms. Teeter did not engage Mr. Campbell in any conversation prior to the incident despite her claims. This video can be found at: https://www.facebook.com/bill.fiesser/videos/10208124579330852/

Ms. Teeter, in spite of her claim of injuries, was later photographed at the rally smiling with other protestors. https://www.facebook.com/photo.php?fbid=654834511342026&set=p.654834511342026&type=3&theater
She does appear to have a bandage to her left elbow where she fell. Multiple video and photographic evidence of Ms. Teeter's face the following day show no bruising or other trauma to Ms. Teeter despite her claim that she was "punched in the jaw". Photographs of Mr. Campbell's hands also so no sign of trauma. As Mr. Campbell is on blood thinner, he bruises easily and with little pressure applied.

In any event, Mr. Campbell looks forward to having this case heard in court. He hopes that more video and witnesses will come forward. If any wishes to provide this additional evidence, they can contact his attorney, Mr. Jack Stewart at (828) 253-5673.
Joel B. Pollak is Senior Editor-at-Large at Breitbart News. His new book, See No Evil: 19 Hard Truths the Left Can't Handle, is available from Regnery through Amazon. Follow him on Twitter at @joelpollak.