SARASOTA, Florida — As thousands of people gathered at the Sarasota Fairgrounds to see Republican presidential nominee Donald Trump, Hillary Clinton supporters holding profane signs and a Mexican flag brawled with a Trump supporter on the street outside the venue.
The protesters had been holding signs such as "Fuck Trump" and "America was only great for rich whites."
According to Olympia Fulcher of West Palm Beach, a student at the nearby New College of Florida, who was one of the protesters shaken up by the scuffle, the fight began when a woman who had arrived to attend the rally began shouting at the protesters and showing them her middle finger.
"I said, 'I hope Trump grabs your daughter's pussy,'" Fulcher said. "Because, can we all agree, Trump is definitely a child rapist?"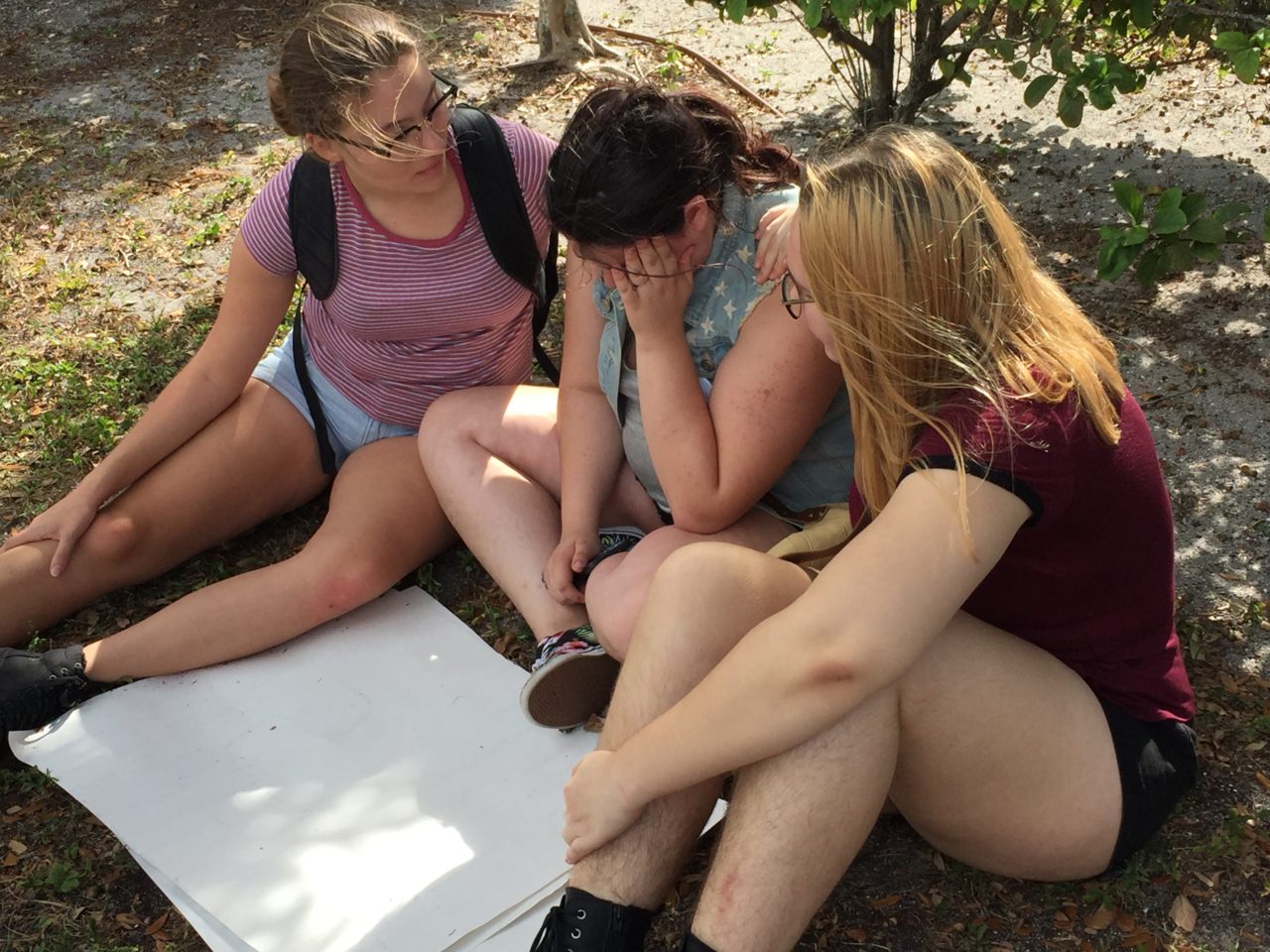 She continued: "The woman began calling me a 'nasty little whore,' and a 'slut'. My friends pushed her away from me because they were afraid she would hit me. She was screaming in my face.
"I turned away, and when I turned back, she had by friends by the hair. Then the police came and started trying to push them apart."
Breitbart News captured the end of the fight on video.
Another one of the protesters said that "Fuck Trump" was the "underlying message between all" of the protesters.
"He wants to grab me by the pussy, so fuck Trump."
Asked whether she thought her sign might encourage people to vote for Trump instead, she said, "No, we're not changing minds. We're just showing that Sarasota is not going for Trump."
The young woman who was holding the Mexican flag told Breitbart News: "I represent Mexico. And I'm a U.S. citizen, and I have had family deported, and I am going to stop Donald Trump from deporting 11 million people."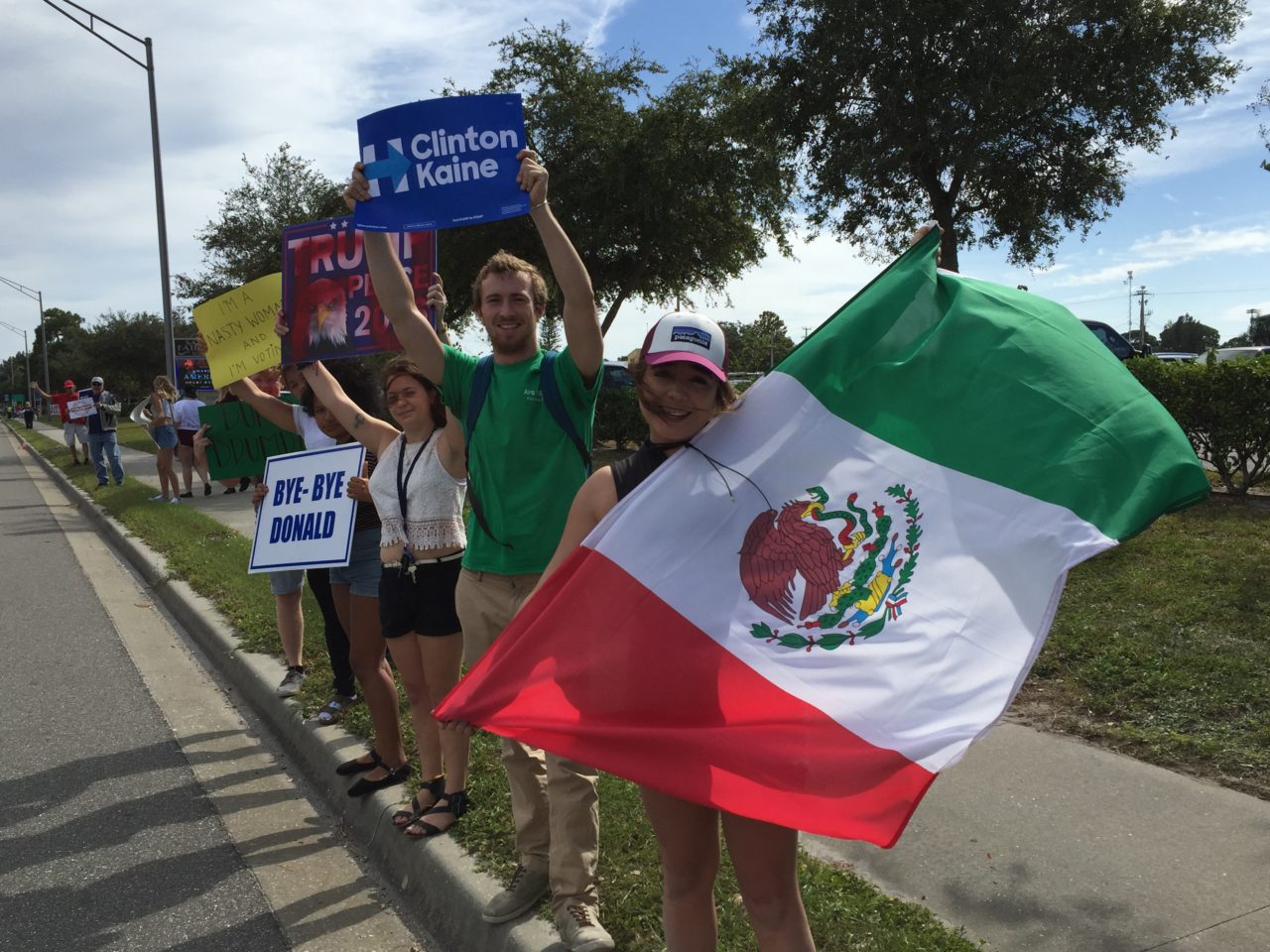 Asked why she was not waving an American flag, she answered: "I want it known that my country is here — I'm representing those Latinx-es who are not able to vote."
She insisted on being quoted as having said "Latinx-es," which she said was the "gender neutral" pronoun for a person of Latin American origin, rather than the gendered "Latino" or "Latina."
"I'm not going to vote for a xenophobic, homophobic, rapist racist like Donald Trump," she concluded.
Meanwhile, waiting in line to enter the venue, Trump supporters took a hopeful outlook.
Retirees Al and Judy Kaspar of nearby Bradenton, Florida, told Breitbart News they had come to the rally "because we want to be a part of history."
Al wanted it noted that he was a "son of legal immigrants, refugees from Josef Stalin, college-educated."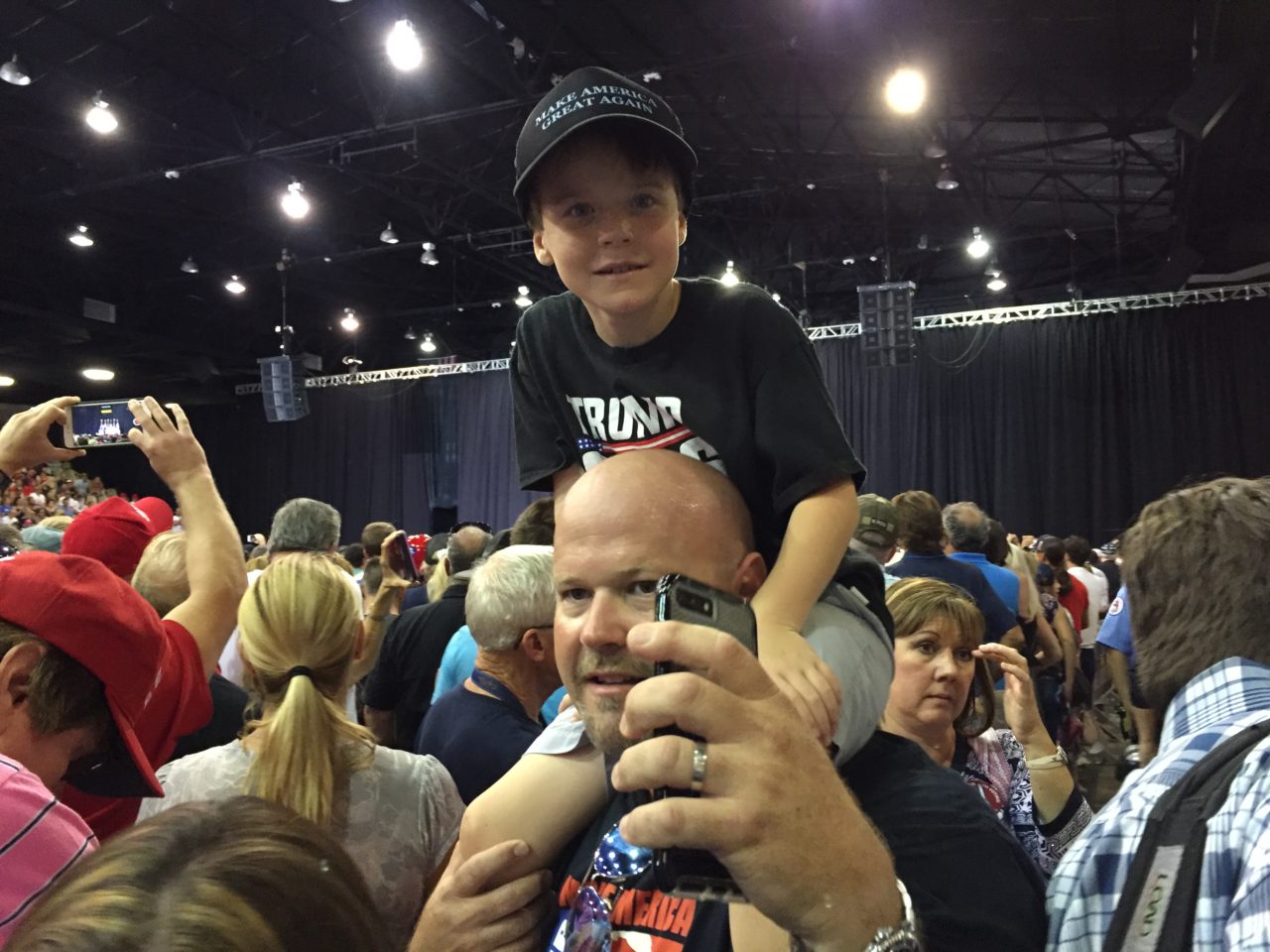 Inside, Tom and Marie Koether of Sarasota told Breitbart News that their most important issue was Obamacare.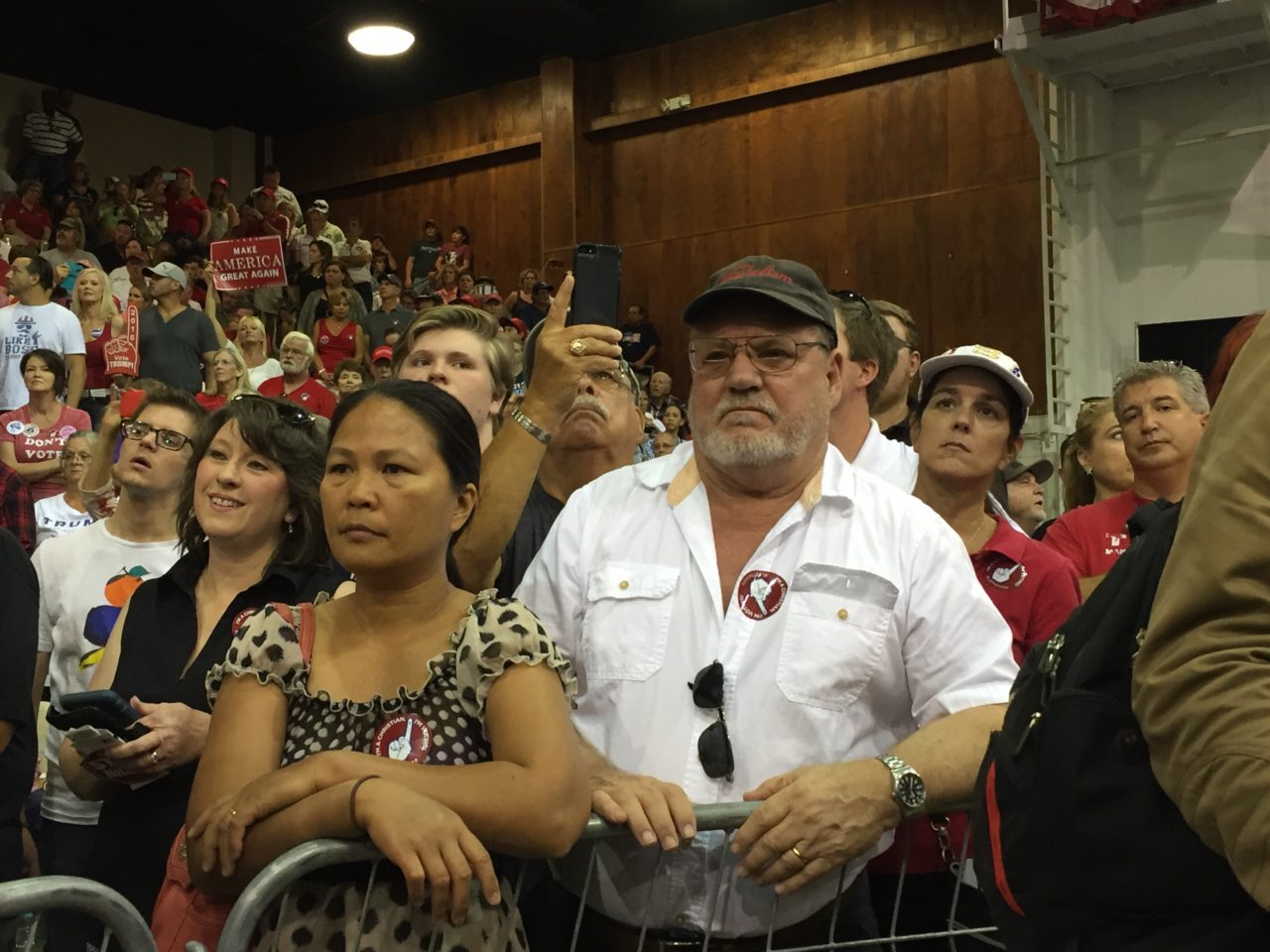 Marie, a legal immigrant from the Philippines, added that she was concerned about taxes and security, "being safe wherever you go."
Retiree Joe Amante, also of Sarasota, told Breitbart News: "Win or lose, at least Trump has exposed the politicians for what they really are."
Diahanna Cooper also of Bradenton, held a sign inside the rally that said: "God have mercy on America."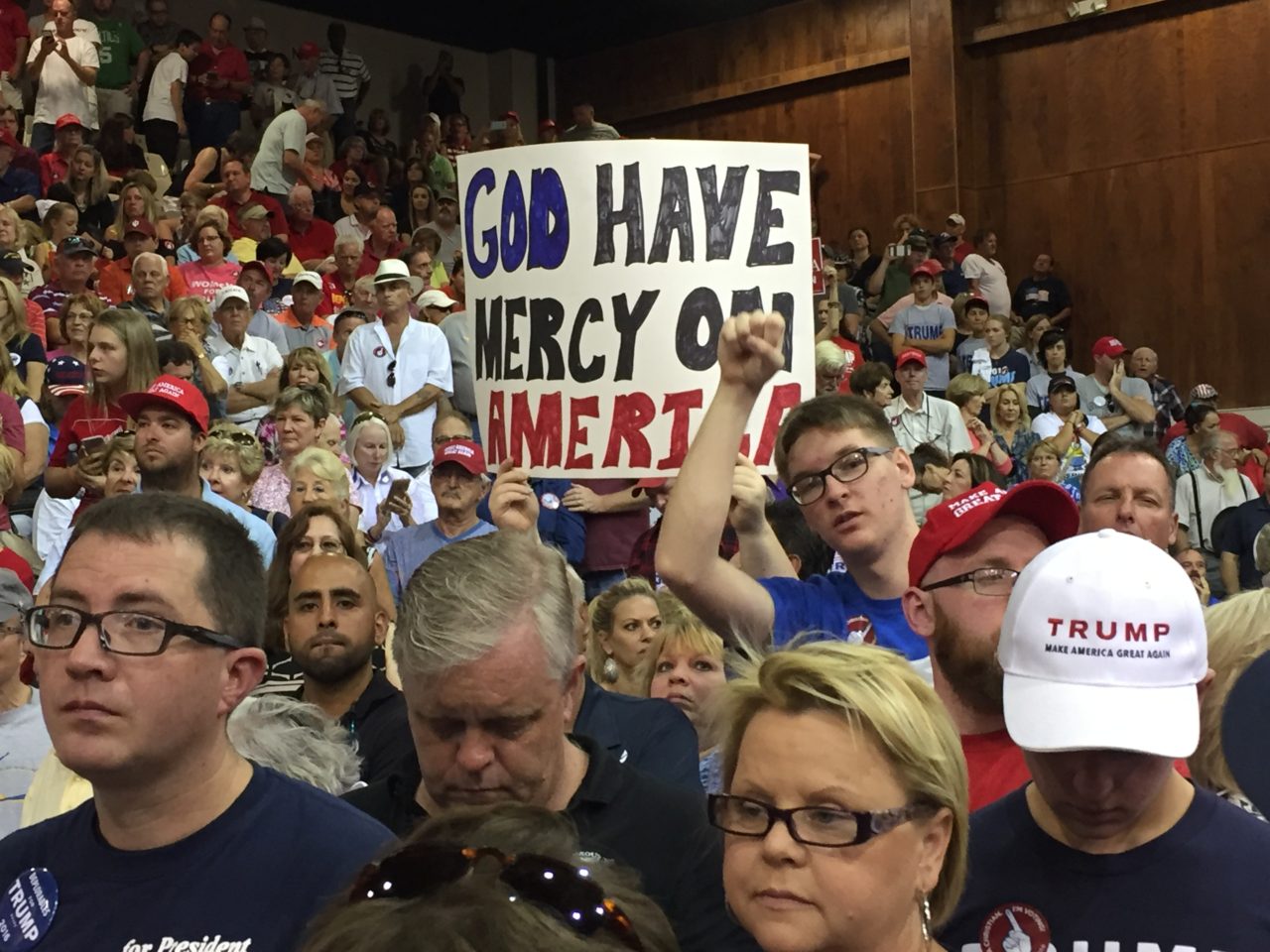 She explained to Breitbart News: "We can't really be saved by a man or a woman. God can make America great again. He can do so through Donald Trump."
Joel B. Pollak is Senior Editor-at-Large at Breitbart News. His new book, See No Evil: 19 Hard Truths the Left Can't Handle, is available from Regnery through Amazon. Follow him on Twitter at @joelpollak.