Left-wing writer Kurt Eichenwald, editor at Vanity Fair and former MSNBC contributor, tweeted a series of attacks against conservative Parkland shooting survivor Kyle Kashuv on Thursday and Friday after railing against Laura Ingraham for saying David Hogg was "whining."
In the tweets, which have now been deleted, Eichenwald said Kashuv was incapable of debate beyond "slinging insults and conspiracy theory," that he "traffick[ed] in fantasies," and that he had "no respect" for the 16-year old: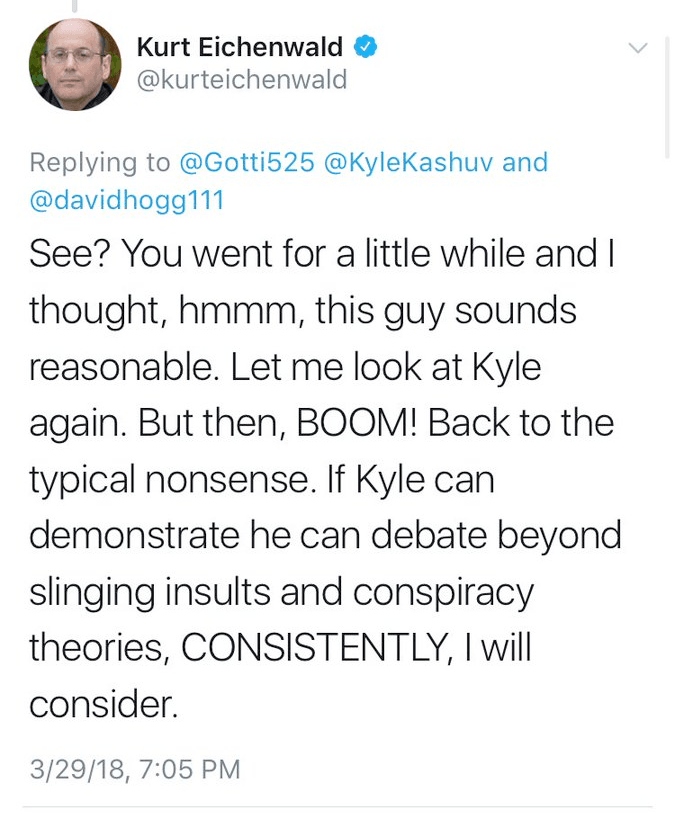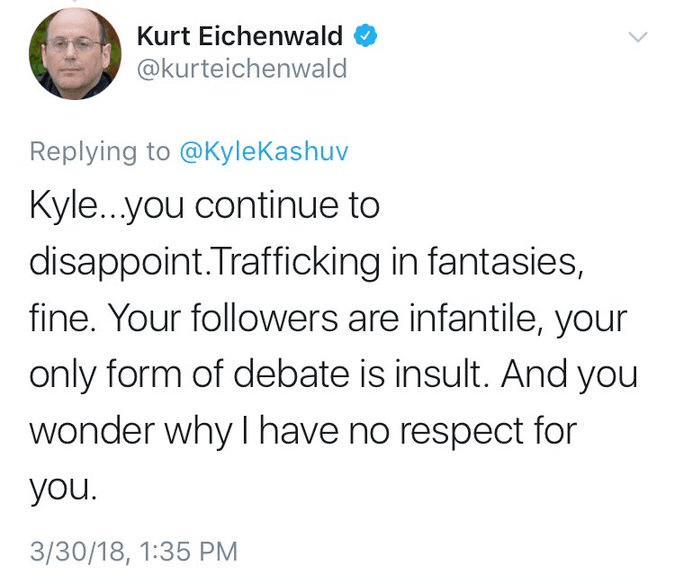 Simultaneous to the two-day tirade against Kushav and other pro-gun commenters on Twitter, Eichenwald was repeatedly supportive of the ongoing boycott campaign against Ingraham for the alleged insult of Hogg:
Hopefully the Laura Ingraham blow-up will teach conservatives: You are not "debating" gun control when you insult survivors of a mass slaughter for advocating laws you dont agree with. You are just being infantile bullies.

Wanna debate POLICY? Great. Wanna insult kids? Shut up.

— Kurt Eichenwald (@kurteichenwald) March 29, 2018
When conservative news outlets and commentators became aware of Eichenwald's attacks on Kashuv, they promptly drew the comparison, spreading Eichenwald's remarks widely. In response, Eichenwald claimed Friday to have not known whom he was attacking.
WAIT! @KyleKashuv. I apologize. I thought you were someone else who keeps challenging me to a debate with insults. I probably have in the past. This is the first tweet where I know who you are. Nothing else I said is relevant.

— Kurt Eichenwald (@kurteichenwald) March 30, 2018
The other teenager Eichenwald thought it would have been more appropriate to attack was not immediately clear, but Eichenwald offered an apology to Kashuv for having supposedly mixed the two up:
I owe an apology to @KyleKashuv. I have no idea how many times I have commented to him. There is a high school kid who has a podcast who keeps challenging me to debates with insults. I mixed up their names. Please ignore every tweet Ive sent. They were written for someone else.

— Kurt Eichenwald (@kurteichenwald) March 30, 2018
…for those of you calling me a liar. Go down my feed. You will find this back and forth after I said I wanted to debate a conservative who complained no one would debate him, provided it was not just invective and straw men. 100s of people came on saying I should debate….

— Kurt Eichenwald (@kurteichenwald) March 30, 2018
…this kid whose name I don't remember. Apparently, he has a large fan base. The kid's entire feed was "libtard" and other name calling, and when he came on board, he started name calling. I told him this was not debate, and that he was showing himself not to be mature enough…

— Kurt Eichenwald (@kurteichenwald) March 30, 2018
Eichenwald later appeared to identify the intended target of his insult as 15-year old conservative activist CJ Pearson of Georgia:
Last on this. This is convo involving kid I mixed up w/ @KyleKashuv. They became mixed up because this kid's followers swarmed me, belittling my health, insulting me endlessly. I blocked many. Kyle is not responsible, but his followers did same thing, which led to the confusion. pic.twitter.com/TJFV0mVzNP

— Kurt Eichenwald (@kurteichenwald) March 30, 2018
Conservatives responded to the incident by calling for a counter-boycott of the outlets carrying Eichenwald in response to the apparent hypocrisy. Eichenwald removed the "MSNBC Contributor" line from his Twitter profile shortly thereafter, repeatedly tweeting that he is no longer affiliated with the left-leaning network.
Exactly when Eichenwald's relationship ended with MSNBC was never made public. Under pressure from Twitter conservatives, he begged consumers to "stop going after" MSNBC. He claimed his contract with them ended "more than a month ago," though still prominently featuring his contributorship in his profile:
For those – like @benshapiro – who are taking my entire situation with @KyleKashuv to push a lie (I thought he was someone else) – stop going after @MSNBC. My contributor contact with them expired more than a month ago. Not with them. Need to edit my profile.

— Kurt Eichenwald (@kurteichenwald) March 30, 2018
The exercise failed in at least one case, as Proactiv, the skin care products company – which already dumped Ingraham for her comments – vowed to pull ads from MSNBC for Eichenwald's antics:
1/2: We are aware of this incident and have pulled our ads from the network as a result. We are working diligently

— Proactiv (@Proactiv) March 30, 2018
This is not the first time Eichenwald has found himself in hot water on Twitter and had a seemingly implausible explanation. When an observant Twitter user noticed Japanese cartoon pornography in the background of Eichenwald's web browser last June, the Vanity Fair editor offered an elaborate defense that he had merely been searching the term so that he and his adult children could prove to his wife that "tentacle porn" existed. In September 2016, when he falsely tweeted he had evidence that President Donald Trump spent time in a mental hospital in 1990, Eichenwald claimed the lie was merely a "signal to a source to talk to" him.