Mashantucket, Conn.–UFC brawlers took theirs chances at Foxwoods Resort Casino on Friday night, dealing out bad hands all night long. The main card witnessed Joe Lauzon and Matt Mitrione hit the jackpot with highlight-reel stoppages, 4-1 longshot Ben Rothwell beat the odds, and a future challenger for Chris Weidman's belt go double or nothing against an old foe.
The action comes early in the main card's opening bout as Joe Lauzon (23-10) catches a kick and brings Michael Chiesa (11-1) down. Lauzon stalks. Chiesa wrestles Lauzon down and grabs his back at the 2:20 mark. Lauzon reverses to top position to the delight of the crowd and takes advantage by dishing out elbows, fists, and submission attempts. The fan favorite spends nearly a minute sitting behind a leg-locked-up Chiesa, who keeps a hand up to block incoming fists. Chiesa ends the round strong with a series of kicks, punches, and knees.
In round two, Lauzon body slams The Ultimate Fighter-winner before driving him across the mat face-down as though Chiesa were a lawnmower. Lauzon unleashes a knee that carves up Chiesa's eyelid. The New England crowd explodes as Lauzon's hands, elbows, knees, and feet explode. Chiesa wears a crimson mask, and Herb Dean brings in the doctors, who call an end to a bloodied Chiesa's night over vigorous protests. The local favorite explains postfight, "I hit him with a knee and I just tried to pour it on." Chiesa rebuts his own objections by thanking "Massachusetts."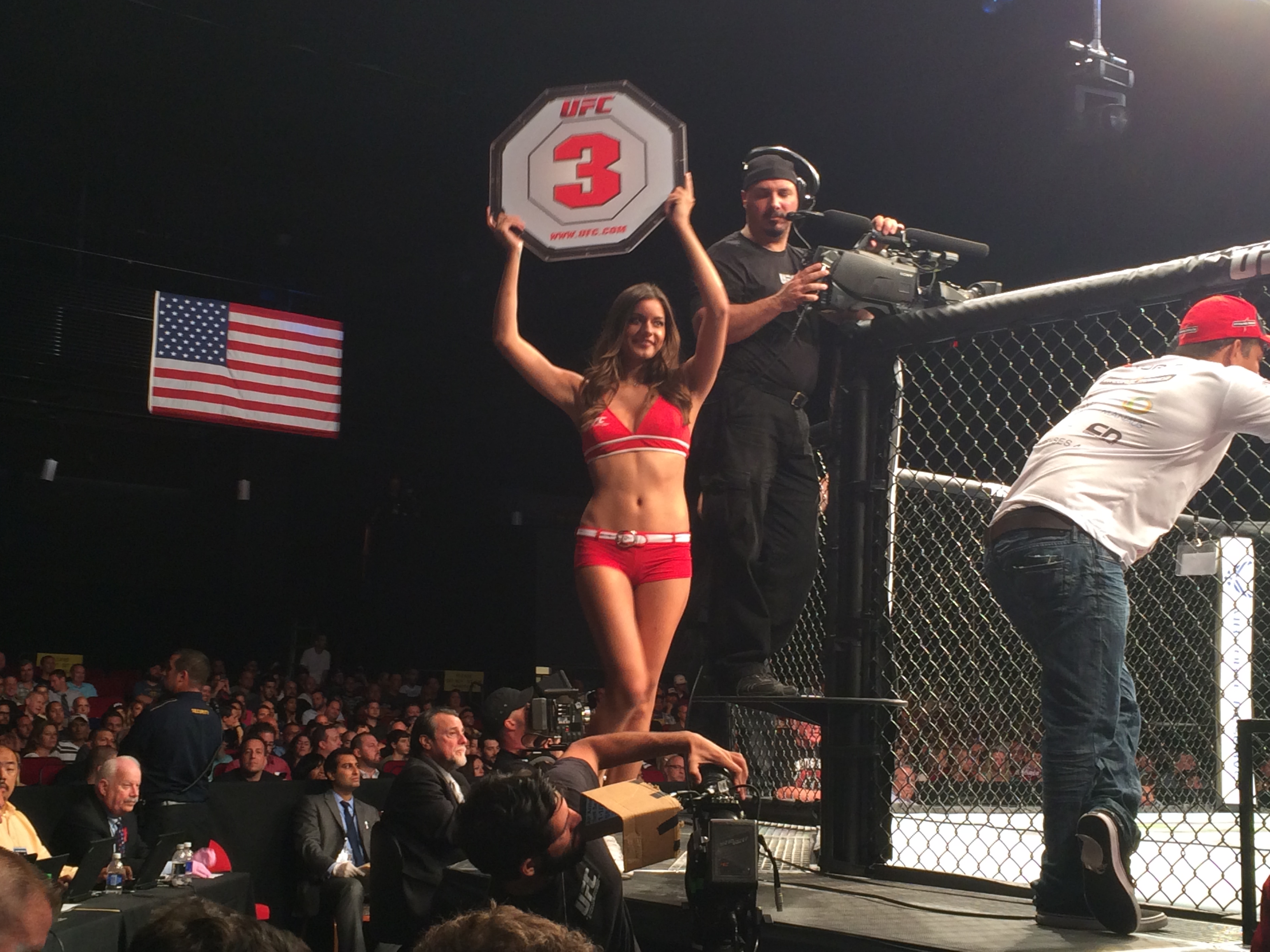 http:/// 
Matt Mitrione (7-3) and Derrick Lewis (11-1), two heavy-handed heavyweights on the heavy side, square off in the main card's second bout. It doesn't last long. The former Minnesota Viking sends the 264-pound Lewis to the deck with a short, crisp right and tees off with a series of upward looping rights followed by a series of upward looping lefts that invoke the mercy of referee Mario Yamasaki 41 seconds into the fight. Mitrione taunts his dazed opponent. "I was highly offended," he explains postfight. "You're going to call me out by name?"
A trim Alistair Overeem (37-13) keeps Big Ben Rothwell (33-9) at bay with jabbing kicks to the knee. Overeem kicks, punches, and knees a bovine Ben Rothwell, who appears passive and listless. The Wisconsinite stuns the Dutchman, and everyone else aside from the blue-shirted Badger State contingent, 90 seconds into the fight. Overeem appears to recover after a hugfest. But the recovery doesn't last long. Rothwell lands an overhand right above the ear that presses the "over" button on Overeem. He follows up with several perfunctory hammerfists before the stoppage. A revitalized Rothwell, who dances a jig as Overeem offers obligatory objections, later tells the Connecticut crowd, "This proves what happens when you believe in yourself."
The Wisconsin contingent, heckling Overeem throughout the fight, erupts. Call-him-Rocky Rothwell thanks his wife, who fights back the tears.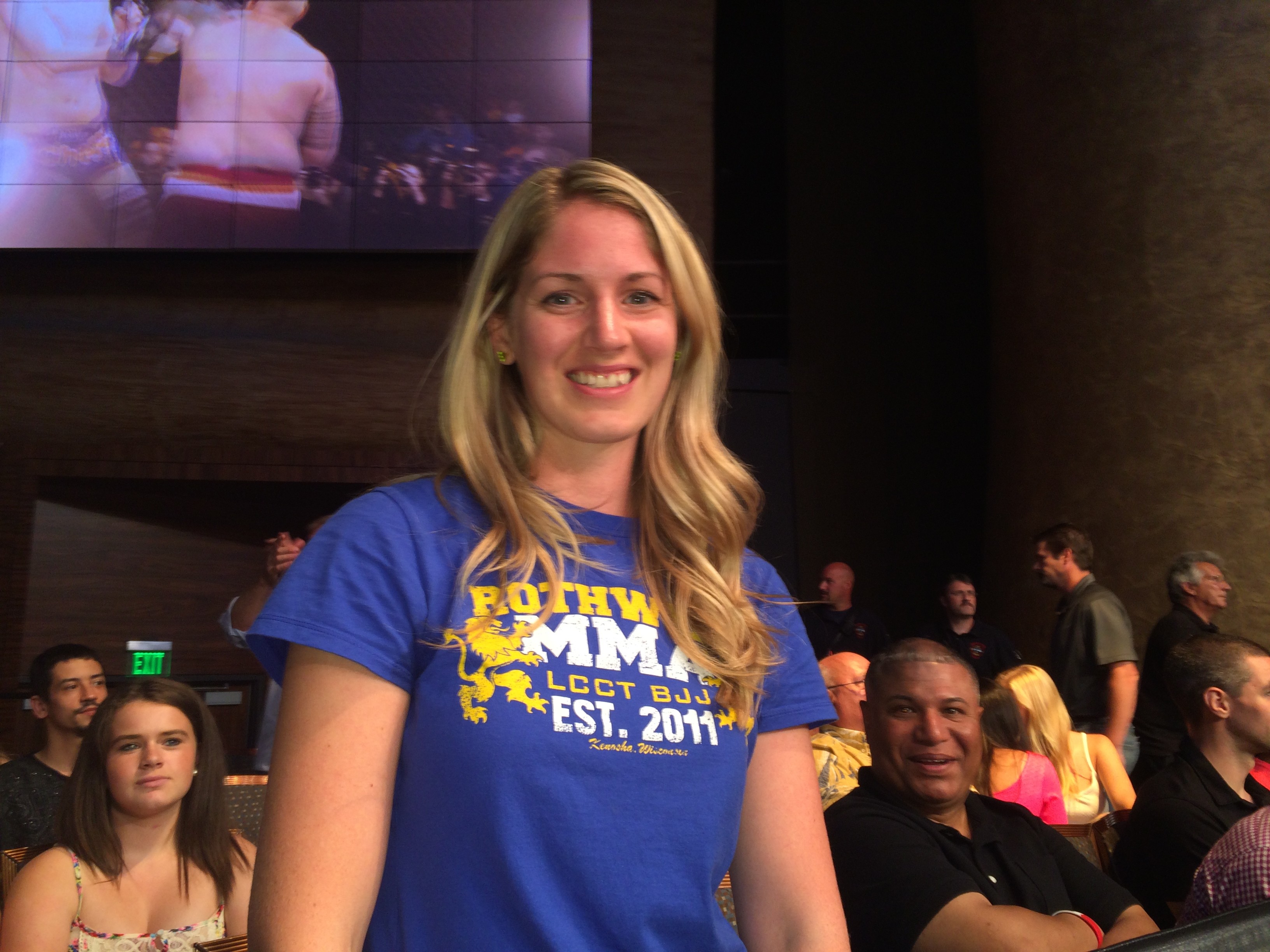 Ronaldo Souza (20-3) and Gergard Mousasi (35-4-2) face off in the main event at 185 pounds in a rematch of a fight the Dutchman won six years ago. A fifty-second feeling out process yields to several swings and takedown attempts by Jacare that lands Mousasi against the fence. Nothing doing until halfway through the round when Souza slams down the Mousasi. Souza goes for a D'arce choke. Mousasi answers with a triangle choke attempt. Souza stays in top position for the remainder of the round, struggling in vain for an armbar as the horn sounds.
Jacare gets Mousasi's attention with several overhand rights and left hooks. He aggressively takes the fight to Mousasi, who finds himself on his back after a takedown a minute into the round. Souza plots a kimura but the former Strikeforce light heavyweight champion sniffs it out. Souza, after spending so much of the round on top scrambling for submissions, again tries in vain for the kimura.
A slugfest breaks out in the third round, with Mousasi doing some of his best work of the fight, his jab landing as he finds his range. But the Brazilian catches him and then follows up the punch with a takedown. With under two minutes left in the third, Souza again puts Mousasi on his back. Fighting from the bottom has clearly exhausted the Dutchman, who suddenly finds himself in a guillotine choke. Thoroughly dominated, he taps at 4:30 of the third round. Jacare has avenged one of his three career defeats.