Mashantucket, Conn.– Ben Rothwell felt his right arm break blocking an Alistair Overeem kick this weekend. He didn't get to call timeout. The rules didn't permit him to ask his coach to put in a substitute. He couldn't go back to the locker room for an examination to confirm his self-diagnosis with a doctor, and then make a Willis-Reed-like reentry to the cheers of fans. Instead, he gritted his teeth and used that right arm to knock out the man who damaged it.
Rothwell's performance, "gritty" really isn't strong enough a word, shows why fans love fighting, pay hundreds of dollars for a seat, scream like children at the excitement, jones for the next card the second the last one ends. Fighting plays as a metaphor for life. Combatants face adversity. They rise after falling. They adapt and overcome.
"I ate a kick, and didn't block it properly and I think I broke it," Rothwell explained after the fight. "I had a feeling something could've been wrong, but my adrenaline was going which is the great thing about a fight. If it went past the second round, I knew I'd be in some trouble."
It turns out, the Kenosha, Wisconsin, mixed-martial artist wasn't in as much trouble as he had imagined. Rothwell "merely" suffered severe nerve damage and swelling from blocking the Overeem kick. The hospital didn't find a break. Rothwell ended up breaking Overeem, making a second-round unnecessary. 
Rothwell, no one's candidate to appear on the cover of Muscle & Fitness, entered the Foxwoods Resort Casino a 4-1 underdog to the hulking European boasting California beach muscles. The disrespect emboldened him. "Right before I went out," Rothwell explained to Fox Sports 1's Jon Anik after the fight, "they showed panelists on TV talking about the fight, and everyone voted against me. I wanted to show you guys. I know the odds were against me, and everyone went against me because people don't really know what I'm about."
A sizable Badger State contingent traveled to Connecticut to show that not "everyone went against" Rothwell. They pelted their fighter's chiseled opponent with "cheater" and other taunts alluding to his drug suspension from the UFC several years ago and transformation from a 205-pound beanpole to a heavyweight colossus. But Overeem, who had slimmed down to 248 for the fight, had heard it all before. And he had fought them all before–in Pride, Strikeforce, and now the UFC.
Alistair Overeem made Brock Lesnar look like a boy, Fabricio Werdum a coward, and Frank Mir a rag doll. Ben Rothwell made Alistair Overeem look like Glass Joe. After standing listlessly like a deer in the headlights, albeit one taking knees, kicks, and punches, Big Ben let his hands go. He stunned Overeem. But the Dutchman recovered by bear-hugging his opponent. An overhand right to the side of Overeem's head sent the former Strikeforce heavyweight champion to the mat. Rothwell quickly capitalized by unleashing a series of hammerfists that convinced referee Keith Peterson to halt the action.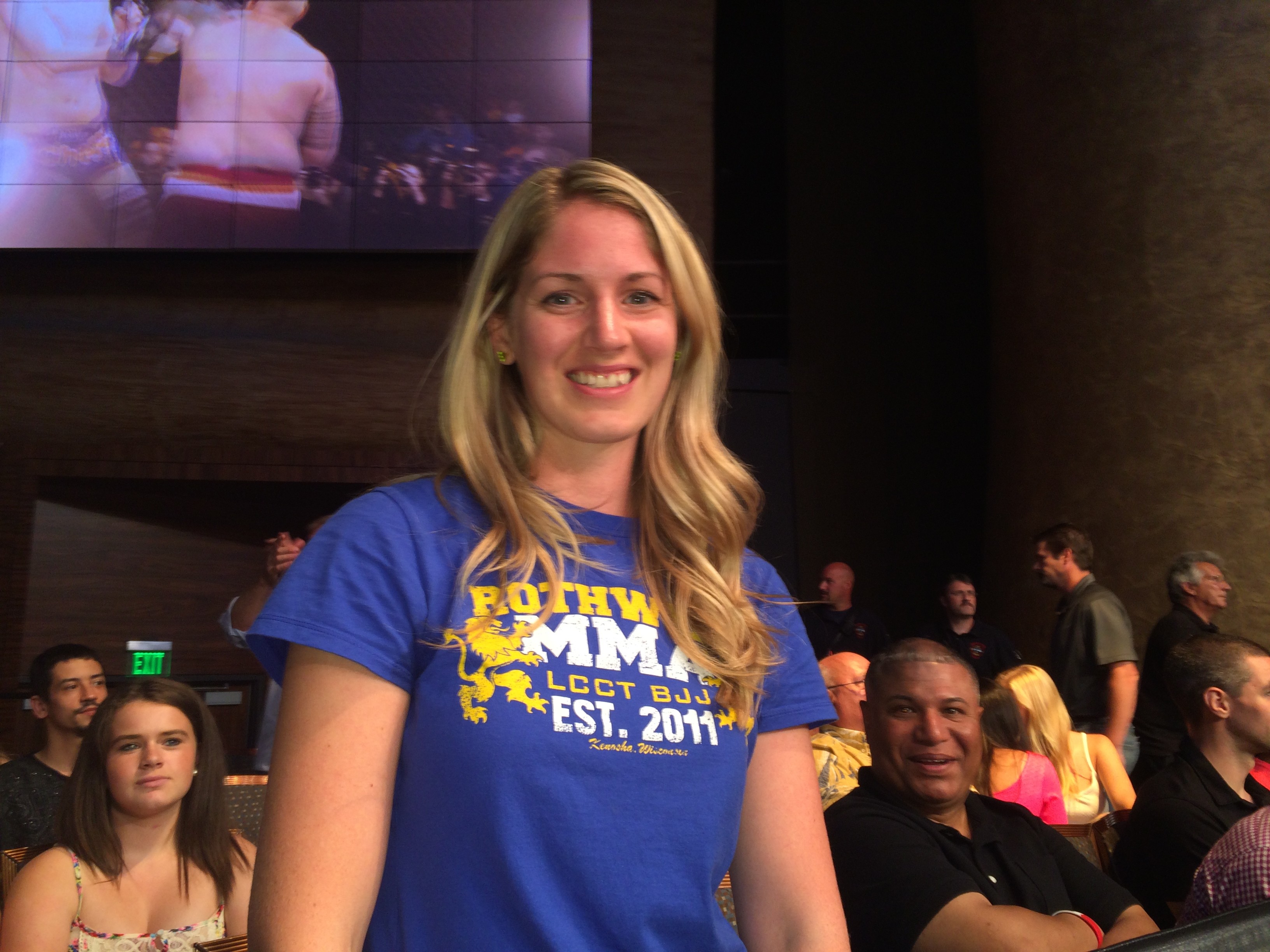 Everyone, including the Wisconsin delegation professing belief in Ben, exhibits disbelief. "Holy schmikies!" exclaims one supporter, who repeats Wisconsin's version of a curse word. "God bless America, man." But Ben Rothwell, who authored his own script depicting himself as the hero, takes the finish in stride. He thanks his wife for sticking by him. "Anything can happen," he tells Fox Sports 1's interviewer. "I'm a living life-story of that."  
Ben Rothwell's been knocked down and counted out. He fights on. That's sports. That's life.
Photo credits: Todd Monaghan, Daniel J. Flynn