Does a legal system that recognizes a right to an abortion in the Constitution's penumbras no longer see free speech protections in the document under bright light?
Floyd Mayweather says that he retains the right to speak publicly about abortion in a response to a lawsuit against him by former fiancee Shantel Jackson.
"After we broke up," the undefeated welterweight says in a motion to dismiss the suit, "there was a lot of media talk about why we broke up. I expressed myself on the breakup and abortion."
Specifically, Mayweather posted a sonogram image of his aborted twins and revealed that his fiancee's termination of their offspring resulted in the termination of their relationship. "The real reason me and Shantel Christine Jackson @missjackson broke up was because she got a abortion," the undefeated welterweight tweeted, "and I'm totally against killing babies. She killed our twin babies."
Jackson said Mayweather's posts on her abortions left her "embarrassed" and "humiliated." Jackson's lawyer, Gloria Allred, has maintained that abortion shouldn't cause women to appear all red; she publicizes, for instance, her own pregnancy termination. Further complicating Jackson's case, she appears as a public figure in her own right. The former music video eye candy currently stars on rapper Nelly's Nellyville series on BET. "In this situation, it's kind of hard to show everything that's been going on without showing that side of it, too," Nelly told radio host Paris Nicole about why he highlights the relationship with Jackson when he wrapped his relationship with Ashanti behind a cloak of privacy. "Shantel is a sweet person. You get a chance to see what's going on with her as well."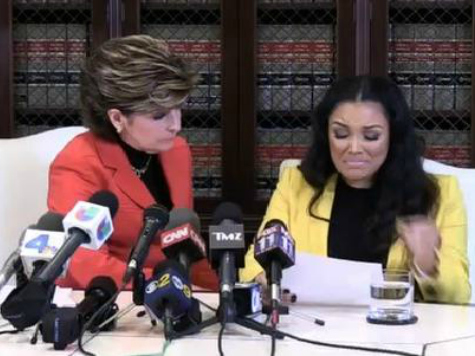 Mayweather insists that Jackson "asked me to help her become famous." Did she also ask him to help her become infamous?
Perhaps in an effort to counter the legal effort to paint him as a misogynist, Mayweather has of late posted numerous videos and pictures illustrating his love of the fairer sex. 
Surely Gloria Allred will immediately drop the suit after stumbling upon Exhibit A proving Mayweather's love of women on his Instagram account. And if she doesn't, the 47-0 fighter figures that the argument that public figures can expect publicity when their relationships end will sway a judge.
"Both parties are public figures," Mayweather's brief reasons. "Abortion is a public issue."