LOWELL, Mass.—Desmond Green used tenacious wrestling and brutal knees to capture Titan FC's featherweight title against UFC veteran Steven Siler.
Green spends much of the first round ground-and-pounding Steven Siler, who searches in vain for submissions and reverses into top position. The second saw Green perhaps stealing the round with a late takedown echoing throughout the arena.
In the third, Green brings Siler down again and Siler again gets up. Green hammers Siler's legs with knees against the fence. Both men connect with looping shots. Green tackles Siler to the mat once again and Siler again ends a round on his back.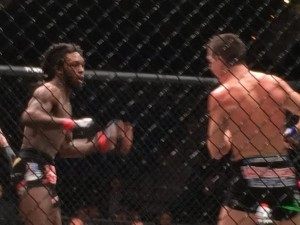 The fourth round marks uncharted territory for both men. Green brings Siler down. And once they rise, Green continues the previous round's tactic of kneeing Siler's legs. After two minutes, Green's knee misses its target and hits Siler square in the cup, which hits who knows what, halting the action for a third time after two previous low blows by Siler. The former UFC competitor ends the round as the aggressor kicking, punching, drawing blood, and, unfortunately, again connecting with Green's cup and compelling the referee to deduct a point.
The Predator starts the final round in a familiar way by dumping Siler on his back. And he again follows up with knees to Siler's legs against the cage when they rise. Now Green knees Siler in the groin, negating the point deduction of the previous round. The pair finish the fifth in a frenzy.
The judges unanimously issue a 48-45 verdict. Titan FC names Desmond Green, fresh off a 46-second blowout of Miguel Torres, its inaugural featherweight champion.