UNCASVILLE, Conn.—Bellator 134 required the championship rounds to determine a new light-heavyweight champion.
Lanky Liam McGeary spent much of the title bout on his back but finished with his hand raised. The Brit used serviceable striking and a superior submission game, albeit one that never quite succeeded in coaxing a tap, to defeat Emanuel Newton.
The bout, witnessed by a crowd that included former boxing champion Antonio Tarver, backyard brawler Kimbo Slice, and all-time MMA greats Royce Gracie, Fedor Emelianenko, Tito Ortiz, and Ken Shamrock, didn't disappoint in showcasing an expert grappling game from the challenger and an amazing resilience from the champion.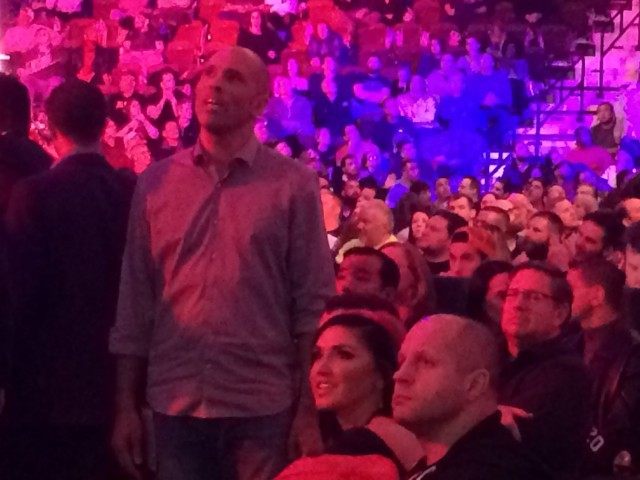 Newton set a quick pace and snuck inside to close distance on the challenger to start. He wrestled McGeary to the ground about a minute into the match. Then things got interesting. The challenger from his back quickly traps the champion in a triangle choke. Newton powerbombs the Brit in a failed effort to liberate himself. The champion, after several tense moments, dramatically escapes the hold, only to become ensnared again—and again. The round ends with Newton on top, where he was for the much of the five minutes, but strangely fortunate to fight on.
Newton secures the takedown at about 90 seconds into the second. He appears too slick and slippery for the Gracie Jiu Jitsu student to capitalize as he did in the first. Newton grounds-and-pounds away but McGeary's lengthy legs act as impediments. The pair end the round with Newton's head caught in McGeary's vice.
The champion enters the third round in dojo mode, utilizing a spinning kick to the chest, among other karate maneuvers, to keep the longer man at bay. McGeary lands several punches flush. They score but don't hurt. Newton slips on a McGeary strike but after a failed guillotine attempt by the Brit the American gains top position. The round ends with the Hardcore Kid in a precarious position with his head trapped in McGeary's legs as the challenger's fists rain down.
McGeary attempts a lame spinning-back fist answered by an equally lame one by the champion. Newton remains in dojo mode. McGeary catches him with a kick followed by a what looks like a Superman punch. Newton knees McGeary in a headlock and then dramatically elevates and slams his taller foe. The champ enjoys top position until the bell sounds.
Newton scores a takedown 20 seconds into the last round. When McGeary goes for an armbar from the bottom, Newton violently slams him to the mat head first. The Brit rallies for another triangle choke with 1:20 remaining but comes up short. McGeary spends all but the first few seconds of the round on his back.
Breitbart Sports scores the bout cageside 48-47 for the champion. The judges unanimously give the nod to the challenger.
"When the triangle choke got tighter, I was fine," Newton responded to a Breitbart Sports question about the dramatic moments when he appeared finished in the first. "I didn't mind being on the ground with him." The Hardcore Kid, who felt as though he won, pointed out that he repeatedly dumped the Brit on his back and that despite what appeared to be close calls to the crowd, "I got out of all his submissions."
"I was always attacking," the new belt holder maintained at the postfight presser. "I always had my legs going for that triangle. I was constantly busy."