Toronto parties like it's 1993.
The last time the Toronto Blue Jays won the the American League East, the Indians, Tigers, and Brewers played in it. The Tampa Bay Rays, like the AL Central, did not exist. President Bill Clinton, The X-Files, and Tim Salmon all experienced memorable rookie seasons. You developed pictures rather than took them on your phone, rented VCR tapes from Blockbuster rather than streamed movies from the internet, and played CDs and cassingles instead of your iPod. Barack Obama ruled over the Harvard Law Review instead of the United States of America.
Oh happy days in the U.S. and the Great White North!
The Toronto Blue Jays destroyed the Baltimore Orioles 15-2 in the first game of Wednesday's doubleheader to clinch the American League East. Marcus Stroman allowed five hits and one run over eight innings to get the win. Edwin Encarcion, Jose Batista, Justin Smoak all went yard at Camden Yards. Likely MVP Josh Donaldson enjoyed a 2-for-4 day with two RBI and a run scored.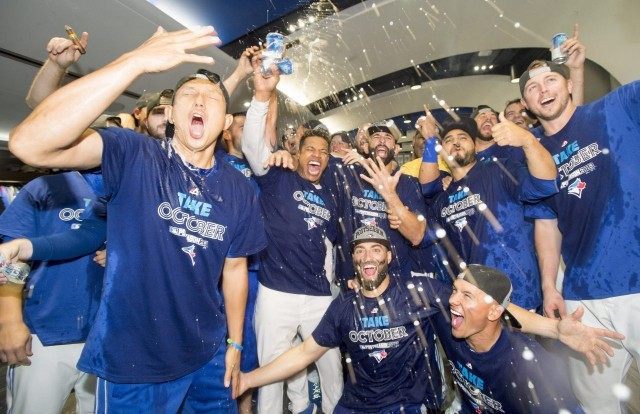 The Jays dropped the encore game 8-1. The day's events eliminated the New York Yankees' hopes of winning the division. But the Bronx Bombers remain atop the American League's wild card standings.
The Jays played for 22 years without not just a division title but a playoff berth as well. The Minnesota Timberwolves, Buffalo Bills, and Edmonton Oilers all competed in the postseason more recently than the Blue Jays. In fact, the Montreal Expos had ended a season in first place more times than the Toronto Blue Jays since 1993. The postseason drought remained the longest active streak in the four major North American Sports.
"It's been a really long time since this city has been to the playoffs," Marcus Stroman told the media. "To do it for the city of Toronto and to do it with this group of guys, it's been a dream come true."
Before they wake from the dream, Blue Jays fans want something else they last experienced in 1993: a World Series title.