Muhammad Ali fought a football player, a hockey goon, and professional wrestlers. Floyd Mayweather looks to take on a mixed-martial arts champion.
And whereas the Greatest competed with the assortment of pro athletes in exhibition matches, the Best Ever discusses fighting Conor McGregor in an official boxing match.
"It may not be a rumor," Mayweather told FightHype.com before this weekend's Canelo Alvarez-Amir Khan bout. "Keep your fingers crossed. It may be a boxer versus an MMA fighter. So we just don't know."
Conor McGregor likes the idea:
MMA Vs Boxing. pic.twitter.com/qgl8tKvT5s

— Conor McGregor (@TheNotoriousMMA) May 8, 2016
It makes dollars, as the saying goes. But it may not make sense given the danger of the boxing ring taking away a man's senses. McGregor wields power in four-ounce gloves. But ten-ounce gloves, without the threat of kicks or takedowns, mute the power of bombs. And those looping, one-off shots favored by MMA fighters tend to invite straight punches that land long before the circuitous ones do.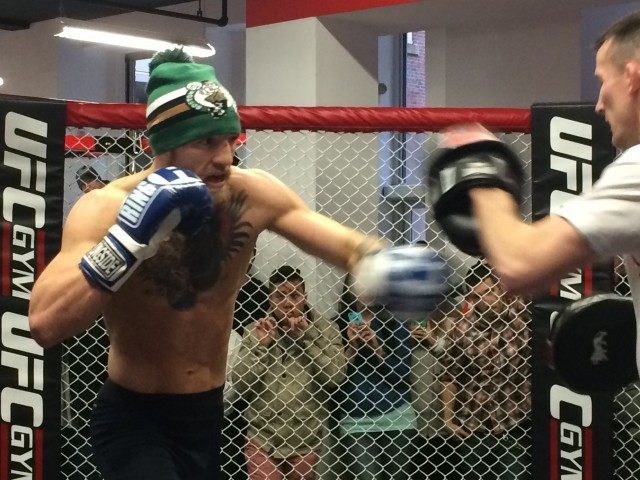 Boxers exhibit a mixed record in mixed-martial arts. A washed up Ray Mercer won one for the sweet science by knocking out former UFC heavyweight champion Tim Sylvia in seconds. Former UFC light-heavyweight and heavyweight Randy Couture made former middleweight, super middleweight, and cruiserweight boxing champion James Toney look just as foolish. While several famous prize fighters sought prizes in the cage, no similar record of famous mixed-martial artists venturing into the ring to fight famous boxers exists.
The novelty would sell pay-per views. So, too, would the big talents with big personalities. Conor McGregor sold more than a million home subscriptions for his last two fights. And Floyd Mayweather shared headlining duties in the three bestselling pay-per views in history. Given that boxing and cage-fighting pulls a largely separate audience despite the similarity of the sports, the bout could do, if not Mayweather-Pacquiao numbers, better box office than Mayweather-Garcia, Mayweather Broner, or the other potential pairings offered for Money should he seek another pugilist's payday.
"It's possible," the retired boxer said of a matchup between himself and the similarly-sized Irishman. "There was a name that was shot at me. The rumors that you have all been hearing are rumors that I started."
Because the rumors benefited McGregor, in a tiff with UFC promoters who pulled a power play by kicking King Conor off the UFC 200 card, speculation centered on the mixed-martial artist's camp floating the fight as a bargaining chip to force the UFC featherweight champion back into a rematch with Nate Diaz. But Mayweather insists, perhaps at the insistence of his marketing partner/boxing adversary, that he leaked the idea. And with reports claiming that Mayweather applied for several trademarks pertaining to a fiftieth fight, the undefeated welterweight liking the idea as much as McGregor seems not terribly far-fetched.
It beats getting beat up by Gennady Golovkin.