Eddie Alvarez upset Rafael Dos Anjos for the UFC lightweight title on Thursday night in Las Vegas.
The victory came via stoppage 3:49 into the first round. Alvarez connected with both hands, staggering the champion before teeing off with a barrage of punches that included several uppercuts that commanded the intervention of referee Herb Dean.
Alvarez became the first man to win championships in both Bellator and the UFC with the victory and the eighth man to win the belt once worn by Jens Pulver, B.J. Penn, and Frankie Edgar.
"Rafael was the champ for a reason," the Philadelphian declared after the triumph. "Rafael is resilient. I had him hurt, so I had to empty the gas tank and let it all out."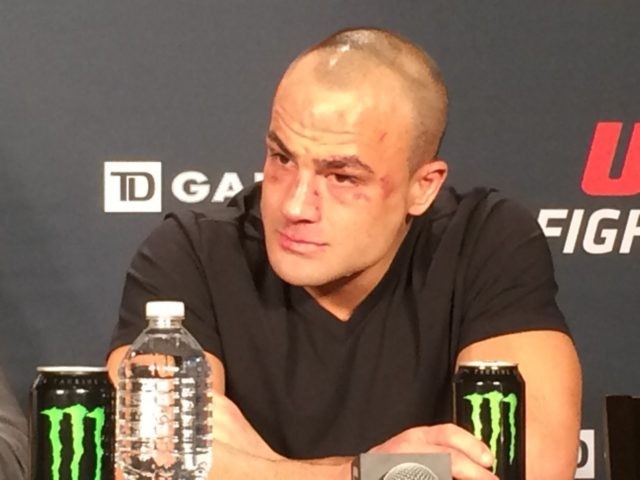 The Brazilian had won 10 of his previous 11 fights in the UFC, including victories over Benson Henderson, Nate Diaz, and Anthony Pettis. Alvarez improves to 28-4, winning the title in just his fourth fight in the promotion. He did so after dropping a promotional debut decision to Donald Cerrone, twice a victim of Dos Anjos, and winning with split scorecards over Pettis and Gilbert Melendez. But his performance Thursday night left little ambiguity for fans and judges to debate and dissect. He dominated in devastating fashion.
"When I signed with the UFC, I sat down with Lorenzo Fertitta, and that's exactly what I asked [for]," Alvarez told Breitbart Sports in January about the stiff competition he has faced in the promotion. "I didn't want any warmup fights. I didn't want to fight guys who were ranked 15, 20. I'm 31 years old, I've been fighting my whole life. I'm very confident in what I can do, I'm confident I can beat the best guys in this division. Come one, come all."
Khabib Nurmagomedov, Nate Diaz, Edson Barboza, Tony Ferguson, and all other confident lightweights now assuredly come.