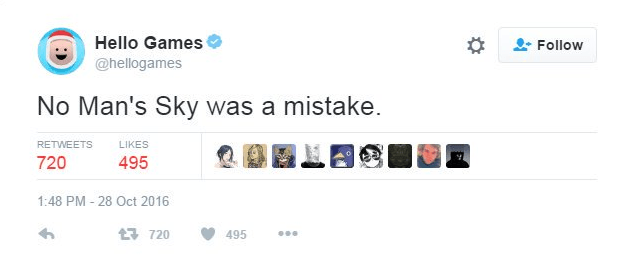 The tweet appeared on the official Hello Games Twitter account Friday. The message was removed almost immediately, and @hellogames' account went private. The first assumption among consumers and media alike were that they'd been hacked. Were they? Well, that's where things get dicey.
Forbes' Erik Kain attempted to find answers in regards to the rogue message, and one of the very few that received any sort of response. Unfortunately, those responses are as confusing as the event that spawned them.
Some outlets were told, "The tweet came from a disgruntled employee. We're currently trying to solve the issue internally." The statement sent to Mashable was reportedly signed by studio head Sean Murray, but most weren't. Polygon's allegedly featured Sean Murray taking personal credit for the tweet, because "[they] have not been coping well."
More recently, Murray attempted damage control with a joke.
Server hacked. We're binging Mr Robot Episodes as quickly as we can looking for answers. Ep05 is a cracker

— Sean Murray (@NoMansSky) October 28, 2016
He followed up by making a nebulous tie between the events of the morning and — maybe? — the LinkedIn hack of 2012.
If anything was a mistake, it was using Linked In without 2FA.

— Sean Murray (@NoMansSky) October 28, 2016
And just in case things couldn't get more awkward, we then get Murray and the official Hello Games account tweeting one another about the hack, even though they should be sitting in the same office.
.@hellogames are you still hacked and stuff?

— Sean Murray (@NoMansSky) October 28, 2016
.@NoMansSky 100% not hacked anymore… obviously those mails and that tweet were fake. Back to work 💪🏻💪🏻💪🏻

— Hello Games (@hellogames) October 28, 2016
So was the Twitter account hacked? That's the story. But then, were Sean Murray and the Hello Games e-mail accounts then simultaneously hacked? Why the mixed signals to various media outlets?
More importantly, why haven't we heard anything about what's going on with No Man's Sky and its team? Consumers have been waiting for some indication of where the game is going since its launch, and the closest they've come is some patches, sans notes, and a wildly vague update in the beginning of September.
As the No Man's Sky team notes in that update, what matters isn't what they say, but what they do. And yet, so far, we've seen very little of either. Perhaps they should have left the tweet up? If nothing else, it fairly encapsulates the sentiments of many who purchased the game.
Follow Nate Church @Get2Church on Twitter for the latest news in gaming and technology, and snarky opinions on both.