Now that the Brett Kavanaugh news cycle has all but wrapped up, CNN has returned to form and started talking about President Donald Trump's penis again.
CNN host Don Lemon hosted Stormy Daniels on Monday to talk more about her book, and Lemon once again brought up how Daniels described Trump's penis in her book.
"You said you don't have many regrets, but the one that you have recently is writing about the president's private parts. Why do you regret that?" Lemon asked.
"I don't really regret it," Daniels replied. "I just have a couple moments where I'm like, 'That was kind of mean.' But, then I look back on all the horrible things he's said about other people and women and calling women pigs, and attacking girls' weights and their looks, and then I don't feel so bad."
"Yeah," Lemon said.
"But I don't agree in general with like, body shaming. But I was backed into a corner. I didn't really have a choice. I'm not a liar, and that's basically the only thing I could say to prove that I'm telling the truth," Daniels said.
Indeed, Stormy Daniels, who alleges an affair with President Trump over a decade ago, recently said that she felt "pretty terrible" about mocking Trump's penis in her book, though now it seems that she doesn't feel that bad.
This segment comes after CNN host Jake Tapper aired a segment about Trump's penis last month, again focusing on the alleged description in Daniels' book.
Here's a screenshot from the "serious" news network: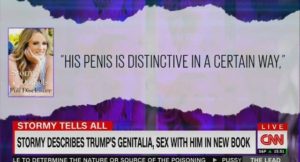 "Lots of books claim to be tell-alls, but they don't follow through. Stormy Daniels' new book about her life is not that book. Wow. She tells all," Jake Tapper gushed when introducing the segment.
Late night hosts Jimmy Kimmel and Jimmy Fallon also guffawed over Trump's genitalia.