Seven years after the murder of U.S. Border Patrol Agent Brian Terry, his family is still searching for answers to the question of how some of the weapons found at the scene got in the hands of the Mexican bandits that killed him.
On December 14, 2010, Terry and his fellow BORTAC agents were dispatched to search for a Mexican "rip crew" in the mountainous terrain of the southern Arizona border. Rip crews are groups of bandits that prey on human and drug smuggling hikers near the border to rip off whatever valuables or drugs are being transported. Agent Terry's team came upon a group shortly before midnight on the 14th and the group opened fire in the agents. Terry was struck by the gunfire and later died from his wound.
In the years following Terry's murder, many of those in the rip crew have been brought to justice. In 2017, Breitbart Texas first reported that Mexican law enforcement authorities arrested the final suspect in the shooting death of Agent Terry.
"Border Patrol Agent Terry will be remembered always and he will forever be a part of the U.S. Border Patrol family," Chief Carla Provost wrote in an internal memo obtained by Breitbart Texas. "This latest arrest achieved our ultimate goal of bringing all the perpetrators involved in Agent Terry's death to account."
However, the lingering question about how two firearms later connected to the Obama Administration's Fast and Furious gunrunning scandal appeared in the hands of these bandits remain unanswered. To this date, Terry's family believes that no one in the government has been held to account.
Terry's death helped change the national discussion on the issue of border security and illegal immigration. During a dinner hosted by the Brian A. Terry Foundation in November, former White House chief strategist and Breitbart News Executive Chairman Steve Bannon said that Donald Trump would not be President of the United States if it were not for Terry's death.
"It was the death of this great Border Patrol agent and the courage of John Dodson that made it a national issue in 2011," Bannon stated. Dodson is an ATF agent who helped expose the Fast and Furious scandal and its link to Terry's death.
"When Border Patrol Agent Brian Terry was killed, I immediately noticed that my agency was attempting to cover up any link between the investigation and the strategy that we employed and the death of Agent Terry," Dodson told Sharyl Attkisson during an interview "Full Measure with Sharyl Attkisson" in June.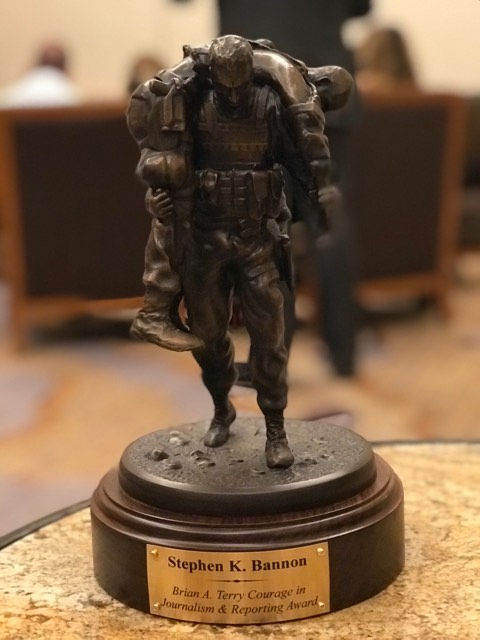 "I can tell you, [Trump] wouldn't be President of the United States if [not for] the incident that happened here," Bannon said at the time. "Brian Terry will live in history as a historical figure and the reason was, he brought to the attention of the American people, he put a human face on it, he put a hero's face on it, of what is exactly at risk on the southern border of our country."
In an interview with Breitbart Texas, Terry's family expressed their continuing quest for the truth.
"Our hearts still ache with sadness and many tears still flow as we approach seven years since Brian's murder," Terry's sister, Michelle Terry-Balogh told Breitbart Texas. "Our family still fights for the justice Brian so well deserves — not only from the suspects involved on that dark tragic night, but from our previous administration as well for their botched gun-running program which led to his death."
I truly believe Brian would still be here if not for the Fast and Furious gun program. They need to be held accountable for their actions. We urge the Trump Administration and the Department of Justice to release the executive privilege and documents sealed by the previous administration. The American public and our family deserve answers.

We continue to celebrate his life through the Brian Terry Foundation, giving back to our community in his name and honor. We miss our hero dearly.
"Not a single day goes by we don't remember or honor his living legacy," Terry-Balogh added.
Terry's other sister, Kelly Terry-Willis, said, "It never gets easier and I doubt it will until justice is served. We try our best to keep Brian's legacy alive so people can see what kind of machine we are up against when it comes to the cover-ups and lies my family has had to endure."
"We feel an obligation to Brian and all Border Patrol agents to get truth and accountability for them," she expressed. "I miss him. He was always full of life and to him, the sky was the limit."
"It's been seven years, but it feels like the day we got the news of Brian's Death," Terry's brother Kent told Breitbart Texas on Thursday. "It saddens me and my family that it's taken so long to get accountability for this senseless scandal under the Obama Administration."
"Brian was killed by illegal aliens on U.S soil armed by the previous administration," Kent Terry continued. "I will continue to knock on the doors of the new White House and the DOJ until my family has closure."
"We have been through Hell–lied to from every direction," the frustrated older brother of Agent Terry expressed. "My brother deserves better.
Read more about Brian Terry in previous articles written and published by Breitbart Texas and Breitbart News.
Bob Price serves as associate editor and senior political news contributor for Breitbart Texas. He is a founding member of the Breitbart Texas team. Follow him on Twitter @BobPriceBBTX, Gab, and Facebook.