Iconic Sesame Street characters Bert and Ernie may have a closer relationship than most people realized after all, as the two star in a new ad for an STD detection service that sees the longtime best buds analyzing the result of what appears to be their own test.
In the new ad for Mately — a New York City-based service that offers discreet and convenient testing for HIV and other sexually transmitted diseases — the two iconic puppets look over the results of what is apparently their own test for diseases.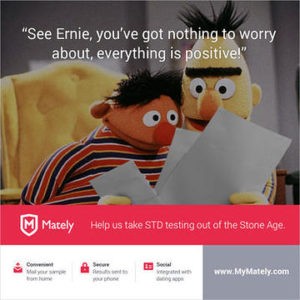 "See Ernie, you've got nothing to worry about, everything is positive!" reads the cheeky but dark caption above the photo.
Sesame Workshop, the company behind the iconic children's program, was apparently not amused by what it says was the unauthorized use of its characters.
"The Mately ad is an unauthorized, unlicensed use of our characters. We will be contacting Mately and the appropriate parties with a cease and desist letter instructing them to take this down," a spokesperson for the company told TMZ.
The image has since disappeared from Mately's website.
The startup offers users the ability to send samples from the comfort of their own own home, which Mately will then analyze in their labs. Results are returned online, and users can even share their results with prospective partners on online dating services like Tinder and Grindr.
The service — which costs $70 for the first month and $30 per month after that — gives customers "the option to verify their partner's sexual health status and help to relieve any worries they may have," Mately said in a statement to the Washington Examiner.
The company hopes to raise $500,000 through a crowdfunding campaign on Indiegogo, and had collected just over $3,500 in two days.
"The idea of greater certainty and convenience when it comes to our health is an idea that's long overdue," Mately founder Brandon Greenberg said in the company's fundraising appeal video. "If someone else isn't going to do it, then we'll do it. We aren't going to wait any longer, because we shouldn't have to risk our lives in order to fall in love."
The status of Bert and Ernie's sexuality has been debated for years. The two puppets have been the subject of at least one gay wedding cake, and were featured on the cover of the New Yorker shortly after the defeat of the Defense of Marriage Act in California in 2013.
The puppets' private lives are also the subject of a surprisingly detailed Wikia page.
Follow Daniel Nussbaum on Twitter: @dznussbaum