TEL AVIV – Thousands of Israelis opened their living rooms to the public on Wednesday evening, hosting Holocaust survivors who told of their personal experiences on the eve of Holocaust Remembrance Day.  
The project, called Zikaron Basalon (Memories At Home), was started six years ago by a group of friends who sought a more meaningful connection with the Holocaust than the usual ceremonies that mark the day.
"It's a different way of connecting with the past," one of the initiative's organizers, Ron Kormos, told Breitbart Jerusalem. You can see a selection of images from the event below courtesy of Zikaron Basalon.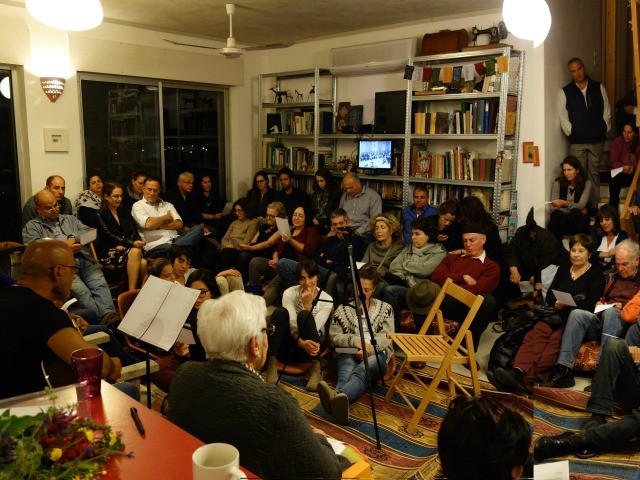 This year, the initiative gained publicity over President Reuven Rivlin's decision to host Meir Ginosar, a survivor of Auschwitz and Buchenwald death camps, at the president's residence.
500,000 Israelis are said to have taken part in homes across Israel, from secular and religious homes and even to the homes of Arab Druze. There are also sessions in cafes, community centers, bars and even prisons. Over the past couple of years, the project has spread outside of Israel, with some gatherings taking place in Europe and the U.S.
Survivor Mark Spigelman, who was a young child during the Holocaust, spoke at the home of his son, Guy, in Tel Aviv.
One participant commented on the remarkable way that Spigelman was able to convey the horror of what happened to him on a level that his young grandchildren, who were present at the session, were able to comprehend.
Spigelman opened his talk on the topic of dreams.
"I have dreams which are normal and they're in color," he said. "All my horrendous dreams, from my experiences as a child in the Shoah [Holocaust] are in black and white."
For decades following the war many survivors chose not to talk about their harrowing experiences. Now, in what will be the last generation of survivors, firsthand accounts are finally being passed on to the next generation.