Eric Holder has been on a racialist bender the last few weeks. Last week, he said his skin color is responsible for the fury of criticism over his Justice Department allowing thousands of guns to flood Mexico. Friday, he blocked South Carolina from implementing a voter ID law under the Voting Rights Act saying it was racially discriminatory.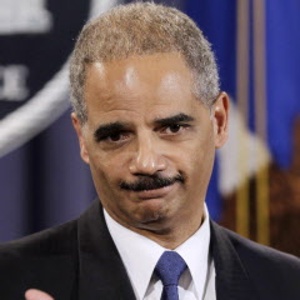 Sixteen states, including South Carolina, must submit all election law changes to the United States Justice Department for approval. States also have the option of bypassing DOJ and going straight to court for approval, an option they should readily choose. This law, unlike so many federal laws, actually has a legitimate Constitutional basis – the Fifteenth Amendment to the Constitution, which bars racial discrimination in voting. Passed in 1965, it was designed to prevent states from drifting toward renewed discrimination. It is now being challenged as unconstitutionally outdated by Arizona and Shelby County (AL) in federal court.
Eric Holder's Voting Section, where I used to work, interposed an objection late in the day today. These Christmas Eve gifts are becoming tiresome. In 2009 it was Obamacare. Today, it was blocking Voter ID.
In the objection letter, DOJ said that South Carolina did not meet its burden to prove that photo identification laws did not have any discriminatory effect. Notice the word "any," more on that later. The data show, according to DOJ, that 1.6 percentage points more voting blacks don't have a driver's license than whites. Roughly 10 percent of blacks registered to vote don't have a photo ID, and 8.6 percent of whites don't. That represents a "discriminatory effect" under the statute.
There are several problems with the objection. But some law first:
Those on the right like to say that the Supreme Court already upheld voter ID as constitutional. Wrong. In the Crawford vs. Marion County case the Supreme Court merely held that voter ID was not per se unconstitutional. It did not say it was per se constitutional, there is a big difference and proponents of voter ID should not argue bad law. Plus, under Section 5, the burden is on the state to prove a negative, an absence of discrimination. Crawford was brought under a different law and the burden was on the plaintiff to prove that Indiana discriminated.
Now the problems with the objection. The DOJ summarily rejected all of the mitigating provisions of the South Carolina voter ID law. For example, if you didn't have an ID, you could still vote by filling out an affidavit, and later show evidence of your identity. Extraordinary steps were taken to ensure everyone could get a free ID. Governor Nikki Haley even offered rides.
DOJ turned their nose up at these mitigating facts, because personnel is policy, and the personnel reviewing the change have philosophical objections to voter ID.
DOJ also turned their nose up at the late breaking development that the data were wrong. South Carolina discovered that the state election commission sent data that probably included tens of thousands of people on the voter rolls who moved out of state. That explains why they had no driver's licenses but were still on the voter rolls. Instead of waiting to review the new data, DOJ rushed the objection out the door. A credible operation, not interested in scoring political points, would have waited to review the correct data.
DOJ Attorney Catherine Meza was one of the lawyers on the case. If you've read my book Injustice, you know I provide the biographies of many of the new radicals hired by Eric Holder who will be in charge of federal election laws for the 2012 elections. Meza is one. Her biography:

Catherine Meza. Ms. Meza, who contributed $450 to Barack Obama's presidential campaign before getting hired by the Voting Section, has a rich history of liberal advocacy. During law school at Berkeley, she interned for (i) the NAACP LDF, where she worked on voting rights and "economic justice" issues, (ii) Bay Area Legal Aid, (iii) the ACLU of Northern California, (iv) the Mexican American Legal Defense and Education Fund (MALDEF), (v) Centro Legal de la Raza, and (vi) the East Bay Community Law Center Workers' Rights Clinic. She also worked as a legislative intern for Democratic Rep. (now Sen.) Robert Menendez of New Jersey as part of a fellowship with the liberal National Association of Latino Elected and Appointed Officials. On her resume, Meza proudly proclaims her membership in the American Constitution Society and her role as an Advisory Board Member of the Thelton Henderson Center for Social Justice. Talk about filling the whole bingo card! Meanwhile, while working a brief stint at the Fried Frank law firm after law graduation, she assisted on a pro bono case seeking to preserve the confidentiality of ID cards issued to illegal aliens by the city of New Haven, Connecticut, an effort to help illegal aliens avoid being prosecuted for violating federal law. She also helped draft a report for the United Nations Committee on the Elimination of All Forms of Racial Discrimination in which she suggested that the U.S. "government's programs and policies continue to perpetuate segregation and concentrate poverty in communities of color."
Lexington County (SC) GOP Chairman Richard Bolen wrote a letter to Attorney General Eric Holder asking for Meza to be removed from the review based on her partial background. Bolen, who recently announced a run for South Carolina Senate and is a zealous advocate for Voter ID, received a reply back that can best be characterized as a joke. Despite Bolen's request, Meza stayed on the case.
The voter ID objection letter also plays fast and loose with phony statistics. Naturally, Charlie Savage at the New York Times published these numbers prominently. Whenever the government has talking points, Eric Holder can always count on his loveable pup.
The letter says "minority registered voters were nearly 20% more likely to . . . be effectively disenfranchised." A difference of 1.6 percent between black and white is now 20%. This statistical sleight of hand was necessary because the actual difference of 1.6 percent (10% vs 8.6%) was laughable to the public. Like a puffer fish that bloats its size to scare predators, the DOJ did the same thing with a 1.6% point difference to scare off critics.
Of course, Savage prominently features the 20% statistical puffery in his piece.
The Voting Rights Act says that states must prove an absence of "any" discriminatory effect. Simply, they must prove a negative. Since 1.6% is greater than zero, Holder objected.
The word "any" was inserted in 2006 at the urging of Rep. Jim Sensenbrenner and his staff. Some Republicans, particularly in Congress, see Section 5 of the Voting Rights Act only through the lens of redistricting. Republicans love it because it creates more republican seats in Congress and in state legislatures.
Unfortunately adding "any" also undermines election integrity efforts. House Republicans failed to anticipate its future use in striking down voter integrity efforts like photo ID. In 2009 and 2010, the word "any" was also used to block Georgia's citizenship verification law to ensure that only American citizens were registering to vote.
Georgia's law was only approved when Georgia went to federal court and challenged the constitutionality of Section 5. DOJ backed down because they didn't want the law overturned.
Arizona's challenge to Section 5 will be hampered by today's objection. DOJ will introduce the objection as evidence that discrimination still exists justifying the preservation of Section 5. Lots of well paying jobs are part of Section 5 enforcement at the DOJ.
Here is the best part – the DOJ staffers who recommended the Section 5 objection helped preserve their own jobs by doing so. Because Holder objected to South Carolina voter ID, it will make it harder to strike down Section 5 in the Arizona case, and thus lay off all those people who recommended the objection in the first place. Worst of all, the objection memo used to support the objection, and ultimately these jobs, will remain secret and free from scrutiny.
Finally, don't fall into the silly and constitutional incorrect argument that you have to show ID to cash a check and get on a plane. Flimsy arguments like that are what the left wants from you. The 15th Amendment is in play when it comes to voting. It prohibits racial discrimination in voting, and Section 5 of the Voting Rights Act is passed to enforce that part of the Constitution. Cashing a check isn't found in the Constitution, and people who love the Constitution shouldn't equate a plane trip with the right to vote free from racial discrimination.
The better course of action, at least if you live in Texas, is to urge your Attorney General and Secretary of State to withdraw the Texas Voter ID submission and go straight to court before Eric Holder wrecks your law too.