Two of the first, post-September 16 CNN debate polls have been released and they show Donald Trump with a commanding lead.
Chuck Todd said on NBC's Meet the Press, "Trump laps the field at 29%, more than double of Ben Carson, and here comes Carly Fiorina moving into third place into double digits at 11% followed by Jeb Bush, Ted Cruz, and Marco Rubio."
In a statement to Breitbart News, Trump declared that these polls prove he was the clear winner of the CNN debate this week. "According to the latest NBC News poll, I continue to dominate the field by a wide margin and was a definitive winner of Wednesday night's debate," Trump said. "This movement is only growing. Voters are energized and excited about real leadership that will fix the problems we face and get things done unlike the all talk, no action politicians that have failed us for far too long.
"I look forward to focusing on the issues that matter including illegal immigration, the economy, our military and many others as I continue sharing my vision to Make America Great Again!"
An NBC poll shows Donald Trump polling at 29%, more than twice the numbers of Dr. Ben Carson. It also shows Carly Fiorina shooting up to third place behind Dr. Carson, at 11%.
You can see the results of the NBC poll here.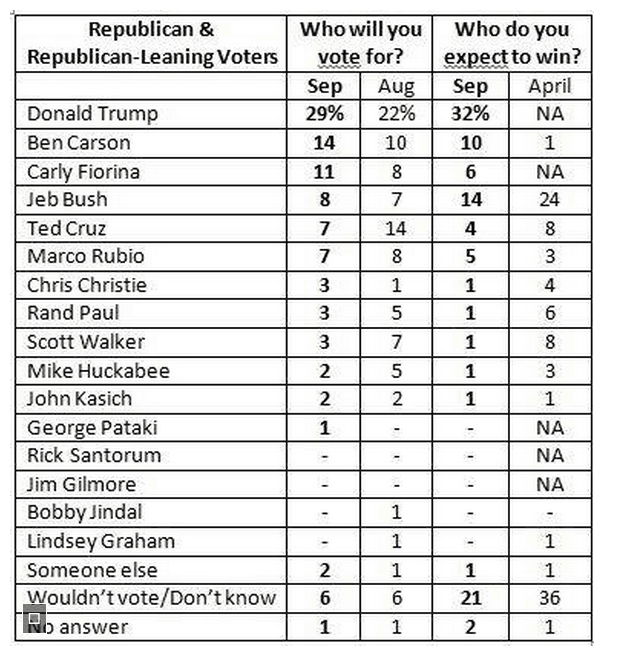 .
The CNN/ORC polls shows that former Hewlett-Packard CEO Carly Fiorina has shot ahead of the pack into second place behind Trump.
When those polled were asked who they were "most likely to support for the Republican nomination for president in 2016," Fiorina is up to 15% from 3% in early September. Trump remains in the lead with 24%, but dropping from his high of 32%.
Florida Senator Marco Rubio also received a sizable bump in the polls, climbing from 3% to 11%.
The biggest loser in the poll was Wisconsin Gov. Scott Walker who dropped from 5% to below 1%. You can read the rest of the CNN polling results here.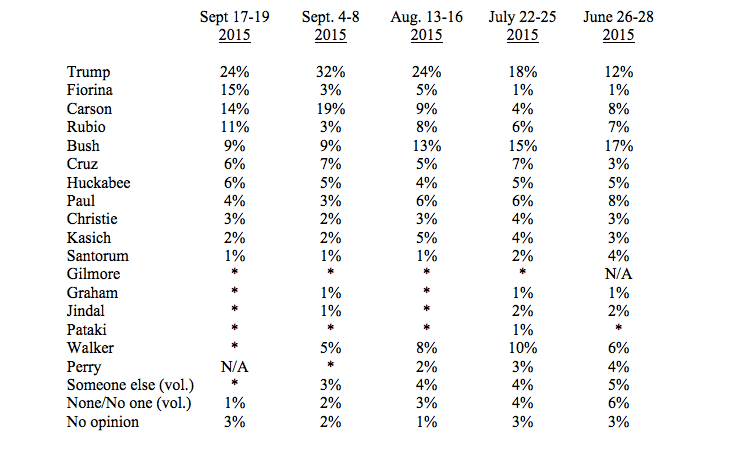 Of the new polls, Donald Trump's campaign said to Breitbart News, "Both polls reinforce that Mr. Trump is the leader in the race by a wide margin and won the debate. Other candidates will rise and fall depending on individual performance, but Mr. Trump is solidifying his substantial lead."