Update: As expected, First Lady Melania Trump changed into sneakers on Air Force One after she boarded the plane wearing heels.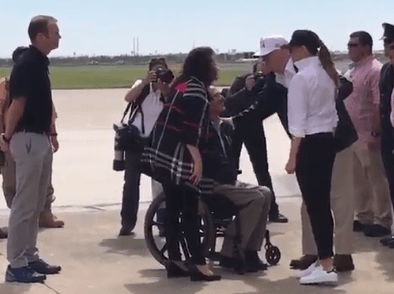 The First Lady arrived with President Donald Trump at Corpus Christi International Airport where they met with Governor Greg Abbot and his wife Cecilia as well as FEMA administrator Brock Long.
She also wore a new hat, which read "FLOTUS."
New hat #FLOTUS #MAGA pic.twitter.com/kxqXr2a88z

— Charlie Spiering (@charliespiering) August 29, 2017
Critics sneered at First Lady Melania Trump's fashion choice as she left the White House with her husband President Donald Trump to visit Texas in the wake of Hurricane Harvey.
The first lady wore black capris, heels, and an army green jacket as well as sunglasses as she boarded Marine One.
That triggered a series of critical comments from journalists, bloggers, and celebrities on Twitter, suggesting the First Lady was out of touch for wearing heels on her way to Texas.
But some noted that Melania Trump would likely change her shoes aboard the plane.
"Fashion police, relax, I trust she'll change the shoes," wrote CNN's Kate Bennett.
Others were not pleased:
I know this sounds so petty, but I really was wondering if she was gonna try to go to TX in heels…

— Christine Conetta (@BmoreConetta) August 29, 2017
https://twitter.com/MadelineRConway/status/902523787329110016
High heels to a flood? https://t.co/Pscv4HwuMS

— paul schwartzman (@paulschwartzman) August 29, 2017
"The higher the heels, the further from the poors." pic.twitter.com/O1jSGBeiEm

— April Lavalle (@imatoofbrush) August 29, 2017
She does know she's going to a natural disaster, right? Not sure 4 inch heels is the most appropriate footwear.

— Jaime Primak (@JaimePrimak) August 29, 2017
.@POTUS & @FLOTUS depart the White House for Texas #Harvey pic.twitter.com/ynjiuCmBaA

— Noah Gray (@NoahGrayCNN) August 29, 2017
First Lady this AM was like:

Aviators: check
Bomber Jacket: check
4 inch Manolos: check

Let's roll. https://t.co/4Um5E5bcVn

— Susan Davis (@DaviSusan) August 29, 2017
@FLOTUS rocking those disaster heels. pic.twitter.com/dm9UoER61N

— Sophia (@SophiaCannon) August 29, 2017
Great heels for the occasion, I'm sure. Sure to heal. https://t.co/Glw0kStQr9

— Yuko Kato (@yukokato1701) August 29, 2017
https://twitter.com/NKingofDC/status/902528908486115328
Someone might want to tell Melania that her heels will have to be a little higher for this flood. https://t.co/KrZ00qbw94

— Jessie (@NicCageMatch) August 29, 2017
Well if @FLOTUS toes get wet in the floodwaters at least her heels should remain dry #sensiblefootwear pic.twitter.com/MGO38XAwwS

— Jon Sopel (@BBCJonSopel) August 29, 2017
(Melania wobbles into shelter in 6-inch heels)
"I here help. I bring you perfumes and chocolates." https://t.co/t8G4MP8zei

— Jess Dweck (@TheDweck) August 29, 2017
I know I wear heels in a hurricane zone. https://t.co/sHAsMicaEb

— Capitán Colombia (@dannyboi965) August 29, 2017
Such bravery. And who among us doesn't wear stiletto heels to a hurricane zone? https://t.co/WQe6grkA8f

— Jennifer Hayden (@Scout_Finch) August 29, 2017
As a new reporter in late '70s, I learned never never wear heels to outside assignment like flood. Good luck with those spikes @FLOTUS. https://t.co/uaIo6rUM4D

— Mary Beth Schneider (@marybschneider) August 29, 2017
Worst time to wear heels since Jurassic World pic.twitter.com/mWvFVF8q1m

— Toby Earle (@TobyonTV) August 29, 2017
Nothing says 'we don't plan on staying long' like going to a flood wearing high heels and suede shoes. pic.twitter.com/ByucWbxxXx

— Marconi (@marconibologna) August 29, 2017
Lot of people noticing the heels, but have you considered how high the floodwaters in Texas are? #beprepared #thisisgoingtogogreat https://t.co/VLVIC7bxwQ

— Jonathan M. Katz✍🏻 (@KatzOnEarth) August 29, 2017
I'm guessing Melania is changing into boots on the plane, the heels aren't going to do well in 28 inches of flood water. https://t.co/6yTqPqnWxh

— (@kylegrantham) August 29, 2017
.@FLOTUS gots the flood heels ὆ on.

— Ward Carroll (@wardcarroll) August 29, 2017
Fucking Heels……so…out…of..touch.

— Carlos Navarro (@ToTheTopCarlos) August 29, 2017
Floods won't stop Melania's high heels, obviously. I guess that's a condition of employment.

— Michael Salfino (@MichaelSalfino) August 29, 2017
gotta bring the heels to Houston https://t.co/LmwNv8fSAO

— Madison Mills (@MadisonMills22) August 29, 2017
Update: A spokesperson for the First Lady responded to the criticism in a statement:
"It's sad that we have an active and ongoing natural disaster in Texas, and people are worried about her shoes," the statement read.