Washington, D.C.–The Washington Nationals exhibited some of their best pitching of the season for a few innings on Sunday night, and then for a third of an inning some of their worst; their best fielding, and among their most atrocious defense. In the end, the Nationals got the "W," which awarded the D.C. faithful their second last-at-bat victory in a row and a case of amnesia clouding over all of the horrific play against the Pirates.
Washington starter Doug Fister took a no-hitter into the 5th only to watch his fielders turn outs into hits in the 6th. Pirate Gregory Polanco scored on a fielder's choice when third-baseman Anthony Rendon's throw got away from catcher Wilson Ramos. Rendon later looked to redeem himself in the inning on a throw to first that hit the runner. Fister allowed two unearned runs from the comedy of errors before sitting down the six, seven, and eight hitters to end the painful and pathetic inning. The Nationals struck back in the bottom half of the frame when Ian Desmond doubled home Rendon to halve the Pirate lead to 2-1.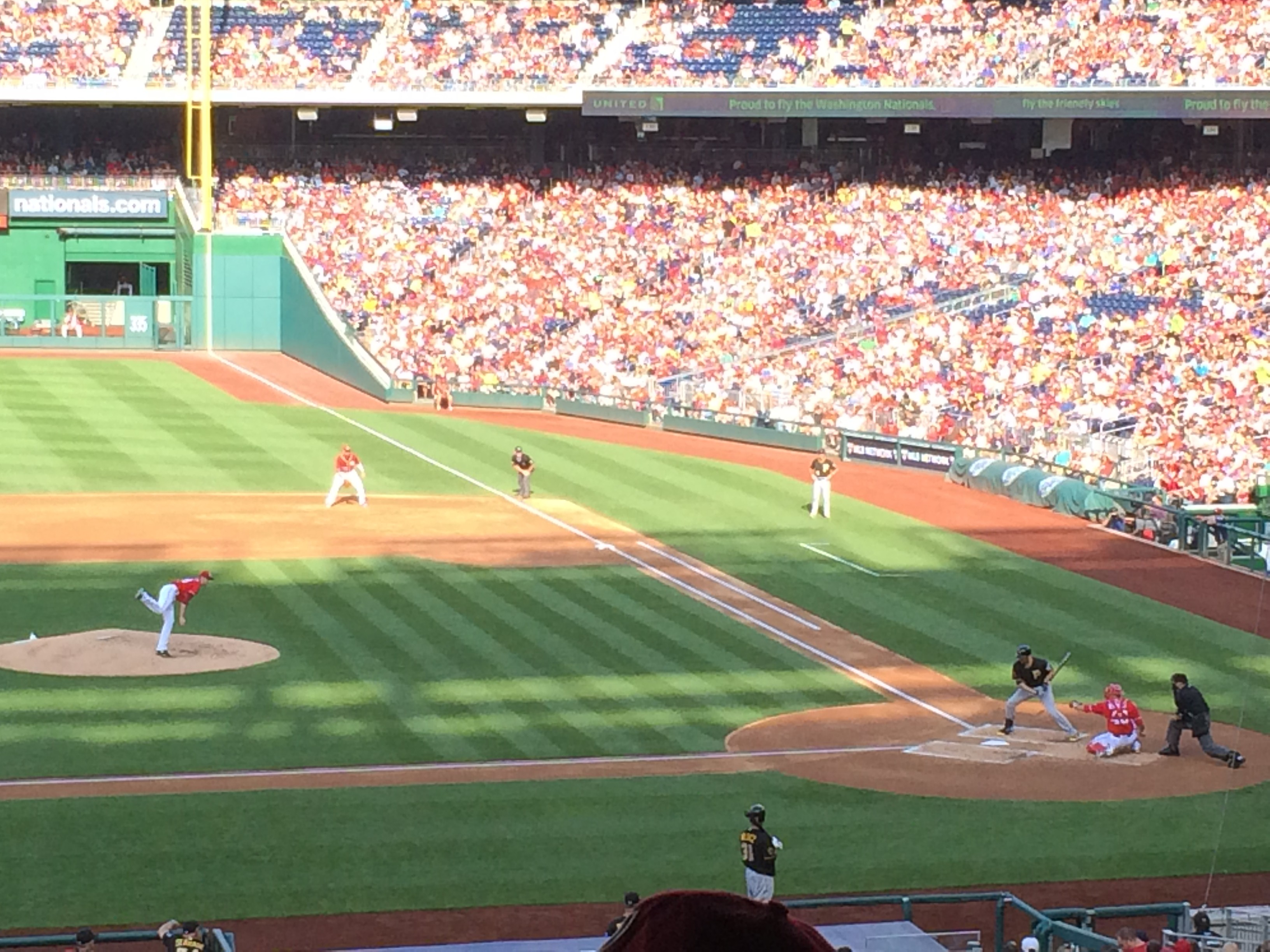 A manager's challenge on a blown non-call of a Michael Taylor hit-by-pitch and two Ike Davis errors enabled Washington to score three runs in the 7th to take a 4-2 lead. In the 8th, the Nationals held on through one of the more amazing 4-6-3 double plays executed all season. Asdrubal Cabrera captured a ball escaping into center and then offered a behind-the-back pass to shortstop Desmond, whose bullet beat Russell Martin to first.
In the 9th, Nats reliever Rafael Soriano blew the save by allowing three runs in a disastrous third of an inning pitched that included a wild pitch and Polanco sending two runners home on a double to deep center. But the Nats answered with a Cabrera single that pushed pinch hitter Jayson Werth, who had walked earlier in the inning, home and the game into extras.
Werth, who had been nursing an injury on the bench the last few games, exemplified Washington's attitude in extra innings by sprinting into right field to start the 10th. The Nationals broke the 5-5 stalemate in the 11th. After Ross Detwiler pitched a 1-2-3 bottom half of the inning, Werth slugged a leadoff double off of Pirates reliever Brandon Cumpton in the bottom half. Denard Span grounded out to the right side of the infield to advance Werth. Then pinch hitter Scott Hairston belted a long fly ball to right that sent Werth home, the Washington dugout onto the field, and the home crowd out of their seats and onto their feet.
The win marks the first-place team's sixth in a row and second consecutive walk-off victory.