Breitbart Sports will be providing live updates and reaction from fans and media all throughout Super Bowl LI, from NRG Stadium in Houston, Texas.
LATEST UPDATES ON TOP (TIMES CST)
********************Highlights********************
Grady Jarrett's 3rd sack of Brady forces New England to settle for a field goal.

Donna Hightower gives the Patriots life by forcing a fumble. Which New England recovers.

Falcons defense continues to swarm Brady after Atlanta turnover.

Malcolm Mitchell converts a huge 3rd & 11 to keep Patriots drive going.

Brady finds Amendola for a 6 yard touchdown. Patriots try for 2 and convert.
9:36pm
What an amazing comeback and win by the Patriots. Tom Brady, Bob Kraft and Coach B are total winners. Wow!

— Donald J. Trump (@realDonaldTrump) February 6, 2017
9:32pm
That didn't age well. https://t.co/J4FzN8nJ5p

— JWF (@JammieWF) February 6, 2017
9:31pm
Move over General Sherman — Tom Brady just burned down Atlanta all over again.

— Clay Travis (@ClayTravis) February 6, 2017
9:30pm Dylan Gwinn: James White, who could well be the MVP of the game, stretches out for the touchdown and completes the greatest comeback in Super Bowl history. New England wins 34-28.
9:19pm Dylan Gwinn: Patriots win the toss and elect to relieve as we begin the first overtime in Super Bowl history!!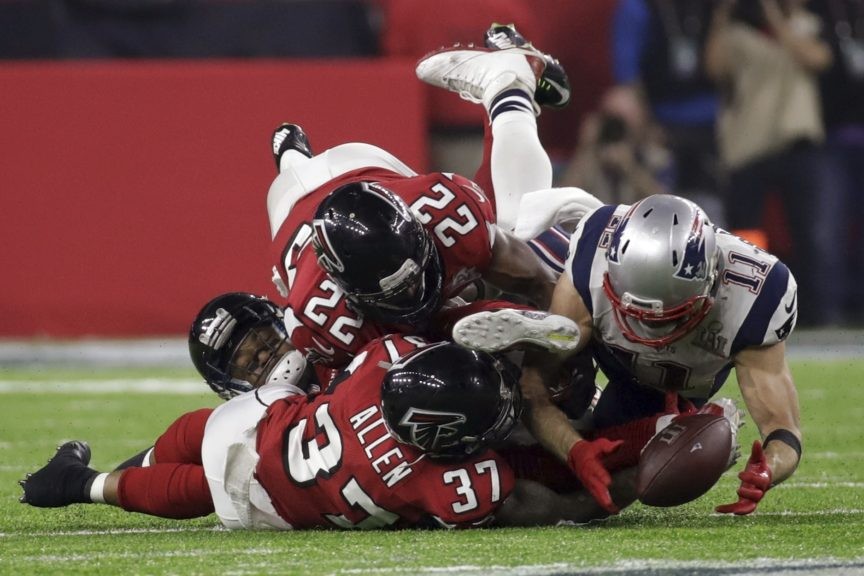 9:08pm
This game has completely turned since the Gaga show.

— Marco Rubio (@marcorubio) February 6, 2017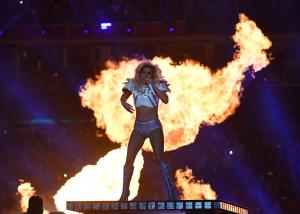 9:07pm
Tom Brady. Greatest quarterback ever. There can be no doubt anymore.

— Frank Schwab (@YahooSchwab) February 6, 2017
9:06pm
#GOAT #SB51 pic.twitter.com/YLhBWTBlGD

— Adam Clanton (@adamclanton) February 6, 2017
9:02pm Dylan Gwinn:  Okay, I was a post too early. Edelman is the new David Tyree. Wow. Huge catch.
8:50pm Dylan Gwinn: That catch from Julio Jones is right up there with David Tyree, Mario Manningham,  and Santonio Holmes. In terms of clutch catches. Unreal.
8:35pm Dylan Gwinn: Belichick has forgotten more about football than I will ever know. But going for a field goal there seemed like surrendering to me. Anyway, 28-12. Falcons.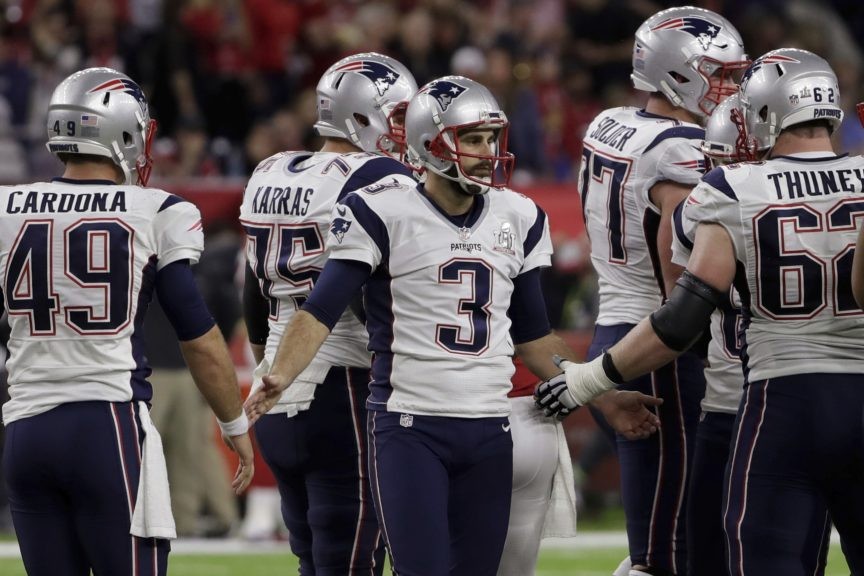 8:08pm Dylan Gwinn: James White, who somehow is the Patriots leading receiver, catches the touchdown from Brady. 28-9 Atlanta.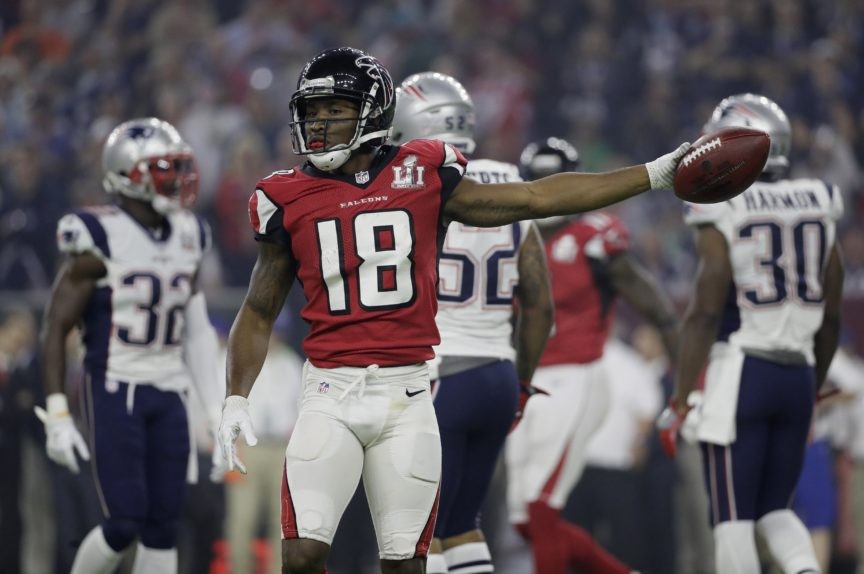 8:05pm Half Time Show KPRC2/Click 2 Houston
7:57pm Dylan Gwinn:  These commercials have been a bonanza of leftist activism: two immigration commercials, a feminist commercial, now an eco wacko commercial? Am I missing anything?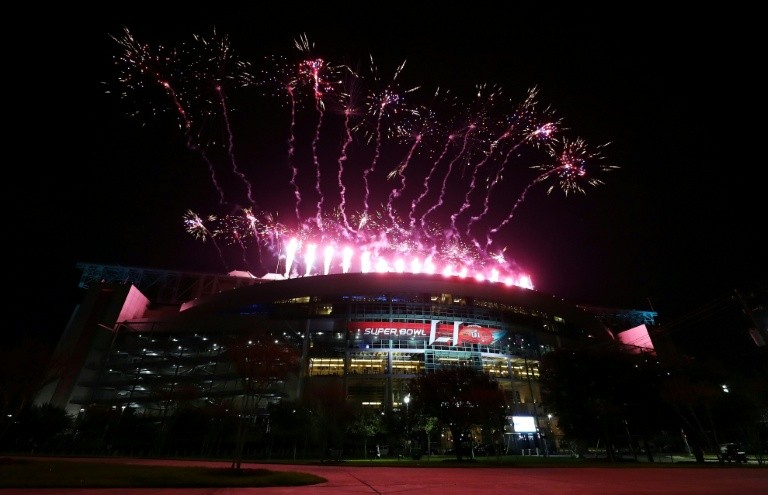 7:48pm Dylan Gwinn: Here's how Audi does "equality" on their executive team. Twitchy.com
7:42pm
Not your mother's Mr. Clean.

— Darren Rovell (@darrenrovell) February 6, 2017
7:41pm
Note to self, never buy an Audi. For if they lie like that in their commercials, they'll lie everywhere else, too.

— Steve Deace (@SteveDeaceShow) February 6, 2017
7:40pm Dylan Gwinn: YUGE stop by the Patriots. Force a 3 and out to start the second half and then get a 34 yard return from Edelman on the ensuing kick.
7:33pm
When you spend $5M on a #SuperBowl commercial and hire the https://t.co/7qon2JRKrI web developers. #84Lumber pic.twitter.com/aOeAuv5dm3

— Brad Tidwell (@bradtid) February 6, 2017
7:26pm Dylan Gwinn: I will retract this if needed. But so far a patriotic song on the roof and a shout out to the family. Not too shabby.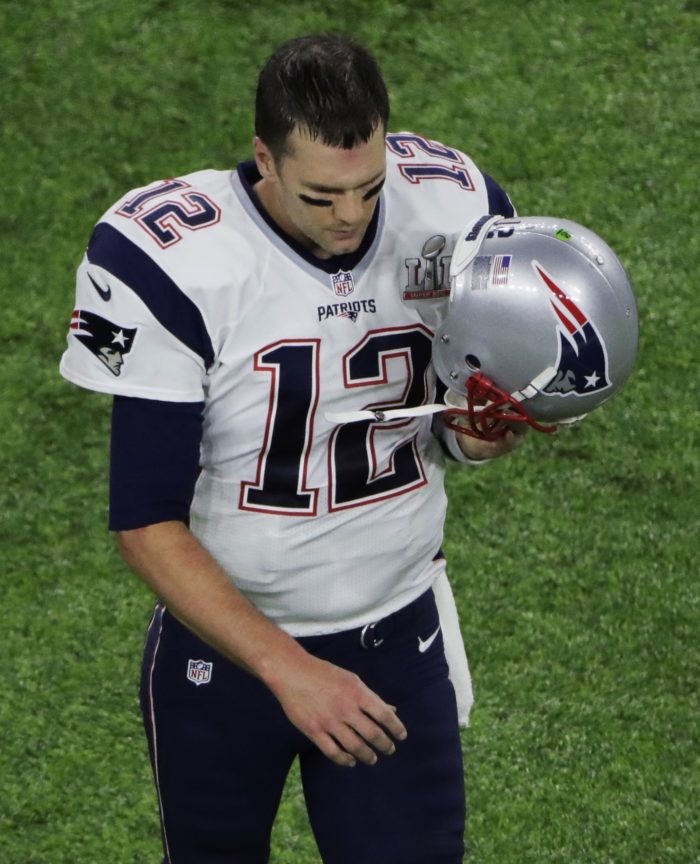 7:11 pm Dylan Gwinn: Shocker Huffington Post
7:03pm Dylan Gwinn: Patriots finally get on the board thanks to a Gostkowski field goal. 21-3. Almost Gaga time.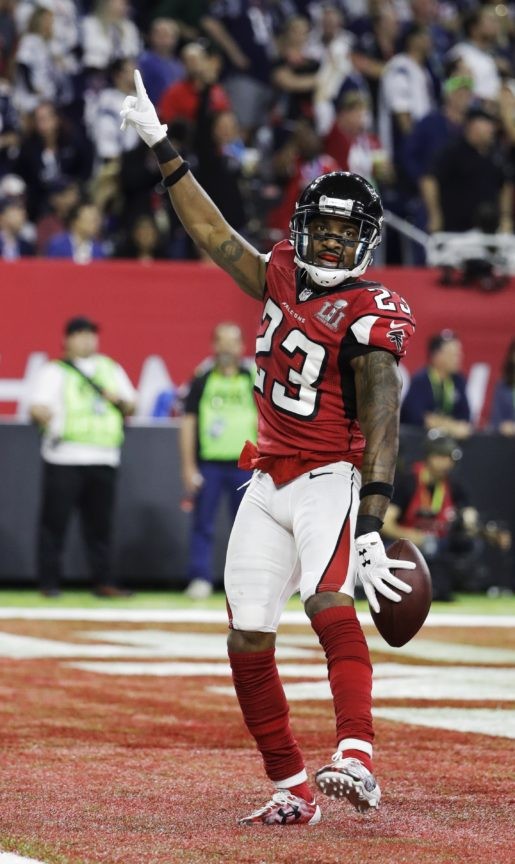 6:48pm
PICK 6! 82 yards!

Falcons take a 3-TD lead!

It's Tom Brady's first pick 6 thrown in a Super Bowl. pic.twitter.com/zmyjNvp5Pj

— NFL on ESPN (@ESPNNFL) February 6, 2017
6:47pm Dylan Gwinn: And just as it appeared the Falcons secondary was going to cost them points. The Falcons secondary gets points. Pick 6! 21-0 Atlanta.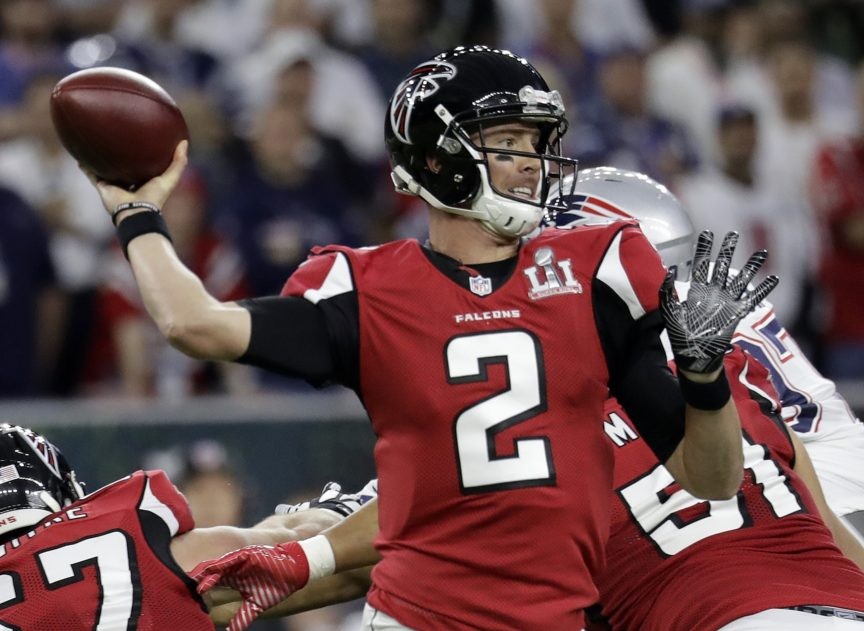 6:44pm Dylan Gwinn: Everyone will say the refs are keeping this drive alive. But these are all legit penalties on the Falcons.
6:41pm
Gronk about to come out the tunnel like pic.twitter.com/4eTIi90PQS

— Not Robert Griffin (@Pseudo_RGIII) February 6, 2017
6:38pm
That kinda Sunday #SB51 pic.twitter.com/vhRKPLirmo

— Chris Illuminati (@chrisilluminati) February 6, 2017
6:27pm  Dylan Gwinn: Resurfaces? How about you crawled back under the rocky surface you came out from Huff Po.
George H.W. Bush resurfaces to toss out #SuperBowl coin following hospitalization https://t.co/Pfd6XNMeBG pic.twitter.com/BATbZfih5J

— Huffington Post (@HuffingtonPost) February 6, 2017
6:24pm
Genius #TIDE

— Charlie Spiering (@charliespiering) February 6, 2017
6:19pm Dylan Gwinn: Patriots defense looking like they've never seen a running back before. Unbelievable cutting ability from Freeman. Touchdown Atlanta. 7-0.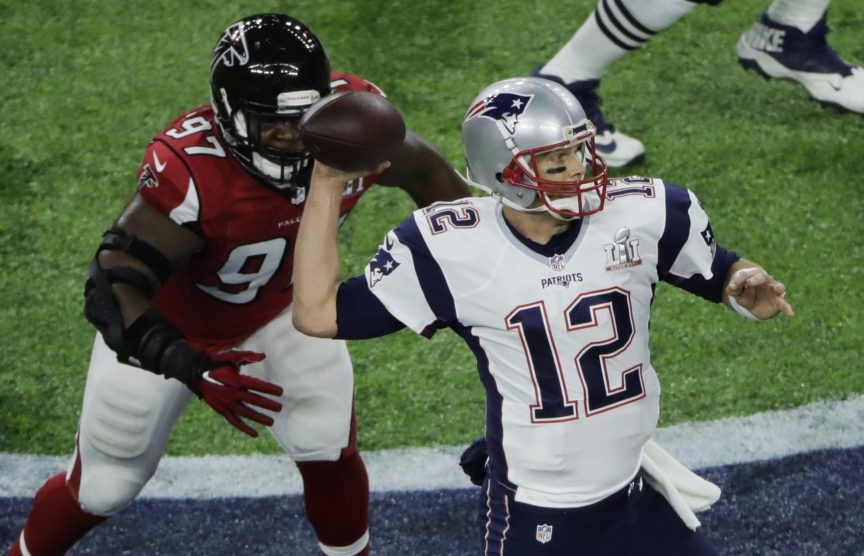 6:12PM Dylan Gwinn: Demonstrating my grasp of the obvious here, but that's exactly what Atlanta needs to win this game. Turnovers. Second opportunities. Huge strip sack by the defense there.
6:08pm Dylan Gwinn: What a joyless person. Avoid these people at all costs:
If the oil industry has money to run super bowl ads they probably don't need all those tax breaks

— Dan Pfeiffer (@danpfeiffer) February 6, 2017
 6:03pm
Live of everyone who bet the under. pic.twitter.com/YgEbKMMSyO

— Fake SportsCenter (@FakeSportsCentr) February 6, 2017
5:59pm Dylan Gwinn: We are fast approaching the point where it makes no sense for Atlanta to pass the ball. They're getting everything they want on the ground.
5:58pm Dylan Gwinn: Okay, that Skittles commercial is winning everything so far.
 5;56PM
Rare to see a coverage sack against Brady.

— Steve Deace (@SteveDeaceShow) February 5, 2017
5:55pm George H.W. Bush, Barbara take part in coin toss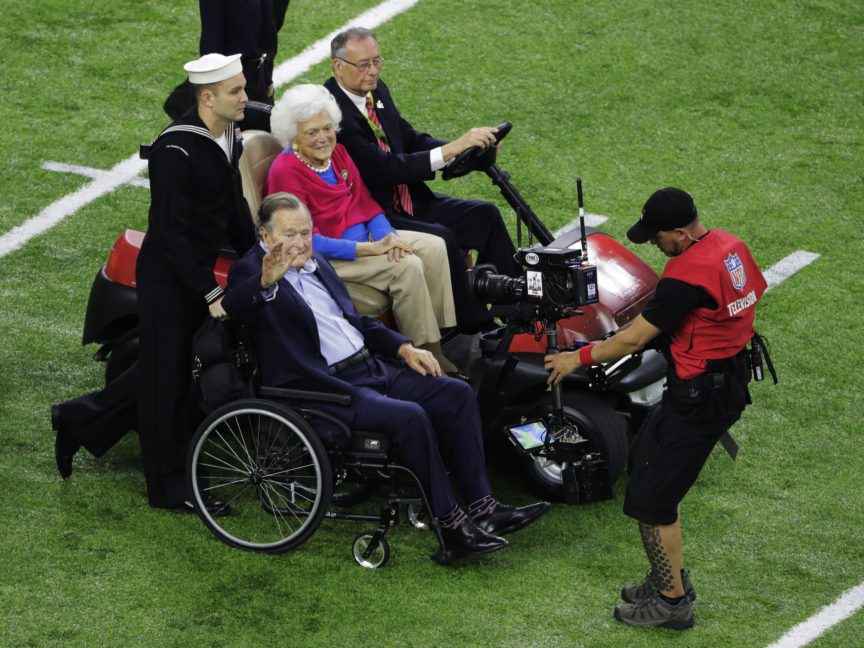 5:54pm Dylan Gwinn: Brady getting into a rhythm here. Patriots one of those few teams that actually pass to run. Dangerous signs for Atlanta if they don't get a negative play to stop it.
5:50pm Dylan Gwinn: All week long people talked about Atlanta's ability to get to the edge with their running backs. Devontae Freeman shows why on the first play. Huge play. 
5;47pm Lady Gaga poses on the field before the NFL Super Bowl 51 football game between the New England Patriots and the Atlanta Falcons, Sunday, Feb. 5, 2017, in Houston.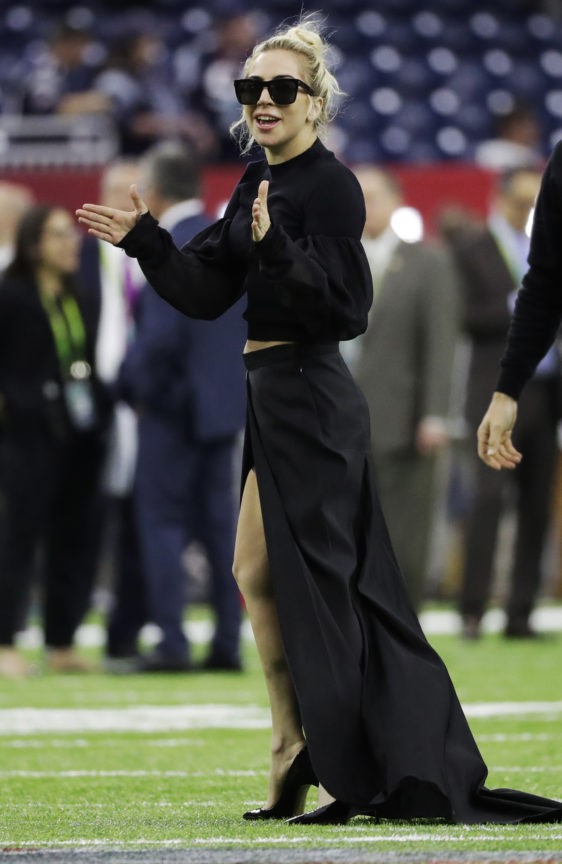 5:37pm Dylan Gwinn: Atlanta defers, New England will receive the opening kickoff.
5:35pm Dylan Gwinn: Ah, George H.W. Bush and Barbara out to observe the coin toss. Two weeks after both being in the ICU. #Respect
5:25pm Dylan Gwinn: I think having Ving Rhames do the hype promo for both teams is wrong. Seems fake. Should have had a Pats guy and a Falcons guy. Would have been more authentic.
Super Bowl LI Preview 
Sports play as an escape from real world negativity. Unfortunately, the sports and political worlds collide quite a bit recently.
Whatever your political persuasion, the actual game on Super Bowl Sunday should prove fun to watch. Neither the cast of the Mike Pence-hating musical Hamilton singing "America the Beautiful" pregame nor activist-singer Lady Gaga performing the halftime show, or commercials with political agendas, can ruin a game, featuring two great quarterbacks, New England's Tom Brady and Atlanta's Matt Ryan.
Let's take a closer look at the football game, which likely plays as a nice three-hour escape from political football.
One of the great match-ups in this contest features Ryan against a superb Patriots secondary: cornerbacks Malcolm Butler and Logan Ryan, along with safeties Devin McCourty and Patrick Chung. They all play on a high level.
However, the Patriots' secondary faces a Herculian challenge against the Falcons' coterie of passing-game weapons, led by wide receiver Julio Jones, who averaged more than 100 receiving yards a game this season. If you take away Jones, Ryan happily targets other talented wideouts such as Mo Sanu or speedy Taylor Gabriel, or perhaps one of three talented tight ends.
"As a defensive coordinator, you really have to pick your poison, and decide what you want to take away," Jones said.
And the poison includes a tailback tandem that can hurt you running and receiving. Atlanta's dynamic duo of Davonta Freeman and Tevin Coleman combined for 2,482 yards and 24 touchdowns this season. This pair of powerful runners are passing game weapons as well, combining for 85 receptions and 883 yards.
The Patriots aren't easy to run against with a cornucopia of talented, massive defensive linemen such as Alan Branch and Malcolm Brown.
"They have big heavy guys up front that are run-stoppers," said Falcons center Alex Mack.
And Mack, Atlanta's outstanding center, isn't healthy. He's dealing with a painful left fibula injury, and will probably need a Toradol shot to get through the game.
"I'm concerned," Falcons coach Dan Quinn said about Mack. "I'm not panicked, but I'm concerned."
With a top-shelf quarterback and a coterie of weapons, the Falcons certainly shouldn't struggle scoring, but they can score enough? Can they keep up with the Brady?
While Atlanta's defense has improved from early in the season, it's still not an elite unit. In their regular season finale, a 38-32 win over New Orleans, Saints QB Drew Brees threw for 350 yards, wide receiver Michael Thomas snagged 10 catches for 156 yards and tailback Mark Ingram rushed for 102 yards. After watching this tape, Brady likely chomps at the bit.
The Falcons start three defensive rookies – safety Keanu Neal and linebackers De'Vondre Campbell and Deion Jones. They also feature a rookie nickel back, Brian Poole, who plays a lot. Brady is superb at manipulating defenders with his eyes – throwing them off the trail of where he intends to throw. Rookies are particularly vulnerable to this chicanery. Expect Brady to target these rookies.
"Brady is going to find out what the kids know," said SiriusXM NFL Radio analyst Pat Kirwan.
"I would expect him to [go after the rookies]," said Neal. "I would expect him to go to a guy that doesn't have as much as experience as others."
Neal embraces the challenge.
"Bring it on," Neal said. "I'm not scared."
Be careful what you wish for. Brady, looking for his fifth Super Bowl victory, is coming off a virtuoso performance vs. Pittsburgh in the AFC Championship Game, throwing for 384 yards and three touchdowns. At 39, Brady is still at the top of his game, and wants to play six more years.
"You combine his competitiveness, his preparation, his accuracy and his toughness with his memory, you've got the best quarterback to ever play," Houston Texans coach Bill O'Brien, a former Patriots assistant, told the Boston Herald.
A good way to mess with Brady is with interior pressure.
"The best way to disrupt [his] rhythm has always been pressuring Brady from the center of the pocket," Falcons coach Dan Quinn said. "Many times, when [pressure] comes from the edge he's able to step up and find an extra [second] worth of time to find a free receiver."
And blitzing Brady a lot isn't a good idea.
"There isn't a blitz I haven't seen," said Brady, a 15-year NFL starting QB.
The New York Giants beat him in a pair of Super Bowls (2007 and 2011) without blitzing. They relied on their front four to pressure him, allowing them to drop seven guys into coverage.
"When you can affect him with a four-man rush, it's absolutely pivotal for our defense," said Falcons defensive tackle Tyson Jackson. "You can drop more in coverage."
Plus, if you blitz, you aren't likely to get there; the Patriots allowed only 24 sacks in the regular season.
Aside from Brady's greatness, another problem for the Falcons – they are sans their top cornerback Desmond Trufant, on injured reserve.
"[The Falcons] will lose, if their defense isn't good enough," said retired coach Dick Vermeil.
It probably isn't.
The pick here is New England.