On Sunday morning, Alabamians that still have subscriptions to the print editions of The Birmingham News, The Huntsville Times or Mobile, AL's Press-Register woke to see their morning newspaper telling them to "reject Roy Moore" in bold lettering above the each of those paper's nameplates.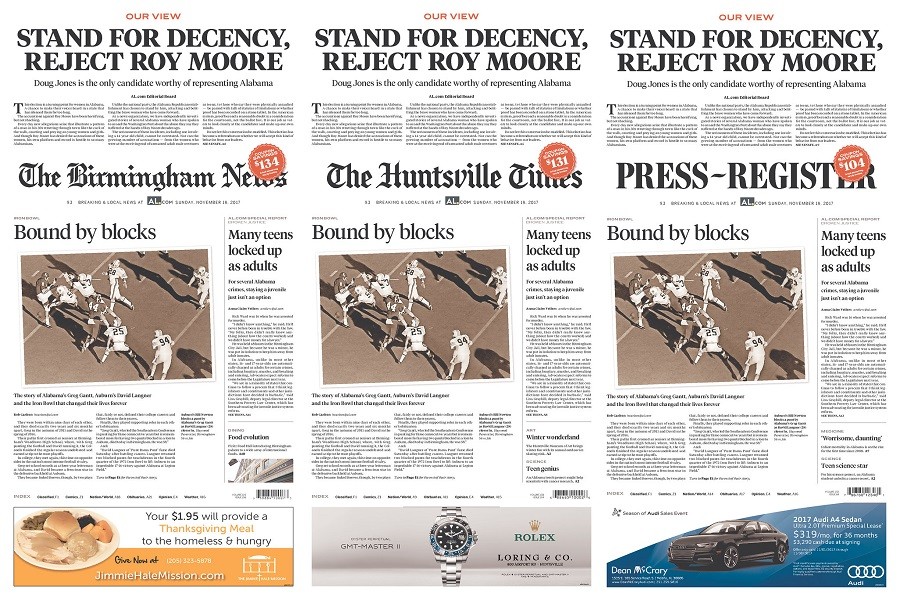 An editorial that accompanied the headline criticized Moore, the Republican candidate for U.S. Senate in next month's special election, and urged readers to vote for his opponent Democratic Party nominee Doug Jones.
"By the various misdeeds, miscalculations and mistakes of its voters and leaders, Alabama has left itself with few options. Alabamians must show themselves to be people of principle, reject Roy Moore and all that he stands for," it said. "There is only one candidate left in this race who has proven worthy of the task of representing Alabama. He is Doug Jones."
Moore has been under fire since reports first surfaced earlier this month that he engaged in inappropriate behavior and/or sexual misconduct decades ago while serving as a prosecutor and judge in Etowah County, AL.
In a statement given to CNN's Brian Stelter, AL.com vice president of content Michelle Holmes said the reason for the editorial's prominent placement was that the editorial board of these three newspapers thought "such treatment was in line" with the stakes of the race.
"This is an important moment in Alabama and America, and we felt such treatment was in line with what is at stake in this race" —@mlh_holmes https://t.co/jlpEFPobQo

— Brian Stelter (@brianstelter) November 19, 2017
However, the news outlet's editorial board's views aren't necessarily in line with those of the voters of Alabama. During last year's presidential election, the same editorial board endorsed Hillary Clinton over Donald Trump.
In an October 9, 2016 editorial, the AL.com editorial board called Trump "dangerous" and said he was "a narcissistic, childish bully."
Despite that condemnation, Trump won Alabama by a nearly 2-to-1 margin over Clinton: 1,318,255 votes for Trump and 729,547 for Clinton.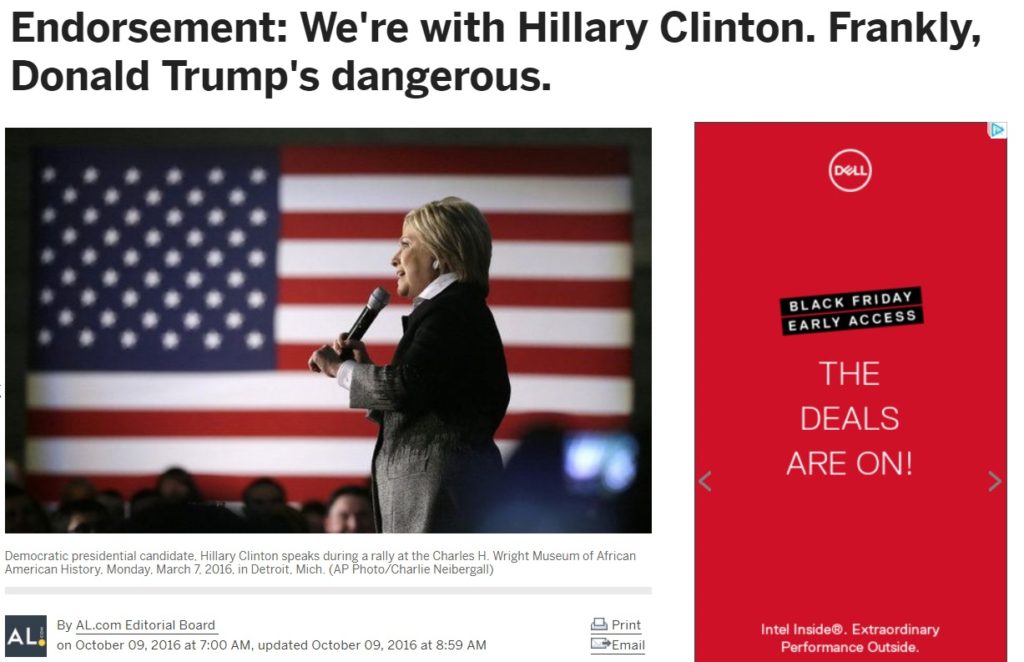 Sunday wasn't the first time AL.com's editorial board had criticized Moore. In fact, it was the second time in a week it had denounced Roy Moore. Early last week, it made a similar declaration about Moore in an editorial deeming him to be "grossly unfit for office."
"Roy Moore simply cannot be a U.S. Senator. Even if his party and many of its adherents still think it possible, it is unthinkable — for his state, and his country."
Beyond Trump and Moore, the AL.com editorial board has taken other positions on issues that were out of step with the voters in Alabama.
Throughout 2015, the paper on at least seven occasions weighed in on the same-sex marriage debate. That included a June 2015 editorial that applauded the U.S. Supreme Court's same-sex marriage ruling and lectured readers on why they should accept the ruling despite polling showing that only 32 percent of Alabamians approved of same-sex marriage legalization.
Another editorial condemned local courthouses that closed their doors in reaction to the ruling and likened it to former Gov. George Wallace's (D-AL) 1963 stand in the schoolhouse door at the University of Alabama. Another applauded a federal court ruling on the issue and declared "#Lovewins indeed."
The front-page gesture caught the attention of the national media. During the day on Sunday, cable news reporters on Fox News, MSNBC and CNN highlighted the editorial.
Not everyone was convinced this would be a net positive for Jones' effort in Alabama, including Huntsville, AL talk radio host Dale Jackson.
CNN, and the national media, are enamored with a new https://t.co/ZBQB77F9zP editorial endorsing Jones (huge surprise). The national media doesn't understand… anything about #alpolitics, I sent CNN's Brian Stelter an e-mail trying to explain.#ALSenhttps://t.co/JBm4pCyPph

— Dale Jackson (@TheDaleJackson) November 19, 2017
Sunday afternoon, Jones applauded the endorsement and said he was "honored" to have received it.
I am honored to have the endorsement of the Birmingham News, Huntsville Times, & Mobile Press-Register.

I plan to keep talking about the issues that impact our lives & finding common ground to make things better for all of Alabama. #KitchenTableIssues https://t.co/JRnJxvp3Ly

— Doug Jones (@DougJones) November 19, 2017
Follow Jeff Poor on Twitter @jeff_poor