Welcome to Breitbart News's live updates of the 2016 election. Hillary Clinton is expected to announce her vice presidential pick today and appear with her selection tomorrow in Florida. The media elite and Democrats seem to have all (what a coincidence!) thought Donald Trump's speech was "dark." They were all on the same page with coordinated talking points across all networks. It's easy for elites living in "Boomtowns" to not see many of the problems Americans are facing, and that disconnect, especially on illegal immigration, is what propelled Trump to the nomination and may win him the White House.
The mainstream media seem to be perking up (just listen to their tone) as they get to become "homers" next week for the Democratic National Convention in Philadelphia. But when Black Lives Matter speakers and others talk about all that they think is wrong with America next week, will the same media elites who denounced Trump's speech also slam Democrats for painting a "dark" picture of America?
All times eastern.
—
8:45: RNC's Chief Strategist: Kaine/Clinton = Status Quo ticket.
if you like establishment status quo politics then @HillaryClinton @timkaine is your ticket https://t.co/B3fRNv1Sgm

— Sean Spicer (@seanspicer) July 23, 2016
8:43: Tim Kaine Tweets:
Just got off the phone with Hillary. I'm honored to be her running mate. Can't wait to hit the trail tomorrow in Miami!

— Senator Tim Kaine (@timkaine) July 23, 2016
8:30: [An interesting vice presidential choice. It seems like Clinton thinks Kaine can help her with blue-collar white voter like Joe Biden helped Obama. But this isn't 2008, and blue-collar voters like Trump much more than they ever supported John McCain. Clinton may also be going all-in on Virginia, thinking that if she wins Virginia, the election is over. Kaine, an ultimate political insider who will face charges of cronyism and corruption after having received lavish gifts while he was Lieutenant Governor and Governor, reinforces many of Clinton's negatives. She may regret not selecting Cory Booker or Julian Castro.]
8:10: HILLARY CLINTON PICKS TIM KAINE:
I'm thrilled to announce my running mate, @TimKaine, a man who's devoted his life to fighting for others. -H pic.twitter.com/lTVyfztE5Z

— Hillary Clinton (@HillaryClinton) July 23, 2016
#BREAKING @HillaryClinton has picked Virginia Senator @TimKaine as her Vice President.

— Carlos Suarez (@CarlosWPLG) July 23, 2016
7:55: Clinton about to reveal VP pick:
.@HillaryClinton has long been a political partner. Tonight, she will reveal her own. She is making calls to those who didn't get picked.

— Jeff Zeleny (@jeffzeleny) July 22, 2016
6:30: Trump pulls even with Clinton in Reuters's national poll. 
6:17: No VP announcement as Clinton ends by saying "love trumps hate."
6:08: Clinton accuses Trump of "talking trash" about America.
6:05: Clinton, the ultimate globalist, claims to understand all of the "angst" re: trade deals, globalism, etc. She claims Trump advertised "isolationism" at the convention.
5:57: Clinton blasting Trump for saying he can fix it alone. She says we had a revolution to prevent that from happening.
5:51: Clinton says Trump offered divisiveness and anger but no solutions. [No matter how many plans Trump releases, Democrats will reflexively say he doesn't have plans.]
Clinton using Ted Cruz's lines against Trump at campaign rally. [Ted Cruz is NO RONALD REAGAN.]
5:45: Clinton now takes the stage. She says the GOP convention was "kinda perversely flattering" because Republicans spent so much time talking about her. Clinton says something has gone terribly wrong when one speaker says "vote your conscience" and gets booed. Clinton says she never thought she'd say these words, but "Ted Cruz was right."
5:42: Trump issues statement on Munich terror attacks:
Our prayers are with all those affected by the horrible attacks in Munich. This cannot continue. The rise of terrorism threatens the way of life for all civilized people, and we must do everything in our power to keep it from our shores.
5:36: At Clinton's Orlando rally, Sen. Bill Nelson (D-FL) is introducing Clinton.
5:05: Crowd still waiting for Clinton, who may have been forced to call an audible re: VP announcement after terror attacks in Germany:
There are more than 3600 people awaiting Clinton at the Tampa fairgrounds, per fire marshal, via campaign

— Jennifer Epstein (@jeneps) July 22, 2016
5:00: Like there was even a question. Good grief.
The Washpost edit board is not waiting until October. We are ruling out endorsement of Donald Trump. Here's why: https://t.co/HUC8dE54Lh

— Jackson Diehl (@JacksonDiehl) July 22, 2016
4:15: Clinton on her way to Tampa after visiting Pulse nightclub:
Clinton is headed to Tampa after an event and a stop by Pulse in Orlando. Sen. Bill Nelson is joining her. pic.twitter.com/YMLOjbwUVZ

— Dan Merica (@danmericaCNN) July 22, 2016
Clinton is at the site of the Pulse nightclub shooting in Orlando, laying flowers, meeting w/ 1st responders pic.twitter.com/WAOcHgbGdY

— Abby D. Phillip (@abbydphillip) July 22, 2016
3:57: For some reason, Richard Engel on MSNBC is trying to downplay that this attack may be associated with ISIS. He cites the "Right-wing" terrorist in Norway. No mention of radical Islam. But on CNN, a witness whose child was in the bathroom with the gunman when he was loading his pistol and says she may have died had the gunman's back not been turned to her, says the terrorist shouted "Allahu Akbar" while shooting children.
3:40: Germany terror attack delaying Clinton VP announcement?
Clinton's BK HQ staff went into 3:00 meeting expecting to hear VP pick, but told will have to wait until "undisclosed time," per source.

— Alex Seitz-Wald (@aseitzwald) July 22, 2016
hard to see how Clinton tweets out VP choice during ongoing coverage of Munich – especially since Trump cited Nice in delaying last week

— John Harwood (@JohnJHarwood) July 22, 2016
2:15: Clinton to start calling those who weren't chosen for VP. Campaign headquarters will reportedly know pick in a few hours:
Clinton will be calling some of the people who didn't get picked, source says https://t.co/eorob8B0Bn

— Jennifer Epstein (@jeneps) July 22, 2016
1:15: On CNN, pundits were discussing how "dark" Trump was to talk about the need for a border wall and the need to be tough on Islamic terrorists when the network…. cut to a terrorist attack in Germany in which at least one person was shot and ten wounded. Now analysts are talking about how Germany has taken the lead in admitting Syrian refugees.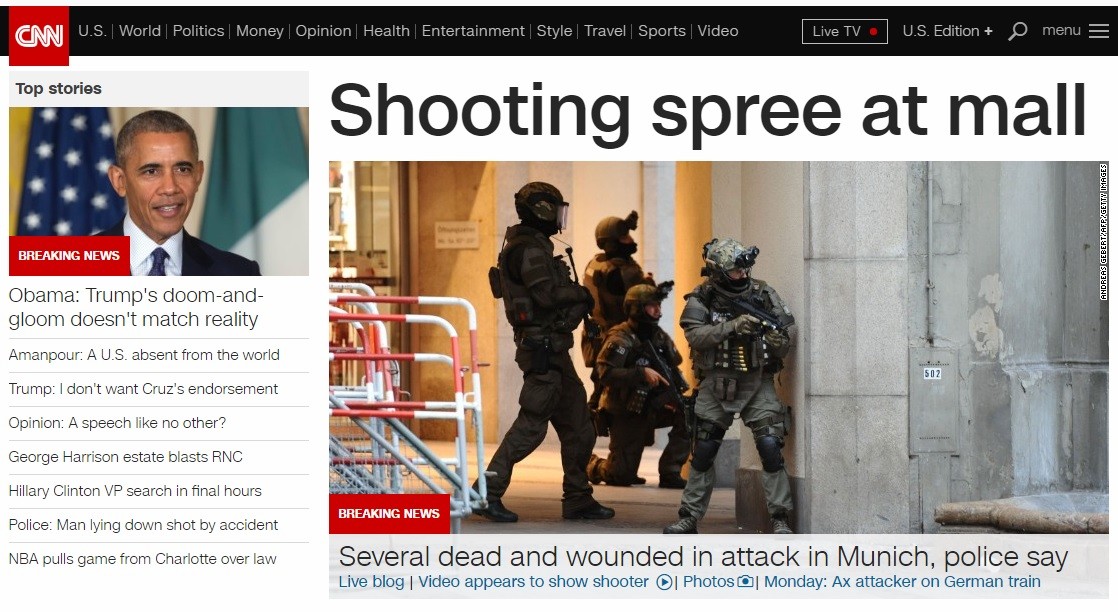 JUST IN: Twitter video shows people running from scene of shooting at German shopping center https://t.co/rI3HVFMiav pic.twitter.com/59Pf70D5cF

— CNN (@CNN) July 22, 2016
U.S. Consulate Munich advises U.S. citizens to follow police instructions, shelter in place after shooting at mall. pic.twitter.com/9R5bPaoVXA

— ABC News (@ABC) July 22, 2016
12:35: Obama again against walls:
Obama: Globalization is a fact because of tech, global integrated supply chain. "We're not going to be able to build a wall around that."

— Ray Locker (@rlocker12) July 22, 2016
12:15: Obama is asked about the RNC in a press conference with Mexican President Enrique Pena Nieto. He says he didn't watch the convention because he has a lot of stuff to do. Pena Nieto, who compared Trump to Hitler and Mussolini, says he won't opine on the presidential election. Obama says "this idea that America is somehow on the verge of collapse" (but he didn't watch Trump's speech, so why is he commenting on the "fears" that he expressed?) doesn't "jibe with the experiences of most people." Obama says America values its relationship with Mexico despite some "heated rhetoric." He claims America has learned from NAFTA and pushes TPP along with Pena Nieto.
11:55: All eyes on Tim Kaine:
.@timkaine departs Boston Logan pic.twitter.com/nuxUFPGPeT

— Betsy Klein (@betsy_klein) July 22, 2016
VIDEO: @timkaine in Boston: "No news to report." pic.twitter.com/3L4OnFMcdF

— Betsy Klein (@betsy_klein) July 22, 2016
11:50: Very interesting. CNN anchor John Berman says that though pundits and the media elites immediately painted Trump's speech as "dark," the participants of a focus group that he conducted during Trump's speech did not get that impression at all. [Huge disconnect between elites in Boomtown and regular Americans.]
11:15: Trump, after re-litigating Heidi Cruz/National Enquirer (he says the Enquirer should have won a Pulitzer for their John Edwards reporting), says Cruz has good intellect but doesn't know how to use it. He says he thinks Heidi Cruz is beautiful and Heidi and Cruz's kids are the best things he has going for him. He jokes he may start a Super PAC to defeat Cruz in the future. Trump also says Melania was a successful model who was making a lot of money and didn't need to marry him. He says he had to work really hard to get her to marry him. Trump also says whether you are a "lover" or a "hater," you have no choice but to vote for Trump if you care about the Supreme Court.
"Just one thing I want to leave you with: Supreme Court Justices," Donald Trump https://t.co/aOOTfgMPj0 pic.twitter.com/SFjNuKQJb1

— CBS News (@CBSNews) July 22, 2016
Trump: "We're going to get somebody as close to" Justice Scalia for #SCOTUS https://t.co/6OZtrfIwim https://t.co/d3wDpJcYsn

— CNN Politics (@CNNPolitics) July 22, 2016
10:54: Trump predicts nobody is going to watch the "boring" Dem. convention and Clinton's speech. "I know her too well," he says. Trump says his speech went long because of all of the applause. "There was great love in that room," he says.
10:52: Trump says Cruz was "dishonorable" for not honoring the pledge.
10:45: Trump says this summer will go down as "the summer of Trump."
10:41: Trump thanks Sen. Jeff Sessions (R-AL) for his support. He calls Sessions a "low-key genius."
10:40: Trump says Barry Switzer has praised Harold Hamm. He says Switzer told him other energy executives spend millions looking for oil while Hamm puts a straw in the ground and oil comes out. Trump says we need someone like Hamm as Energy Secretary.
10:39: Trump thanks the carpenters, electricians. etc. who helped build the stage.
Pence introduces Trump at post-convention event with supporters in Cleveland pic.twitter.com/ktX8VYioQ8

— Jonathan Lemire (@JonLemire) July 22, 2016
10:35: Trump thanks the people of Cleveland and Ohio. He said this "was probably one of the most peaceful, one of the most beautiful, one of the most love-filled conventions in the history of conventions." "That was unity," he says. "That was amazing." Trump says the "party has come together" and "the few people who aren't there… that's okay."
10:25: But not the charisma:
Looking across different ideological measures, Kaine has roughly an equivalent ideology to Biden.

— (((Harry Enten))) (@ForecasterEnten) July 22, 2016
10:20: This is what the media elite and the professional pundits say was a "dark" speech? [A lot of Americans became hopeful that someone vowed to fight for them and is actually listening to them on immigration and trade.]
And here's our illustration from the final night of the Republican National Convention #RNCinCLE. pic.twitter.com/L4IixtpuhA

— USA TODAY (@USATODAY) July 22, 2016
10:08: In Cleveland, Trump is getting ready to address volunteers who helped his campaign throughout the week.
10:05:
Obama spends 7 years bypassing Congress with "pen and phone": SUPER AWESOME

Trump says "I alone can fix this": DARK SHADOW OF HITLER

— John Hayward (@Doc_0) July 22, 2016
Bill Maher: "Thank you, thank you. I have to say, this convention did answer a few important questions for the American people like could another Nazi Germany happen here?"
9:55:
For everyone saying this speech is "too dark", remember – 69% of the nation thinks the USA is on the wrong track. Many will agree w Trump.

— Ari Fleischer (@AriFleischer) July 22, 2016
9:50: Nearly every mainstream media reporter–and all of the GOP establishment consultants who whisper in their ears so they can be "informed" about Republicans– and network pundit all thought the exact same thoughts after watching Trump's speech. Coincidence?
9:45: Clinton will reportedly announce her VP pick today and appear with her selection tomorrow in Miami.
HRC has a campaign event in Miami Sat morning and Tim Kaine's bilingual. If you want that as an asset, then you'd showcase it on day 1.

— Chuck Todd (@chucktodd) July 22, 2016
A source tells me Clinton VP announcement likely today via text/email. Clinton and running mate will appear together tomorrow for 1st event.

— Amie Parnes (@amieparnes) July 22, 2016
9:35: Matt Dowd is one of the few who seems to get the disconnect between the media elite/privileged "Never Trump" professional conservatives/partisan Democrats and the rest of America:
As I have watched many in the media disparage trump over the last week I understand more why voters pick trump. Elites don't get it.

— Matthew Dowd (@matthewjdowd) July 22, 2016
9:30: Wallace worked for Jeb Bush and George W. Bush. Translation: Death of Bushism (open borders, globalism).
Wow – Nicole Wallace on NBC: "The Republican Party that I worked for for two decades died in this room tonight."

— Alex Seitz-Wald (@aseitzwald) July 22, 2016