Sen. Marco Rubio (R-FL) may be laughing all the way to the bank, after a New York Times hit piece on him backfired spectacularly.
On Friday morning, the Times published a ridiculous attempt to smear Rubio, which revealed the less-than-scandalous information that the Senator had received four traffic tickets over two decades.
As Breitbart News' John Hayward reported:
For some reason, the New York Times decided to devote two reporters to the urgent task of reviewing Senator and presidential candidate Sen. Marco Rubio's driving record over the past 18 years. And they still couldn't make much of a story about it, so they decided to add his wife's record to the story.

Voila! "Marco Rubio and His Wife Cited 17 Times for Traffic Infractions," screams the headline. For some reason, the headline fails to mention that they had to dig back to 1997 to come up with that total. I'm sure it's just a bit of editorial oversight that "… Over the Past 18 Years" was chopped off the headline.

…I thought the media was adamant that the wives and children of politicians were strictly off-limits. But when their big "expose" on Marco Rubio could only find four traffic citations since 1997, they didn't hesitate to drag his wife into the story. "War on Women," anyone?
Reaction to the story was sharply critical of the Times' decision to run the story at all, much less framed the way that it was, combining the driving records of both Rubios to paint them in a more negative light. The discovery by the Washington Free Beacon that a Democratic opposition research firm, American Bridge, had uncovered the story did little to help the newspaper's credibility.
Those familiar with driving in Miami gave a collective shrug at Rubio's four tickets over 18 years. Politico's Florida Reporter Marc Caputo tweeted about a ticket he had received for blocking an intersection, "which happened because the cops were in the road stopping people."
Many also drew comparisons with another driving incident involving a politician that had consequences that were actually serious.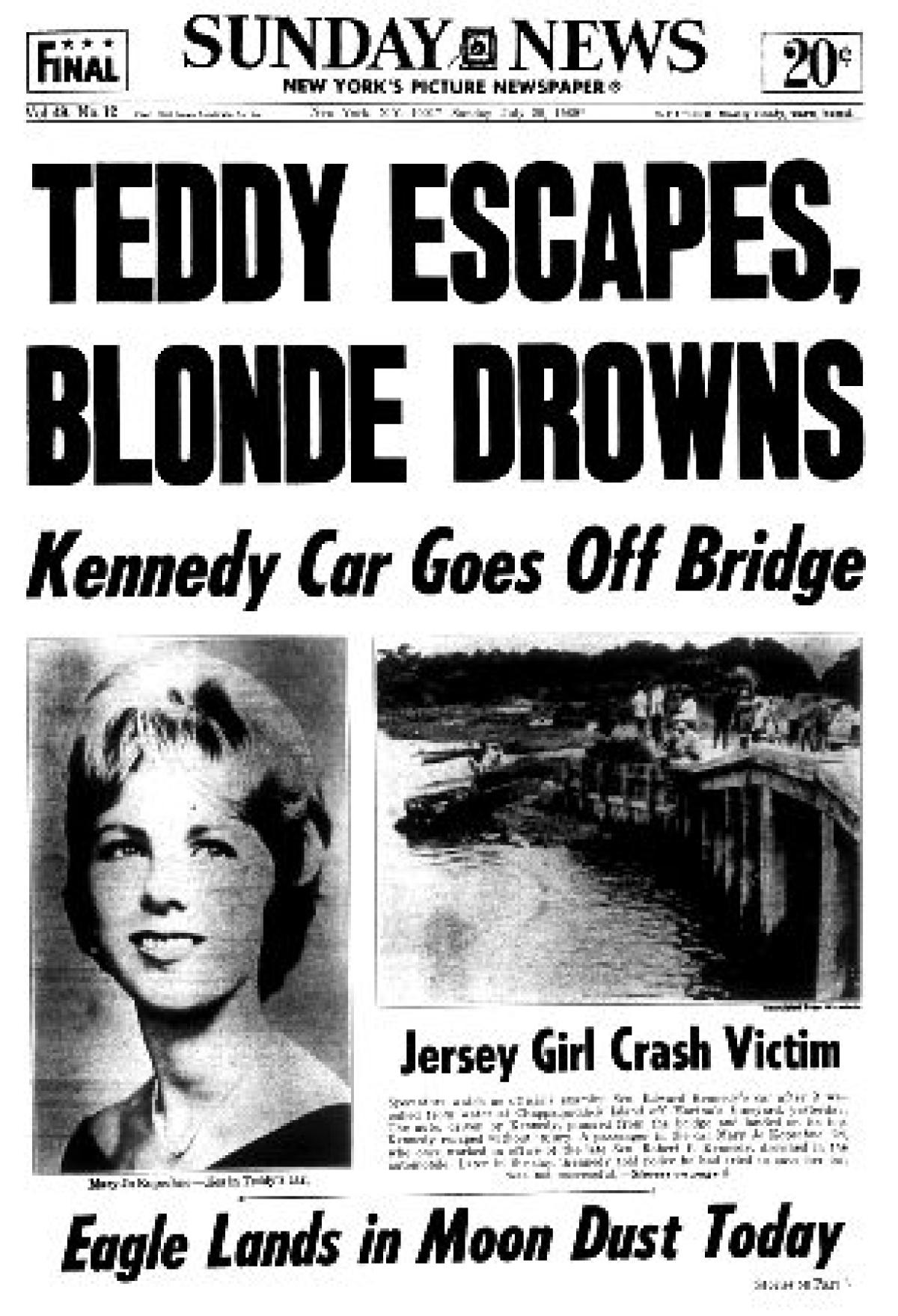 The online chatter quickly turned to mockery, as #RubioCrimeSpree became a trending topic with fanciful examples of fake dastardly deeds that Rubio could have committed.
Didn't read Apple End User Licence Agreement but still clicked "I Agree" #RubioCrimeSpree

— Rick Wilson (@TheRickWilson) June 5, 2015
#RubioCrimeSpree Once went through Publix express checkout lane with 11 items

— David Burge (@iowahawkblog) June 5, 2015
Even the official @TeamMarco account got in on the fun.
Marco once picked all the marshmallows out of the Lucky Charms box. #RubioCrimeSpree — Team Marco (@TeamMarco) June 5, 2015
Friday afternoon, Rubio campaign manager Terry Sullivan sent out a fundraising email, gleefully mocking the "huge scandal" that the Times had uncovered, that "Marco has had 4 traffic tickets in the last 20 years!!!"
Clearly, this is not information that the campaign is worried will damage its candidate. To the contrary, the whole incident helps Rubio draw a contrast between himself and candidates like Jeb Bush, who grew up privileged in a politically connected family, and Hillary Clinton, who has enjoyed international fame and Secret Service protection — not to mention chauffeurs to drive her everywhere — since the 1990s.
As Sullivan noted, "We know it's one scandal Hillary Clinton doesn't have to worry about since it's been nearly that long since she's driven a car herself."
"If the press is going to park its attention on silly stories like this one," writes Sullivan, "we have to pass them and talk directly to voters," asking supporters to "donate now to help Marco get his message straight to voters."
Rubio has good reason to be optimistic about this fundraising campaign. The last time the media attempted to attack Rubio for a "silly story," it was quite profitable for him.
Back in 2013, when Rubio was delivering the response to Obama's State of the Union speech, he paused for a drink of water. The moment inspired a lot of jokes but certainly was not a "career ender" like CNN absurdly described it as.
Reclaim America, a PAC supporting Rubio, responded by selling water bottles with a "RUBIO" logo on them for $25 each. Thousands of the Rubio bottles were snapped up, and the initial run sold out, necessitating another production order.
Quench your thirst for conservative leadership? Order a bottle now http://t.co/WOP0Jsox pic.twitter.com/jrxWrOvd #tcot #SOTU #gop

— Marco Rubio (@marcorubio) February 14, 2013
A source connected to the Rubio campaign told Breitbart News that just over $200,000 was raised from selling the Rubio water bottles, which would work out to more than 8,000 bottles sold.
Whether this latest silly media story will be lucrative for Rubio remains to be seen, but he has to be happy with a hit piece dropped in the morning that became positive buzz in the afternoon, and profitable by the evening.
And no matter how much money Rubio can raise from this, he undoubtedly agrees with the solution proposed by Jim Geraghty at National Review:
End the #RubioCrimeSpree by giving him a presidential limo and motorcade.

— jimgeraghty (@jimgeraghty) June 5, 2015
Email from Rubio campaign manager Terry Sullivan: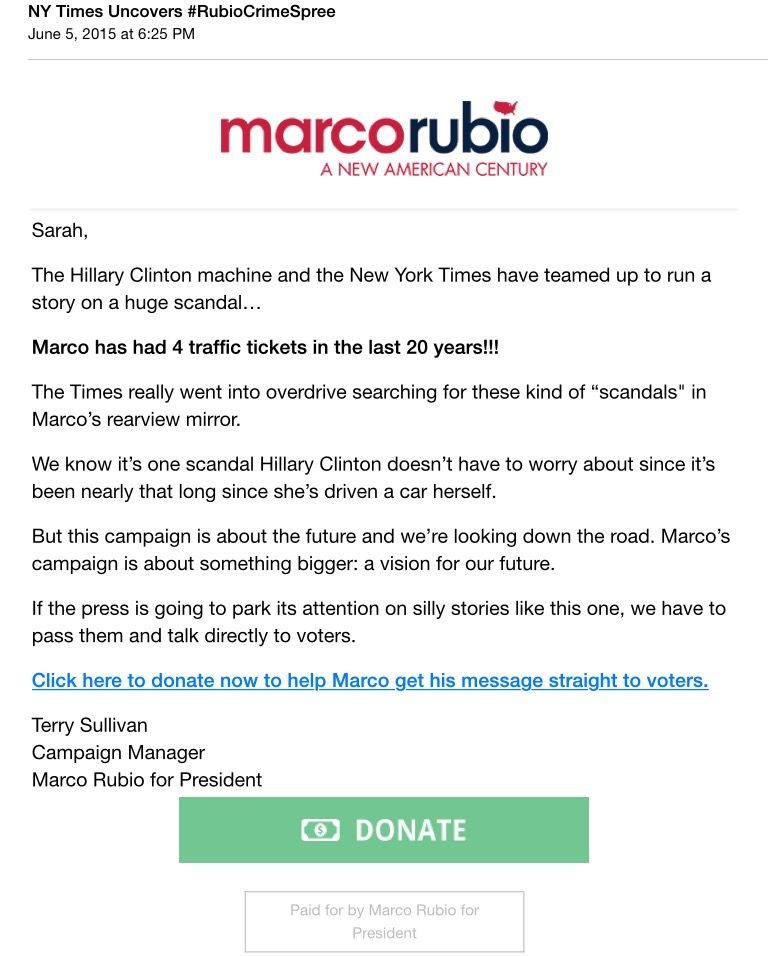 Follow Sarah Rumpf on Twitter @rumpfshaker.