Far left gay rights groups are rallying around West Texas congressional candidate Colonel Michael Bob Starr, a candidate who presented himself as a fierce fighter against the left-of-center gay agenda until his recent advocacy for such groups was brought to the public's attention. The colonel then began voicing support for aspects of the LGBT agenda mid-campaign. Now radical LGBT groups are coming to the candidate's defense and giving him support.
In a strange twist, many God-fearing West Texas conservatives now find themselves on the same side as far left LGBT groups, many of which advocate and fight for men to be able to use ladies' restrooms in private businesses and for the business owners to face governmental consequences if they don't allow the act.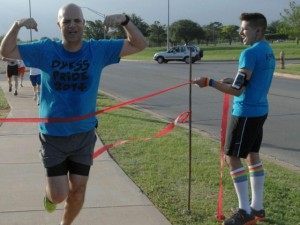 Online far left gay rights groups began coming to the defense of Colonel Michael Bob Starr after Breitbart Texas revealed his active promotion and support for a Dyess AFB gay rights group. The candidate had kept such LGBT advocacy in the closet and away from the conservative Republican groups and individuals he was appealing to for support.
In another strange twist, one group, The New Civil Rights Movement (NCRM), which calls itself a "broadly cited media organization delivering news and opinion dedicated to the wide interests of the progressive and LGBT communities," found itself defending and advocating for a candidate who, only days prior, attempted to convince his fellow West Texans that he was actually the anti-gay agenda candidate.
That gay rights site points out that the military's "don't ask, don't tell" policy was repealed in 2011 and "the Pentagon is currently working towards changing its ban on trans service members," referring to members of the transgender community.
In a lapse of factual consistency, that gay rights group also attacked the Starr opponent who brought the colonel's issues to light for supporting retiring Rep. Randy Neugebauer, when in fact the Neugebauer machine is behind Colonel Michael Bob Starr, the candidate the gay rights group is defending.
Another aggressive left-leaning gay rights advocate also rallied around Colonel Michael Bob Starr. The group, identifying as Lone Star Q, describes itself as "Texas' No. 1 Source for LGBT News." That gay advocacy effort's Twitter feed can be seen attacking the GOP, Mormons, attacking Ted Cruz's father, Rafael Cruz, by association, and uses Rev. Martin Luther King's photo to push the LGBT agenda–thus attempting to associate militant left-leaning LGBT issues with what black Americans went through from slavery to desegregation.
After Breitbart Texas reported on the facts, many groups began to lash out as though reporting on the colonel's gay rights activism was "smearing" him, though Breitbart Texas made no judgement on the facts. The colonel went on an aggressive media campaign to portray that any criticism of his choices as a base commander was, in fact, "attacking" the military. By doing so, the colonel inadvertently made the claim that any future criticism of a far left LGBT agenda was actually an attack on the troops, as some troops are gay. The colonel also attempted to portray any news coverage of his choices to advocate for LGBT issues as "attacking" gay people, rather than as coverage identifying that the colonel had seemingly misrepresented himself to potential voters.  More on the colonel's handling of the matter can be investigated here.
Many more left-of-center sites and efforts are also rallying around the candidate. One thing is certain, Colonel Michael Bob Starr, the anti-gay candidate-turned pro-gay candidate, has been able to get West Texas conservatives working alongside of our nation's most militant and far left LGBT advocates.
Follow Breitbart Texas Managing Director Brandon Darby on Twitter: @brandondarby
Bob Price is a senior political news contributor for Breitbart Texas and a member of the original Breitbart Texas team. Follow him on Twitter @BobPriceBBTX.