Planned Parenthood is launching its final effort to get out the vote for Hillary Clinton and other Democrats, but one group associated with the abortion business is posing as advocates for another cause in order to recruit more campaign help.
WBTV in North Carolina reports its "On Your Side" investigation discovered that a Planned Parenthood PAC was posing as an anti-tolls group as a means to recruit campaign workers.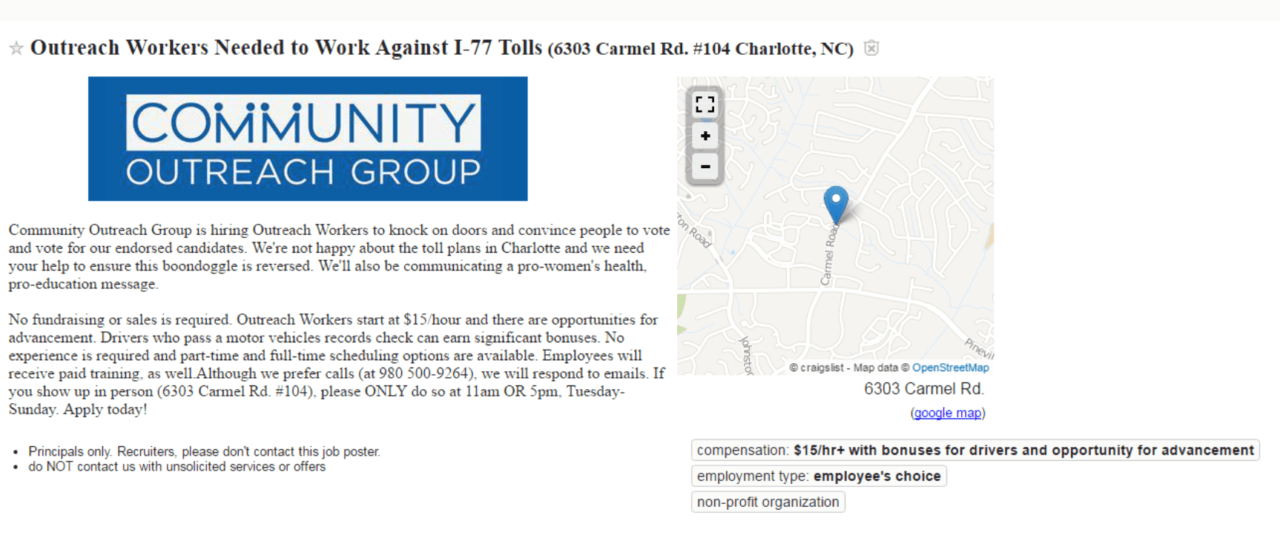 The report states:
Our investigation started after a man called our tip line with concerns about the organization, Community Outreach Group [COG]. The caller said he applied for a job but grew concerned after realizing the group supported only Democratic candidates.

According to paperwork filed with the North Carolina Secretary of State, Community Outreach Group is governed by the leaders of Planned Parenthood Action Fund, which is based in Washington, D.C.

But in an ad posted online—including on Craigslist and Indeed.com—Community Outreach group claimed to be "hiring Outreach Workers to knock on doors and convince people to vote and vote for our endorsed candidates."

The post portrayed COG as a group working against tolls.
The ad, which said workers would be paid $15 per hour to campaign against tolls, reads, "We're not happy about the toll plans in Charlotte and we need your help to ensure this boondoggle is reversed."
However, when WBTV's investigation team visited COG's Charlotte office, it found the group was working to promote gender ideology by opposing North Carolina's bathroom privacy bill.
Asked about its anti-tolls campaign, one of the group's staffers said:
When we're up in Huntersville, yeah, we talk about the toll roads. We're also talking to folks about getting out the vote and that sort of thing. It all kind of depends on where we are that day and, kind of, what the messaging is that day. It's not exclusively tolls. When we're up in Huntersville, a lot of times it's toll stuff.
Eventually, the staff member admitted the "anti-toll" group was actually part of Planned Parenthood.
"We're part of, uh, I don't know how to describe it," one worker said. "In-house vendor for Planned Parenthood," a second worker added.
According to the news report, I-77 Business Plan, a group that is truly opposed to the toll lanes, said COG's ads were a "deceitful manipulation of concerns."
When the investigation team contacted Planned Parenthood regarding the ad, COG removed it, but a spokesperson later said COG was canvassing for Planned Parenthood Action PAC North Carolina, which was also working with Aim Higher Now – a separate group – and together they work on many issues, including women's health, education, and tolls.
In the days leading up to election day, Planned Parenthood Action Fund – the abortion giant's advocacy and political arm – says it has 1500 paid staffers and 3,500 volunteers knocking on doors in New Hampshire, Wisconsin, Pennsylvania, Ohio, Nevada, and North Carolina, reports CBS News. The group says it will hold 250 "Pink Out the Vote" events as well.
Show us how you #PinkOutTheVote. Mention us with a picture of you getting out the vote, or with your "I Voted" stickers! pic.twitter.com/aDgnGehpjO

— Planned Parenthood (@PPact) November 1, 2016
The report continues that Planned Parenthood is utilizing its "voter propensity model," which essentially targets the type of people most likely to vote for Clinton and other Democrats: minorities (32 percent), under-35 voters (26 percent), and females (55 percent).
Planned Parenthood has spent upward of $30 million this election cycle to support Democrats, most of whom are abortion advocates. Clinton herself has vowed to repeal the Hyde Amendment, a longstanding federal law that prohibits taxpayer funding of abortion, so that more low-income women can have abortions.
But Planned Parenthood isn't the only group concerned about abortion getting out the vote. The pro-life Susan B. Anthony List/Women Speak Out PAC field team has been canvassing in Ohio, North Carolina, Florida, and Missouri. The group has been reaching out to pro-life voters who are more likely to stay home on Election Day, as well as to some Democrats and Hispanics who are inclined to be pro-life.
Our #TuesdayMotivation is our dedicated field team of #ProLife canvassers who knocked on their 1,000,000th door this week! #GOTV pic.twitter.com/dZ34sob8Yp

— Susan B Anthony List (@SBAList) November 1, 2016
SBA List says more than 600 canvassers are "exposing the extremism of Hillary Clinton and the Democrat Senate candidates."
"At this point, we've knocked 890,000 doors and on track to hit a million next week!" the group says.
Recent polls show the pro-life movement has made significant headway in exposing the goals of the abortion industry. Last week, a new Politico poll revealed two-thirds of voters want to retain a ban on taxpayer funding of abortion under Medicaid. The survey lends further support to a recent Marist poll, which found that 62 percent of Americans oppose taxpayer funding of abortion, including 63 percent of women, 45 percent of those who say they are "pro-choice" and 44 percent of Democrats.