Khloé Kardashian posted a meme to her social media pages on Tuesday which read: "The Only KKK to ever let black men in."
In the image, Khloé is surrounded by her two sisters, Kourtney and Kim, and they're all wearing white shirts. She captioned the photograph: "True."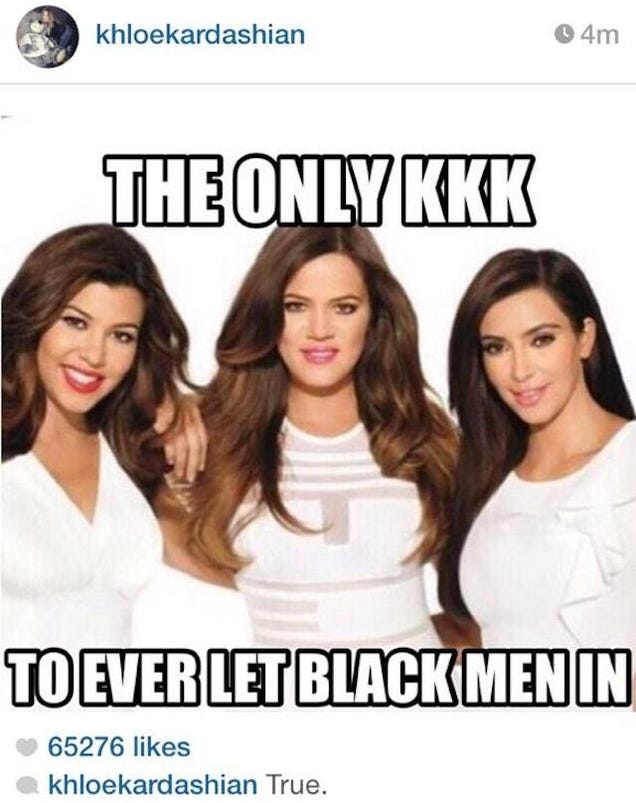 As expected, the photograph created a social media frenzy and Khloé removed it after receiving major backlash.
Typically, internet memes are generated to create laughter, but it appears as though her message didn't resonate so well with the public. 
The Senior Editor in Chief at Ebony Magazine, Jamilah Lemieux, saw the meme and called Kardashian a "trash bag" before sending out a series of tweets regarding the issue. 
"Date the whole NBA, who cares? But show a modicum of respect. The Klan killed and terrorized our people," she wrote, before adding, "Black men the only ones defending her."
Meanwhile, Khloe's brother-in-law, Scott Disick, decided to share the image on his own Instagram, but captioned his post with: "And a Jew".
Although Khloe Kardashian deleted her original post, the almighty "screen grab" has kept the meme alive and left many people talking about it today.