AUSTIN, Texas — Out of the cities in the U.S. known for being technology hubs, Austin, Texas has the highest average salary for software developers and engineers, after making adjustments for taxes and differences in the cost of living.
The information was presented on a blog post by Tyler Geonetta, a software engineer based in Las Vegas, Nevada. To reach this conclusion, Geonetta collected salary data, as listed on job search sites Glassdoor.com and Indeed.com, for software engineers and software developers in the following cities:
San Jose (Bay Area), CA
Seattle, WA
Portland, OR
Austin, TX
New York City, NY
Raleigh, NC
Chicago, IL
Denver, CO
Las Vegas, NV
Geonetta calculated the average salary for these jobs in each of the cities he was studying. As he expected, the San Jose area — which includes the Silicon Valley — had the highest average salary, at $119,551. New York City was a close second, at $110,660, and Austin ranked seventh at $85,873, below the national average of $92,900.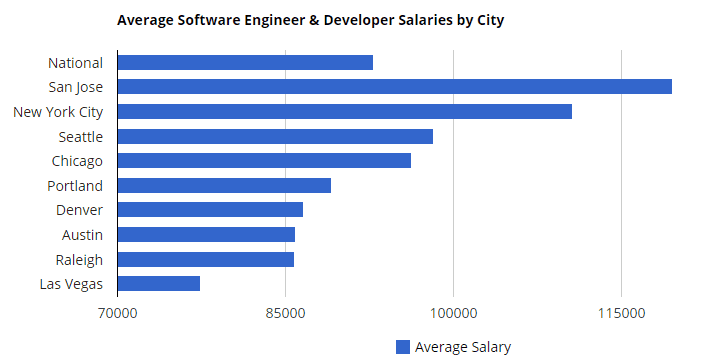 However, just knowing the gross salary does not provide an accurate picture of what someone's financial status would actually be. As Geonetta writes, "Before we get too enthused by our fancy new salaries, we should first take a sobering look at what taxes are going to do to our paychecks in these cities." Texas, Nevada, and Washington do not have state income taxes, and this has a significant impact on the rankings.
Calculating the taxes for single filers with zero federal exemptions, Austin moves up two spots to fifth, and San Jose and New York still have the top two spots, but by a lower margin.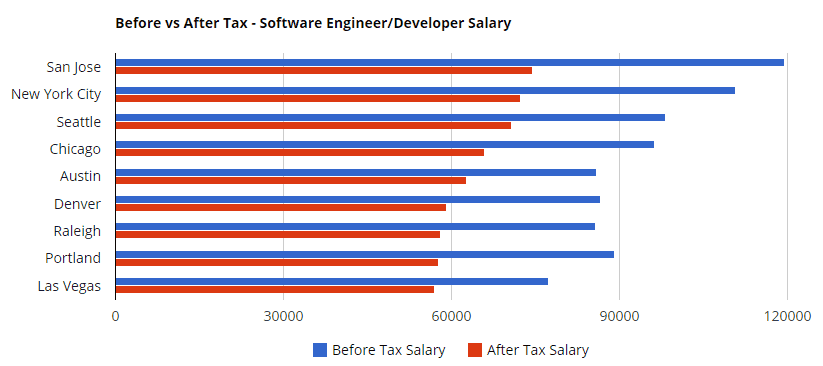 The final adjustment is examining the effect of cost of living (COL) in each city. Geonetta lives in Las Vegas, and that city's cost of living is close to the national average, so he used it as a baseline.
After adjusting for cost of living, Austin is the clear winner, with an average COL adjusted salary after taxes of $70,179. New York City falls to last with $45,184, and San Jose is just two spots from the bottom at $52,582.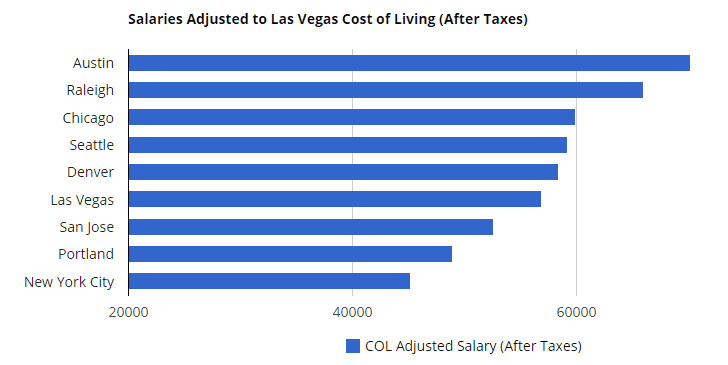 To put it in perspective another way, using the same COL calculator, if you were a software worker in Austin making $70,000 (after taxes), to have a comparable lifestyle in New York City, you would have to make $164,470 — over double what you are making now. Grocery prices are 57 percent higher than in Austin, and as expected, a majority of the COL adjustment is due to NYC's notoriously sky-high housing prices, which are four times as much as you would pay in Austin. Moving to San Jose would require $111,228, with housing prices nearly double and grocery prices 40 percent higher.
And again, these figures are after taxes, so adding in the California or New York state taxes would require an even higher salary bump to maintain the same lifestyle as in Austin.
Another interesting aspect to these figures is that Austin had the sixth highest percentage increase in rental prices last year, among metropolitan areas in the U.S., as Breitbart Texas reported. The technology salaries are strong enough, and the other aspects of cost of living low enough, that, combined with Texas' lack of a state income tax, Austin still ranked first in Geonetta's analysis.
Austin's continued booming economy, competitive salaries, and relatively low cost of living have undoubtedly contributed to the city's huge population growth. As Breitbart Texas reported, a Census Bureau report showed that Austin was the fastest growing large city in the U.S. during the post-recession era of 2010 to 2013.
Note: All graphics in this post created by Tyler Geonetta and used with permission.
Follow Sarah Rumpf on Twitter @rumpfshaker